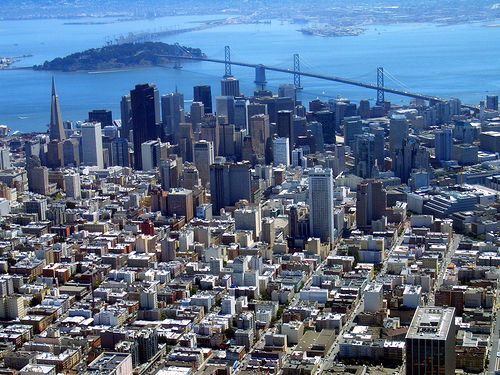 III
Altus turnoff, I-40, Sayre, Oklahoma, 4:00 pm, June 13, 1980. Ranged thus for battle on the sacred plain. Parked purple souped-up van. Then at the aged king's signal, blaring like to the lion's roar, the trumpeter blew upon the great conch. Black Goodyear racing tires. And at the noise of it trumpet and drum, cymbal and gong, burst into sudden clamor. Quality Inn sunburst (red on yellow). Like the blast of a loosened tempest. Red dust; orange VW; yellow-flower-bespeckled bank. Then appeared a car of gold, white-steed-driven. White sign, black letters: "Chinese American Food." And upon it, Krishna the God. Interstate System sign. With Arjuna at his side. (White on green.) Krishna, his locks knotted, blowing upon the great conch, carved of the giant's bone. White red-mud-bespattered service truck. Arjuna blowing upon another, Indra's loud gift. Yellow directional lines on motel asphalt. Bhima the terrible, wolf-bellied Bhima, blowing upon the reed conch. Ending, electric orange concrete parking stanchion. Yudhisthira, Kunti's blameless son, winding his mighty shell.
And Arjuna to Krishna, the Divine, his charioteer: Orange underneath of circular Gulf sign. "Drive, O Dauntless One, to yonder open ground, betwixt the divided armies." Black "One Way," white arrow, black ground. "I will see more nigh these who will fight us, those we must slay today in war's arbitrament." White Dodge Dart, yellow Toyota. "For, sure, on bloodshed all are bent who throng this plain." Chevy Bonanza, cherry red; blunt grey Eldorado. Then Krishna to Arjuna, marking the kinsmen of his house, Arjun's heart melting with pity, he in turn uttering thus: "North and South America" (black on yellow ground). "Krishna, as 1 behold, come here to shed their common blood, yon concourse of our kin." Metallic drums in blue and orange. "The life within me seems to swim and faint."
Amarillo outskirts, Texas Tourist Bureau, 6:30 pm. "I nothing foresee save woe and wail!" Overpass, facing East. "Nought of good can spring from mutual slaughter!" Silence. "Lo, I hate triumph and domination." Single diesel intrusion, tire whisper. "Wealth and ease, thus sadly won!" Honk from Mystic Lubricant semi, passing underneath. "Aho! What victory can bring delight, O might Govinda!" Author shadow in middle lane: heroic dwarf. "What rule, what profit?" Wind rippling field to north. "What span of life itself seem sweet?" Grazing stallions, bay, roan, black-and-white. "Bought with blood such as that?" They, too, dwarfed by the plain's vastness.
Colonel's Corral Curio Shop, Glenrio, Texas, 12:30 pm, June 14. "Thus, if we slay kinsfolk and friends for love of earthly power." "You're not joggin' across country, are you?" – West Texas "Old Salt." Author: "Nope." "Turns out there's a guy from California goin' across on roller skates." "Ahavat! "Had'm here on TV up in Amarillo." "What an evil fault it were!" Old Salt measures author response, finds it deficient. "Audrey's her name" – turning to cook, lowers voice – "Audrey Shields," continuing earlier conversation. "Better I deem it my kinsmen strike." Cook attending burger sizzle. "Face them weaponless, bare my breast to shaft and spear." Parked outside, ancient Harley. So speaking. ("King of the Highway.") In the face of those two hosts. Old Salt mounting it. Upon his chariot-seat did Arjun sink. Headline, newspaper rack (Amarillo Daily). And let fall bow and arrows. "REDS BUILD BASE AT IRAN LINE." Sick at heart. Roadside fireworks ad: "Thunder Bombs, Torpedoes, Magic Black Snakes / Made in Kwantung, China."
Krishna: "How hath this weakness taken thee?" Auction, Tucumcari, New Mexico. "This inglorious trouble, shaming the brave, barring the path of virtue?" June 14, 1980. Smart Sheet Metal, 1923 S. 18th. A.L. (Mut) Smart and Tony Brusuelas, Owners. "Nay, Arjun! Forbid thyself to feebleness! It mars thy warrior-name!" "Mr. Smart's estate will be liquidated and sold at public auction." "Wake!" "Mr. Brusuelas." "Be thyself!" "Has closed his White Auto Store." "Arise!" "In Santa Rosa." "Scourge!" "And consigned his fixtures. – Ricky Bain, Auctioneer." "Cast off the coward-fit!" "Not responsible for accidents." Krishna: "Thou grievest where no grief should be!" Sheet Metal, Duct Work, Insulation. "Thou speakest words lacking in wisdom!" 30 Down-Draft Vents. "For the wise in heart." 1 Flexible 5 x 10 Ducting. "Mourn not for those that live." 3 90-degree ells. "Nor those that die." 1 Counter Shelf, 1 Battery Stand; 1 Automotive Sound Center. "No one of these." 1 Checkout Counter. "Ever was not." 1 Draft Hood. "Nor ever will not be." 1 Exit Sign.
"Bear with it Prince, as the wise bear!" Menaul Blvd./Princeton Dr. "The Soul which is not moved." Albuquerque. "The soul that with a strong and constant calm." June 14, 8:00 pm. "Takes sorrow." Buffetting wind. "Takes joy." Westering light flooding path of eastward-moving vehicles. "Indifferently." "American Family Lodge." "Lives in the life undying." "Person $1988." "That which is." "Family Rates." "Can never cease to be." "No Pets." "That which is not." "Free Coffee." "Will not exist." Seated on bench by author: Sunkist orange soda can. "To see this truth of both." Empty Diet 7-Up. "Is for those who part essence from accident."
"Learn thou!" KOA, off I-40. "The Life is." West of Albuquerque. "Spreading life through all." 8:45 pm. "But for these fleeting frames which it informs with spirit." Atlas flaps on picnic table top, wind at near gale. "Deathless, endless, infinite." Succulent weeds violently fluctuating. "They all perish." Camping site strung with barb wire strands, supported on orange metal posts (silver tips). "Let them perish, prince!" Light beige brush in even greater agitation. "Let them fight!" Passing cars, their natural sound obliterated, pass one another silently "He who shall say, 'Lo! I have slain a man!' He who shall think, 'Lo! I am slain!' both know naught!" High above: layers of brilliantly-lit cloud. "For Life cannot slay!" Higher still: theriomorphic cloud mass, light-irrigated, fluffed, plumed. "And Life is not slain!" Roses, rouges, reds pronouncing themselves against a grey striated mass, it joining an inward-slanting horizonward movement at southern juncture of Sangre de Cristo peaks. "Never the spirit was born; the spirit shall never cease to be." Cloud mass pinkening, puffs of interlaced blue and grey. "Never was time it was not." Ten-mile stripes enhanced by deepening blue and grey surrounds. "End and Beginning." Celestial gourds. "Both are dreams." Eastward mass uniting with mountain mass in funnel-like convergence. "Birthless, deathless, changeless, the spirit remaineth forever." A light grey cumulus, undershading dark, surmounts all to float apparently nearer. "For death hath not touched it, dead though the house of it seem." Thousands of feet beneath: mountain, foothill, isolated flecks of light, all subdued. "Who knoweth it inexhaustible." A single light or fire at mountain base. "Self-sustained, immortal, indestructible."
Trading Post, I-40, farther west of Albuquerque, 10:00 am, June 15. "Thus far I speak from the Sankhya (i.e., philosophically)." Eastward view: giant "STANDARD" station roof, double chevron. "Hear now the deeper teaching (of the Yoga)." Double black stanchions. "Which holding, understanding, thou shalt burst thy Karmagandh (bondage of wrought deeds)." "It is better to have more lightning in the hand" (ceramic ashtray inscription) "and less thunder in the mouth – Apache proverb." Orange Allied van passing, black highway number 1 painted in perspective. "Much these teach from Veds concerning the three gunas (qualities)." Girl in orange tee shirt, blue shorts, returns to waiting car. "But thou, be free of the three gunas." Blue phone sign, doubled by sign on the phone itself. "Free of the pairs of opposites." "A frequent drink of the beauty about us is good medicine for the soul – Indian proverb." "Free from that sad righteousness which calculates. Deep red Honda pickup heading west. "Self ruled, Arjuna!" "Around this camp there's only one Chief." "Simple, satisfied. "The rest are Indians." "Big Jim Package Liquor Store." "Look!" "Cerveza Bud." "Like as when a tank pours water forth to suit all needs." Sky so bright light reverberating off electric lines. "So do these Brahmans draw text for all wants from tank of Holy Writ." "Oh Great Spirit grant that I may not criticize my neighbor." "Want not, ask not." "Until I've walked a mile in his moccasins." "Let right deeds be thy motive." Mobile Locksmith Columbia Mo. truck, heading west. "Not the fruit which comes from them." Silver, buttressed 180-degree arched bridge over old road. "Make thine acts thy piety." Hispanics out of rust-maroon Cadillac Supreme, look at author writing. "Casting all self aside." Postcard: "Albuquerque, World's Hot Air Balloon Capitol." "Equability is Yog."
Acoma Pueblo, 11:30 am, June 15. "Warning: Violators Will Be Thrown Off Cliff." "Unto pure devotion devote thyself." "Survivors Will Be Scalped." Eight-year-old Indian boy, five-year-old sister, boy in Battlestar Galactica tee shirt. Arjuna: "What is his mark who hath that steadfast heart, confirmed in holy meditation?" Navaho woman steps to door of tourist center: "Where's your mother, Monica." "How know we his speech, Kesava?" Turns to mean woman tending till: "Moooosha-ka," she says. "Sits he, moves he like other men?" Tourist couple awaiting tour, cut-offs, tee shirts, flaps; standing beside yellow Rabbit, Norton AFB sticker. Krishna: "When, abandoning desire, he finds in his soul full comfort." Both in outsized dark glasses. "He hath attained the Yog." Sky filled with hazy, barely perceptible clouds, jet vapor trails streaking it east to south. "That man is such." "Jezh tees ta Mama" – woman from inside tourist center. "In sorrow not dejected and in joys not overjoyed." Tourist in purple shirt, straw hat, crosses street to check out pottery. "Dwelling outside the stress of passion, fear and anger." Woman stands in doorway, eyes author suspiciously. "Fixed in calms of lofty contemplation." Hands him printed card: "Such an one is Muni." "Photographing: $5 (movie $15) / Sketching $25."
Acoma Reservation, roadside gulch, 12:00 noon. "He who to none and nowhere overbound by ties of flesh." Sun directly overhead. "Takes evil things and good, neither desponding nor exulting." Fly buzz. "Such bears wisdom's plainest mark!" Insect hum. "He who shall draw as the wise tortoise its four feet safe under its shield." Collar of scrubby trees. "His five frail senses under the spirit's buckler." Small patches of snow atop Mt. Taylor, 30 miles distant. "Such an one, my Prince, hath wisdom's mark!"
"Let him regain his kingdom!" Virgie's Restaurant. "Let him conquer this and sit on Me intent." Gallup, New Mexico, 3:30 pm, June 15. "That man alone is wise who keeps the mastery of himself!" Navaho Times (Window Rock, AZ), June 12, 1980. Mexican dude stares at gringo. "If one ponder on objects, there springs attraction." Middle-aged waitress bears double margueritas, tulip-shaped glasses. "An Editorial." "From attraction grows desire." "Tribe Needs to Consider Consumer Protection Commission." Mexican girl at cashier, black spandex pants, scarlet tank top, white high-heel sandals. "Desire then flames the heart to its fierce passion." Tortoiseshell barrettes in blue-black hair. "Passion in turn breeds recklessness." Jukebox: "We don't need no education! We don't need no thought control!" "Then the memory – all betrayed – lets noble purpose go." "Archie Becenti leads AIRCA [All-Indian Rodeo Cowboys Association]." "And saps the mind, till purpose, mind and man are all undone." Ceiling in composition board, red-stained beams. "Navaho Tribal Police reported a 17-year-old youth, Gary Curley Nez, committed suicide last Thursday near his home." "What is midnight gloom to unenlightened souls shines wakeful day to his clear gaze." Hanging plastic plants: "What seems as wakeful day is known for night." Green fernery, dusty pink begonias. "Thick night of ignorance to his true-seeing eyes." "Ruiz Optical." "Such the Saint!" Table in orange-rimmed Formica. "Like the ocean, day by day receiving floods but all lands never overflowing." Water glasses tinted tan-orange. "So is the perfect one! To his soul's ocean the world of sense poureth a stream of witchery."
◆
"Thou whom all mortals praise." South Rim, Grand Canyon. "Janardana (Krishna)!" Grand Canyon Village, Arizona. "Tell me one thing." 1:30 pm. "And tell me certainly." June 16, 1980. "By what road shall I find the better end?" "Sound off, one two." "Ha ha." Pea green leisure-suited tourist father, boys eight and ten. Krishna: "I told thee, blameless Lord! "There be two paths." "OK, sound off, one two." "Three four." "Shown to this world." "Listen, you guys, get it together." "Two schools of wisdom." "What!?" "The Sankhya's." "It's 'Sound off, one two . . .'" "Which doth save in way of works prescribed by reason." "'Sound off, three four . . .'" "Next, the Yog, which bids attain by meditation." "'Sound off, one two three four . . .'" "Yet these are one." North Indian family, petite wife in cerulean sari. "No man shall escape from act by shunning action." Crew-cut husband. "Nay, and none shall come by mere renouncements unto perfectness." Brother-in-law in Levis, fancy western shirt. "Nay, and no jot of time rests any actionless." Adjusting binoculars. "His nature's law compels him, even unwilling, into act." Black camera bag slung at hip.
Midwestern family: pushy husband, whiney wife, daughter, seven, son, three. "This is your one photo for today." "Are you serious?" "He who sits suppressing all the instruments of flesh, yet in his idle heart thinking on them, plays the inept and guilty hypocrite." "How deep is it?" "One mile deep." "But he who, with strong body serving mind, gives up his mortal powers to worthy work, not seeking gain." "Isn't it beautiful?" "Arjun! Such an one has honor!" California mother, off-the-shoulder peasant blouse, velvet Zouave pants: "Do you understand that, Michael; all along the way you are not allowed to cut off anything." Massachusetts father, nylon warm-up jacket, chinos, loafers: "You can shoot up a 20-shot roll of film just shootin' a couple of . . ."
"Do thine allotted task, for work is more excellent than idleness." View from the rim: red-cliffed, smoky green, chalky-cliffed canyon. "The body's life proceeds not, lacking work." Shale-flaked soil underfoot, three finger-sized blood-red flowers. "There is a task of holiness to do, unlike world-binding toil." Rustle of wind. "Which bindeth not the faithful soul." Gorge beneath. "Such earthly duty do free from desire." Vault above. "And thou shall well perform thy heavenly purpose." "And to think" – southern tourist, early middle age, blue/tan Antron/Lycra maillot, white culottes, buckle pumps. "So spake Prajapati, in the beginning: when all men were made."
Grandeur Point. "Saying, 'Do This!'" Two bathing-suited blond Caucasian males. "Hawaii," says one. "Work, sacrifice, with all mankind!" Spanish-speaking family, father immersed in monologue. "Increase and multiply with sacrifice!" Five children. "This shall be Kamaduk (the cow of plenty)." Small cluster of yellow-belled flowers at lip of shelf. "Giving back her milk of all abundance." Stillness. "Nim!" – German child to mother. Bird call (deep-throated), from well down into the canyon. First glimpse of Colorado River – a mere 50 feet of it – 5000 feet below, its green water blending with adjacent slopes. Figures the size of lice on hairpin trail, human beings indistinguishable from mules. "Worship the gods thereby; the gods shall yield thee grace." A single, magnificent hawk, black body, wings in sepia, soars out over gorge, eyes author, swoops slightly, continuing glide across several hundred yards to next promontory. "Those meats ye crave the gods will grant to labor, when it tithes in the altar flame." Author brushes fly away. "But one who eats the fruits of the earth, rendering no gift of toil to heaven, that thief steals from the world."
"Yarapai Point Trail / Museum 3/4 mile." "Who eat of food after their sacrifice are quit of fault." Twenty-eight-year-old, shirt off, rock climber shorts, sits at utmost end of precipice. "But they that spread a feast for all themselves." Woman on rock above, knit halter, short shorts, asks if she can join him. "They eat sin, they drink of sin." "Sure," says male, removing first of hiking boots, red wool sock. "Then I'll come on out," says woman, balancing with both hands. "My husband'll have to find me!" "By food the living live." Curly-haired, red bearded guard, park service uniform. "Food comes of rain." Giving plein air lecture, topic: the river. "And rain comes by pious sacrifice." "If you have vast experience, you could apply for a permit." "And sacrifice is paid with tithes of toil."
"Thus action is of Brahma, who is One." 2:30 pm. Museum restroom graffito: "The Only, All-pervading." "Aqua Face was here 4/4/80." "At all times present in sacrifice." Geologic identification display: O'Neill's Butte, Angel's Gate, Wotan's Throne. "He that abstains to help the rolling wheels of this great world." Vishnu Temple (at center). "Glutting his idle sense." Zoroaster Gneiss, Tonto Platform. "Lives a lost life." American family members ragging one another. "Shameful and vain." Japanese woman, 32, in butterfly-emblazoned tee shirt, studies Brahma temple. Exhibits: "Man in the Grand Canyon," "Life Zones and Ecosystems."
Village shuttle return: yellow American Seating seats ("Grand Rapids, MI") grey-haired driver in bright orange jumpsuit. "Existing for himself." Man in string tie, straw sunshade: "Self concentrated, serving self alone." "I saw three middle-aged women talkin' and talkin', and I said, 'Would you mind if I spoke my mind?'" "No part hath he in aught." "'No,' they said." "Nothing achieved." "And I said, 'You three ladies typify,' I said, 'the American bitch in European eyes.'" "Nought wrought or unwrought toucheth him." "Look," says woman he's addressing, "the mules are back." "No hope of help for all the living things of earth depends from him." Exiting German tourist barges in front of author: yellow knit shirt, "Fortunatex" jeans, black leather jacket, yellow stripe. "Kein richtige Pferde, sondern Muhles," says the Frau, Puma sneakers, magenta terry-cloth shorts, turquoise tee shirt. "They look just like horses to me!" – nine-year-old girl. "They are horses" – five-year-old. Mother to sister: "Thelma said last time they did it she rode all the way to Vegas on a pillow."
Gift shop: tinkle of petrified-wood wind chimes. Japanese family discussing geodes "from Mother Nature's Treasure Chest – $10.95." "A better-lessoned mind." Bins of semi-precious stones, arranged like assorted candies. "Knowing the play of visible things within the world of sense." Rose Quartz, Amethyst, California Jade. "And how the qualities must qualify." Sulphur, Tournaline, Selenite. "Standeth aloof, even from his acts." Cash register beep beep. Petrified wood arrangements, with stag, with crucifix. Books: Know the Navaho, The Grand Canyon: Up Close and Personal. "With meditation centered inwardly." Author stands on balcony, Frenchman on his left ("Regards ce truque là"), Danes on his right, a huge American flag stiffening in the breezy background. "Seeking no profit, satisfied, serene, heedless of issue – fight!"
Lobby, Bright Angel Lodge, 6:50 pm. Hopi ceremonial bird, feathers dangling, looks down on Swedish couple holding bill for one night's stay between them: "$184.00." Arjuna: "Yet tell me, Teacher! by what force doth man go to his ill, unwilling?" Scandinavian group negotiating Arizona clerk's relentlessly idiomatic English. "As if one pushed him along that evil path?" Pakistani father, with patient enthusiasm, talks to yellow-tennis-shirted son; mother arrives in grey sari, gathers up bag of curios. Krishna: "Kama it is!" Deferential bellhop observing flow of tourists. "Passion it is!" Pater familias, middle-European, beige sandals, grey socks; white Parisian tennis shorts; linen smock shirt. Two cowboys mock-tussle a third into the next room. "Born of the darkness which pusheth him." Extravagantly wealthy English party seating itself on sofa opposite author. "Mighty of appetite, sinful and strong!" "Adams" – public address – "Adams, your table is ready." English party arising. Clerk in dark blue blazer, hotel insignia, holds white phone receiver to ear with shoulder. "Just as smoke blots the white fire." German woman, 42, standing nervously at check-in counter. "As clinging rust mars the bright mirror." Puce chemise, trapunto yoke, under periwinkle fox blouson. "As the womb surrounds the babe unborn." Joined by older woman, white Tibetan lamb coat, bronze lamé harem trousers. "So is the world of things." Hair in spritz of glitter. "Foiled." Choker of yellow sapphires. "Soiled." Pavé diamonds. "Enclosed in this desire of flesh." First woman, dress split midway up thigh, turns to bully clerk: "Ex-scuse me!" "The wise fall, caught in it." Stands in contrapposto, scrutinizing author. "The unresting foe it is of wisdom." Husband arrives, herringbone tweed suit with hacking pocket, black onyx ring. "Wearing countless forms." Second woman speaks, palomino eye shadow, hothouse melon blusher. "Fair but deceitful." Departure: whiff of Dioressence en passant. "Subtle as a flame." Hopi bird in half-eternal, half-Flintstone gaze.
◆
City Café, Kingman, Arizona, 12:00 noon, June 17. "Sense, mind and reason." Men's room. "These, O Kunti's Son!" Contraceptive dispenser. "These are booty for it." "Totally stimulate her with Protex Arams." "It plays with these." "New raised spirals scientifically designed." "It maddens man." "She'll love you for using it." "Beguiling." "Lubricated." "Blinding him." "Pleasing coral tint."
"Today's Special": "Therefore." "Roast Chicken." "Thou noblest child of Bharata!" Salad: thousand-island dressing on iceberg lettuce. "Govern thy heart." Kebler Zesta saltines (2). "Constrain the entangled sense." Chicken on waffle-edged plate, scoop of cornbread stuffing, mashed potatoes (yellow gravy). "Resist the false, soft sinfulness." Scrim of carrot, parsley sprig. "Which saps knowledge." Side dish, snap beans. "And judgment." Ice tea with lemon. "Yea, the world is strong." Pies: lemon meringue, chocolate creme, pumpkin with whipped cream topping. "But what discerns it stronger." Cherry, blueberry, pineapple. "The mind strongest." Three Farmers Brothers coffee pots, steaming. "High o'er all the ruling Soul." "Microwave in use." "Wherefore, perceiving Him who reigneth supreme." View out window. "Put forth full force of Soul." "Stockton Hill Road 00." "Fight!" Space Age Rock Shop. "Vanquish foes and doubts." Damour Steak House. "Dear Hero!" Plastic steer. "Slay what hunts thee in fond shapes." Mack truck, enormous cylinder, heading west. "And would betray!" Trailways bus, heading east.
◆
Krishna. Royal Inn/Casino, Las Vegas, Nevada. "Manifold the renewals of my birth have been, O Arjun." 6:20 pm, June 17. "Next: More Hot and Sunny Weather." "And of thy births too." "When I don't feel like cooking, I come in to Wendy's." Paneled ceiling, paneled walls, rust-brown-beige shag carpet. "But mine I know." "Live from Spanish Oaks." "And thine thou knowest not." Dirty, lightly-quilted, king-size bedspread. "On the regional map." "O Slayer of foes!" "Our high in Las Vegas was 106 degrees." In turquoise, dark green, dirty yellow. "Albeit I be unborn." "And 90 in Owahewa." "Undying, indestructible." Two huge bedside lamps, shades in nubbed vinyl, artificial leather. "The Lord of all things living." "The remains of a tropical storm." "Not the less." Base a vast bowl of reflected light. "By Maya." "Mostly sunny days through Thursday." "By my magic." Yellow-brown. "Which I stamp on Nature's floating forms." "And outside it's very hot at 105, humidity 7 per cent." "The primal vast." Base support in cast steel (simulated bronze). "I come and go." "Back to you, Harley." Sixty-watt bulbs (one missing). "And come again." "Jackie Glass reports on Danny 'Little Red' Lopez." Curtains in cleaner version of bedspread material. "When righteousness declines." "I went and started boxing." "O Bharata!" "And that straightened it all out." "When wickedness is strong." Dresser/luggage table in single file of plastic-covered drawers. "Then I rise." "Aimed at getting assistance for Indians." Above it, brown-skinned nymphette (no tan marks). "From age to age." "Pryor was burned over 50 per cent of his body." Pushing up on left hand. "And take visible shape." "Approval today to operate direct flights to London." "And move as man with men." Right arm invisible. "I'm Harley Acres. Good night. And have a good evening." "Succoring the good, thrusting back evil." Butt exposed. "Setting Virtue on her seat again." "Kung Fu, weeknights at 7:00." "Who knows the truth touching Me." Nevada Development Authority. "And my divine work." Bed-covers in gestural, Kline-like stokes. "When he quits the flesh." "The Air Force – a great way of life." "Falls no more down to earthly birth." "Call toll free." "To Me he comes." "800 523 5000."
Sicilian Pizza House, Las Vegas, Nevada, 1:00 pm, June 18, 1980. "The Grand Canyon was established as a national park in 1919 [Nugget brand sugar pack]." "To the Sicilian Pizza House – Kiss My Hockey Puck." "It is located in Arizona." "Love ya, Don Rickles." "And covers an area of 1,100 square miles." Asphalt tile in brick design. "The canyon itself." Travel posters: "Is a series." "Italy [Venetian canal]." "Of colossal monuments." "Sicily [fisherman unloading boat]." "Carved through the ages." "Venezia [melon vendor's gondola]." "By the turbulent Colorado River." Depressed-out Sicilian girl behind counter, interior roofing overhead. "Aided by wind, rain, snow and ice." Tables with skinny-back chairs, little "gold" knobs atop them. "It does indeed nearly defy description."
"Laundromat," Las Vegas, 1:30 pm, June 18. "Many there be who come." Washers with individual name plates: "From fear set free." Silver City, Royal Inn. "From anger." Landmark, Horseshoe. "From desire." Silver Nugget, Somerset. "Keeping their hearts fixed upon me." On cinderblock wall, long rectangular reproductions: "My Faithful!" (1) Summer sunset, crashing surf, (2) Autumnal river scene with falling leaves, (3) Spring prairie with moose, (4) Snow-covered mountain. "Such as these mix with my being." "Items left over 30 days are subject to being sold." "Purified by the sacred flame of Knowledge."
Aladdin, "The Strip," Las Vegas, Nevada, 3:00 pm, June 18, 1980. "Thou sayest, perplexed, 'It hath been asked before by singers and by sages, "What inaction?"'" "Gilt" palms; hot wind; "Egyptian" portico. "I will teach thee this." Black couple exiting; brown bagged bottle on pavement. "And, then, knowing." Cambodian girl stands with mother, waiting for "valet" to bring car. "Thou shalt learn which work doth save." Mountains visible in distance. "One must rightlymeditate these three:" Double doors: "Doing." "Enter Only." "Not doing." "Enter Only." "Undoing." Lobby: "An Exact Reproduction of the World Famous taj mahal (Please Feel Free to Take Photographs)." "Here thorny and dark the path is!" Gift Shop ("Welcome Aladdin Shopping Bazaar"): $249 replica, Michelangelo's "David"; "Las Vegas" clock, numbers on dice; racks of sunglasses. "Can I help you?" "He who sees how action may be rest." "Can I help you?" "No, just looking at postcards." "Rest action." "We have a wonderful selection." "He is wisest 'mid his kind." "You certainly do." "I'm Gonna Win" tee shirt. "For he hath the truth!"
Aladdin Bingo, mostly late middle-age, most playing anywhere from eight to sixteen cards. "He does well." Announcer calling, numbers on video screen, air-juggled balls dancing in glass machine. "Acting or resting." Woman at Keno, entering the ages of her grandchildren, her children, herself ("51"). "Freed in all his works from prickings of desire." Loses amid pleasant jokes ("Did better'n last time"). Aladdin Poker. "Burned clean by the white fire of truth." Seven-card stud ("$3 limit; $8 on the end; no ante; $20 buy in"). "The wise call that man wise." Dealer in large bow tie, poker face. "Such an one, renouncing fruit of deeds." Polite, workmanly. "Always content." Players 80 per cent male, all with short haircuts. "Dwelling sinless amidst all sin."
Approach to Caesar's Palace. Las Vegas Mirror (May 30, 1980). "The Strip." (Free – Take One). Las Vegas, Nevada 10:00 pm, June 18. Traffic jam: brown Mustang II in next lane, two 24-year-olds, blond moustaches. "Fever, Starring Angel Carter, A Hot and Spicy Topless Revue, Vegas World [globe with two longitudes, two latitudes, dice inside – 6 and 5]." Caesar's Palace emerging, cypresses in turquoise floodlight, horror-movie green. "George Carlin, the Voltaire of Vegas, by Neil Hoffman." "Vikki Anthony Delivers Like Garland (Vikki Anthony in a tribute to Judy Garland)." Flamingo Hilton across street, neon-outlined flamingos, upward-moving white lights (electric bulbs). Caesar's Palace entrance fountain, water bubbling over "Venus de Milo, Circa 200 BC, Artist Unknown, Louvre Museum, Paris." "Buy Las Vegas for $22.00 With This Coupon." Vestibule ("Free Slot Play"), mirrors overhead. "Terry Turner's Elvis / Returning to the Aladdin / Opening Thursday, May 29th." Cigarette girl, electric-light earrings. "Mike Lee's Baseball Picks." Circular bar, Myron's discus thrower turning within it. "Dominators, Pussycats." Waitresses in top-knots, one-boob-bare uniforms. "Wonderworld Discount Liquors." White-haired exec, 57, folding money into billfold, dark blue suit, dark tie. "Horses to Watch": Oshkosh couple on vacation. "Dedicated Rullah (NY)." Younger hand-holding tourist couple. "Gentleman Jeff (FL)." Two gays. "Bends Me Mine (CA)." Sloppy California guy in white V-neck tee shirt, blue and white Adidases. "Crack Stake Horse is Sitting on a Win and Set to Go Again for Big Money." Cleaning lady in red top, black pants, white rubber gloves, white plastic pail.
"21" table, Hawaiian dealer (plastic name tag, "Lew"). "How not to Play Blackjack," by Darwin Ortiz." "Dealer Must Draw to 16 and Stand on all 17s." Jewish woman, purple sheer yoked blouse, turquoise ring, single pearl strand, smiles at young gigolo, droopy black moustache; puts up five tokens. Ashtray-emptier looks at author suspiciously. "Nay, but of such an one, whose crave is gone, whose soul is liberate, whose heart is set on truth." Woman ups her bet; Lew hangs tough.
Crap table. "Of such an one." Two lushy, vociferous middle-aged blondes. "What work he does is sacrifice." Dark-suited dealer: "All right. Seven a winner onna front line." "Which passeth purely into ash and smoke." Combination ash-tray/drink-holders. "LV [heart] / Loves Visitors" button on dealer's lapel. "Combination upon the altar!"
Baccarat ("$8000 limit"). "Las Vegas Poker Rooms: Where the Action Is by Henry Morgenstern." Black tuxedos, black ties. "All is then God!" Spanish woman in black silk jersey pajamas, Vuitton pearl mesh purse on table; downed out but also subtly elated. "The sacrifice is Brahm." Two packs of Trues, one atop another. "The ghee and grain, both are Brahm." 24-K gold lighter. "The fire, it too is Brahm." Reaches for purse, withdraws 10,000 franc note. "Brahm, the flesh it eats." Hands it to attentive goon, one of four perched on stools about the room. "And unto Brahm attaineth he who, in such office, meditates on Brahm." "The Christ Connection"; "Love Hurts!"; "Japanese Erection Rings."
◆
"Mt. Pass Bowling Alley." "In sight of Brahma." Mountain Pass, California. "All these offerings are spread." 3:00 pm, June 19. "And are accepted." "Scarlet, Daryn and Mitch!" – mother in red top, big tits, head through door, calling. Waitress behind counter to new arrival: "Whatcha need?" "I need some money" – sassy sixteen-year-old boy, baseball undershirt. "MITCH," blue and gold Rams football jersey (number 32), to mom: "Me and Daryn got lane 2, we just started." "Comprehend that all proceed by act; for knowing this thou shalt be quit of doubt." Author exiting behind Scarlet, indoor-outdoor grass carpet, past staring teenies. "The sacrifice." Author staring back. "Which knowledge pays." Thirteen-year-old arrival, Noxema all over his face. "Is better than great gifts." "Your nose looks terrible" – Mitch's ma – "What did ya do, go swimmin' again and get a sunburn?" "Since gifts' worth, O prince!" Silence for answer. "Lies in the mind which gives." "Positively No Beer Sold to Minors." "The will that serves."
Mohave Desert. "Knowing Truth." Twenty miles east of Yermo. "Then thy heart will no more ache with error." Camouflaged F105 streaks overhead, altitude 500 feet. "For the Truth." 120 degrees. "Shall show all things subdued to thee, as thou to Me." White-shirted tourist, straw hat, blusher, lipstick, khaki shorts, smoking B & H 100. "Moreover, wert thou thus worst of all wrong-doers, this fair ship of truth." Orange VW, door open, rear seat piled with luggage. "Should bear thee safe and dry across the sea of thy transgressions." Spring plant crumbles in author's hand. "As the kindled flame feeds on the fuel till it sinks to ash." Yellow diamond sign on side road: "SLOW." "So unto nought the flame of Knowledge, Arjun, wastes awake the dross or Work!"
◆
Chinese Theater, Hollywood Blvd., Beverly Hills, California. Arjuna: 10:00 pm, June 19, 1980. Elizabeth Taylor. "Yet, Krishna!" Hand and knee prints, "Giant '56," ahead of her Jean Harlow, teensy hands, tinier knees, "Sept 29, '33." "For Mr. Grauman, All Happiness, Judy Garland, 10/10/39." "At the one time thou dost laud surcease of works." Dorothy Lamour, two Japanese tourists checking her out. "At another time, service through work." "Look how big Bob Hope's feet are!" "Of these twain plainly tell which is the better way?" Chinese-speaking mother and daughter survey the floor.
Chinese family being photographed, younger daughter squatting before Julie Andrews. "SID MAY YOU NEVER DIE TILL I KILL YOU – HUMPHREY BOGART [hands down, feet walking in opposite direction]." Ad (showcase) for Hollywood Wax Museum: Marilyn Monroe seated on fancy kitchen stool, carpeted floor beneath her in need of vacuum cleaning. "Make Your Own Souvenir Buddha" [out of green plastic]. "See it formed before your eyes." "Starts Wednesday, June 11: 'Hard hat days and honky tonk nights.'" Black bum in red ski parka, burnt-down cigarette in hand, bumbles through crowd.
"To cease from works is well." Chinese 1, "The Shining." "To do works in holiness, that too is well." Chinese 2, "Urban Cowboy." "And both conduct to supreme bliss." Chinese 3, "Rough Cut." 6901 Hollywood Boulevard. "But of these twain." Handsome guy talking to two teenies. "The better way." "Elvis" (under scaffold). "Is his." "Monty Hall, Joanne Woodward, Co-stars." "Who." Talking parrot. "Working piously." Sidewalk inset: Dinah Shore. "Refraineth not."
6739 – Partridge Bookstore: The Celtic Druids; Astrological Patterns; Tao: The Subtle Universal Law. Sidewalk inset: Liberace. And the Integral Way of Life. Bearded man in cap, acned girlfriend 20 years his junior. The I Ching, The Vanishing People; Buddhism and Psychotherapy. Black couple, woman in white shirtwaist, brown jacket over it. Next door, large B. Dalton display: Sidney Poitier, This Life. "Blow Yourself Up" in broken letters (ad for outsized photos). Sidewalk inset: Anne Baxter. Cuisine of Japan. Bikers crowding curb. Black man in crazy act. Sidewalk inset: Mary Livingstone. Two white girls on roller skates cruising.
"Whoso is fixed in holiness." Jack-in-the-Box (south side of boulevard). "Self-ruled." Black junkies lounging at table. "Pure-hearted." Orange floor. North side view: "Dynamite Boutique"; white baha-ed VW passing. "Lord of senses." "Thank You" trash receptacle too full of trash. "And self." Bearded black working on guitar score, instrument in lap, as white hippie looks disconsolately on. "Lost in the common life of all that lives." Black musician's pile of books includes a purple paperbound Sound and Symbol. Junkies in rowdy mood, one (mulatto) tosses comment in booted author's direction: "A Yogayukt." "I never met a cowboy that couldn't be throwed." "He the Saint wending straightway to Brahm." White car, black roof, pausing for red light. Wino on boulevard falls down, red sedan violating cross-walk, opposite direction. "Such an one, he is not touched by taint of deeds." Hippie girl entering, almost in tears, followed by white guy in "I've Got the Crabs" tee shirt. Black guy in stalled car gets push from black teenagers, car guilty of hitting wino motioned to curb by cop with flashlight. "Try Our Chicken Supreme / Big and Delicious." Two white chicks – black groupies – taking seats at junkie table.
"'Nought of myself I do.'" Restaurant walls covered in fin-de-siècle prints. Wobbly-kneed biker takes seat, author's table, opposite white-shirted tourist. "How's it goin'?" he asks her. "OK. How's it goin' with you?" "Real high." "Yeah, what're you high on?" "Leeb. Heroin. Heroin wore off a while ago." Sign through window: "Watch Center" (white ground: black and red letters). Biker: "Whatcha doin' out, jus' trippin'?" "Yeah." "I kin believe that." Big respectable black enters, checks out white-shirted tourist (discreetly). Biker begins work on onion rings, squeezes ketchup from plastic packages. "How long have you lived here?" – white-shirted tourist. "Since 1966. Been in Canada three years, jus' got back. People're a lot more friendly." Black teen entering, black shawl, black fedora, black pencil-striped jacket. Middle-aged Chinese man looks through window. Biker showing off tattoos, baby blue van passing behind him. "Don't get 'em yourself, you'll regret it." Jack-in-the-Box menu reflected in mirror. Biker, dipping onion ring, "You gotta place to stay and everything?" "Yeah." "You wanna drink a beer?" Museum ad on bench, head of Boris Karloff. "No thanks, I'm lettin' my liver recover." Black on yellow. "I kinda like L.A." – white-shirted tourist. "Oh yeah?" – biker looking at author. "Yeah." "It's nothin' but a tourist trap." Window ad: "Try our Thicker & Juicier Jumbo Jack." "And all them niggers." "Thus will he think – who holds the truth of truths." "But they don't fool with me." "Seeing, hearing, smelling, touching." "I'm a biker." "Slumbering or talking, opening his eyes or shutting them." "Flash 'em a Coppertone Tan" [billboard]. "You writin' character sketches?" – biker to author. "Uh, yeah." "This is the sense-world playing with senses." "Thought so."
11:05: onward (south side of boulevard). "He that acts in thought of Brahm." Latino in dark blue running suit. "Detaching end from act." Jacket open, light blue undershirt, silver chain. "With act content." Lightweight Nikes. "The world of sense." Someone leans from passing car to make remark (inaudible). "Can no more stain his soul." Bus (north side) crunches to halt. "Than water mar the enameled lotus leaf." Destination: Century City.
Most stores barred now. Gay in white cashmere sweater, white bucks, red crepe soles. Gold-earringed black with girlfriend singing in falsetto. Storefronts: "Mona Lisa Tops," woman model "swimming," inundated with Speedo caps tumbling out of crate marked "OK Los Angeles 2130 Made in Japan." "Marlow's Bookshop," Elvis tee shirts, Liberace poster, Marilyn memorabilia. "Miss Hunter Fashion," five manikins: (1) black on black outfit, octagonal handbag, heart-shaped black-tinted glasses, black tricorne; (2) white tricorne, red heart shaped broach attached, top in black/white horizontal stripes, black parachute nylon pants; (3) cowboy hat in little green feathers, black jumpsuit open to navel, red-tinted shades; (4) black midnite cowboy outfit, write fringe; (5) peppermint diagonal-striped jacket, red purse, black hand-held arrow tipped in gold.
Chinese couple clasp hands under "Japanese Food," walk downstreet past "Devil in Miss Jones." Caucasian in brown leisure suit licks vanilla cone. "Peaches Records and Tapes: Albums 99¢." Periodical rack, Oriental browsing. "With life." Tan avant-garde moc boots. "Heart." Orange and green over-garters. "Mind." Red-and-white tattersall vest, blue satin shirt. "Nay, with all five senses." Opalescent Irish walking hat. "Letting selfhood go." Studies magazine categories: "Yogins toil." "Political"; "Dogs"; "Aviation"; "Humor." "Ever towards their souls' release." "Art."; "High Fidelity"; "Outdoors."
Egyptian Theater (I II III): "The Empire Strikes Back" (all three) – Italian Restaurant window setting: red tablecloth; "History Italy" place-mat; spoon, knife, fork (on napkin); half-bottle, Bardolino Ruffino). Sidewalk inset: Mack Sennett. "Such votaries." Scientology storefront. "Renouncing fruit of deeds." Alternating white and blue flags on building, "STATIONERS" above, pigeons in among the letters. "Gain endless peace." "Image before my Eyes." "No Problem / Fashion for Guys and Gals." Hollywood and Highland: "Bank of America." "The unvowed." "Lee Cut Rate Drugs," "Liquors" in green neon. "The Passion-bound." "You Haven't Yet Discovered Bombay Gin? Pity." "Seeking a fruit from works." Pacific National Tower, "Offices Available" (third-floor, tenth-floor lights on). "Are fastened down." Pale blue VW bug turns left. Black, in black sedan, pausing for red, turns right. Two gays, one in purple top, one in yellow pants, walking briskly.
Mixed couple (Caucasian/Oriental), smoking cigarettes. Paramount: "Village People / Valerie Perrine / Bruce Jenner" [pink letters]. "The embodied sage." "Just Looking / Paris." "Withdraws within his soul." "Hamburger Hamlet"; "Computer Capital Corporation." "And at every act sits godlike." Curb littered with pumpkin-colored sheets of paper. "In the town which hath nine gateways." Graffito: "L.A. judges: Crooks." "Neither doing aught." Roosevelt Hotel sign missing two red neon letters. "Nor causing any deed." Car honks at coughing black alcoholic crossing street.
"Nicks," Pico Blvd., Los Angeles, 11:00 am, June 20, 1980. American flag (miniature), on Formica tabletop, boomerang design. City National Bank through window. Man at counter reading L.A. Times, upside down. Alpha Beta passing. Woman in fuchsia blouse, enormous rimless glasses; man seated beside her in army uniform, World War II hat, Swedish flag patch on shoulder. Woman in tangerine blouse, plum bouclé jacket, cherry bolero pants. "The Lord makes neither the work nor passion for the work." $35.00 fake painting, wrapped in cellophane, on sale for $17.50. "Nor lust for the fruit of the work." Woman in pink blouse, pink, jacket, pink glass frames tries French fry, turns it over in hand. "The man's own self pushes to these!" Companion, 58. "The Master of this World." In chrome yellow leisure suit. "Takes on himself." Gold-rim glasses tinted yellow. "The good or evil deeds of no man." Balding man at counter, black strings of hair plastered on his pate, dark glasses perched over forehead. "Mankind errs here by folly, darkening knowledge." "Thumbs-up" red velour top, white epaulettes, electric blue suede pants.
"But, for whom that darkness of the soul." Ridgecrest Drive and Schuyler Drive, Ken's Laundry truck ascending. "Is chased by light." Beverly Hills, California. "Splendid and clear." June 20. "Shines manifest." 1:30 pm. "The Truth." Chirp, chirp. "As if a Sun of Wisdom." Cool breeze. "Sprang." Sound of Skill saw. "To shed its beams of dawn." Sound of servants' voices, Mocha Mercedes 450 gliding downhill, helicopter overhead. Ivy, oleander, ponderosa pines; hammer, hammer, hammer; broad-leafed, ungainly semi-tropical plants. "Him meditating still." Buff Porsche, suspicious looks from grey-bearded driver, wife (wide bandana hair catch). "Him seeking." Toyota service vehicle; florist van. "With him blended." Classy broad, cream Alfa Romeo. "Stayed on Him." Checker cab ascending. "The souls illuminated." Postal truck; Ken's Laundry returning. "Take that road." Servant's car. "Which hath no turning back." Flaming red bush. "Their sins flung off." Smog-filled dome, dim sun. "By strength of faith." American flag slack over villa. "He who will." Phone ringing. "May have this Light." Ring. "Who hath it sees." Ring. Silence (answering service?). Chirp. Butterfly bobbing.
Coffee Room. "To him who wisely sees." Beverly Hills Hotel. "The Brahman." 2:00 pm. "With his scrolls." "Souvenir Map." "And Sanctities." Beverly Hills, Bel Air, West L.A." Tropical greenery (wallpaper); pretend Cézanne. Air-conditioning man checking temperature at vent. "Warning: Do Not Go to Any of These Doors." Pink paper bags on black marble counter. "You Could be Arrested." Grey-haired matron, gold pinky ring, reading L.A. Times, daintily chows down on Tuna Fish Salad, cottage cheese. Wasp service people, subtly deferential. "Guide to Starland / News of Interest." Pink-suited waitress preparing fresh lemonade for woman in lilac chemise, shirred shoulders; red lipstick, large yellow mum over ear. "The cow." Sucks on lemonade; puckers lips; takes out straw. "The elephant." "Jack Klugman, boiling mad at quality of scripts, boycotted show for two weeks." "The unclean dog." "Benny, Jack (last home) 10231 Charring Cross Drive; Harlow, Jean (last home) 512 Palm Drive; Pickford, Mary (last home) 1143 Summit Drive." "The outcast gorging on dog's meat." Bill for sandwich, Coke, milkshake: $8.15. Irish cook slices tomatoes, beats eggs (quietly). Three-year-old debating dessert options ("I'm allergic to custard, and Mommy doesn't think I should have ice cream"). Nurse listens patiently. "All are one." Cook nudging pig-in-blanket as though he were brain surgeon. "Listings herein frequently revised."
Paramount Studio, Hollywood, 5:00 pm, June 20. Shooting: "Let's see it with the car." Cop car, lights flashing, Chinatown, sidewalk full of silent people, all in motion, Roddy McDowall in wheel chair. "Cut!" Klieg lights blushing out, white boom truck, sound of saw in background. People in Hollywood get-up talking quietly: big shades, long moustaches, hats. "Creative Mobile Studios Inc, Hollywood CA" truck, cables running out of it. "The world is overcome – aye! even here – by such as fix their faith on Unity." Operation call sheet.
| | | |
| --- | --- | --- |
| Set | Scenes | Cast # |
| Ext Chinese Theater | Sc. 248 | 2, 9 |
| Actor | Character | Rept to |
| Peter Ustinov | Chan | Paramount |
"The sinless Brahma dwells in Unity – and they in Brahma." Cameramen on boom in conversation by megaphone: "What's your next line?" Director: "Here we go!" Bell! Bell! Bell! Lights on cop car flashing, Roddy McDowall in wheel chair. "Cut!" Bell! Bell! Bell! "Be not over-glad." Man in green silk shirt. "To attain joy." Eating red Jell-O off white Styroplate. "And be not over-sad." Airplane going over. "To encounter grief." "OK, Roddy down the sidewalk, wheelchair down the sidewalk." "But, stayed on Brahma." Director in English accent, D.W. Griffith hat. "Still constant." Chapman boom mounting. "Let each abide!" Bare breasted girl photo, front of Chapman truck. "Cut!" Bearded sound man, white-dude shirt (naked girl, solar rays), manipulating Graphic Equalizer, Naira deck. "The sage whose soul holds off from outer contacts." Director passes hand through thick black hair. "In himself finds bliss." White-haired assistant, Coors cap, picks up line, electric plugs. "To Brahma joined by piety." Nasty Chinese actress in deep-side-slit purple dress. "His spirit tastes eternal peace." Red rose in bosom.
Washington St. Café, Venice, California. "The joys that spring from sense-life are but quickening wombs." "Greek and Italian Specialties." "They bleed but certain grief." June 21, 12:00 noon. "Such joys begin and end." Man in blue cap at adjacent table ("Tennis Players Have Fuzzy Balls"), reading Los Angeles Herald Examiner: "Afghan Olympic Protests." Teenage daughter in raspberry terrycloth shorts. "Another Penny Shortage / L.A. Has Big Hoarders." "The wise mind takes no pleasure, Kunti's Son! in such as those!" Waitress in "Dale Johnson / 780-1943 / Carpet Service" tee shirt. "68 Per Cent of Young Adults Have Smoked Pot." Menu: Omelet Combinations. "It Can't Get Much Worse For Angels." (1) Greek Omelet, (2) Pizza Omelet, (3) Speedway Vegi Delight, (4) Jimmy's Outrage (Avocado, Feta, Tomato, Mushrooms). "UCLA Economists: 'Wait Till Next Year.'" Wall decor: French tinted floral etching; antique washboard; "Not a Through Street" (L.A. Traffic Dept. sign). Couple (transplanted New Yorkers?), look of second-generation affluence. Painting of two eggs, two strips of bacon. He in maroon Izod tennis shirt, white shorts, rumpled hair. "But if a man shall learn." "Five Penthouses Available at North Coast Village." "Even while he lives and bears his body's chain." Wife (live-in?), dark blue tennis shirt. "To master lust and anger." Red inverted-pleat skirt, shiny white sandals. "He, then, is blest." "Affordable Interest, No Gimmicks, 30 Years."
Ocean Front Walk, Venice, 1:30 pm. "He is the Yukta." Jogger in red bandana, cop directing traffic. Negro skaters, girl in red elbow pads, white tank top, turquoise bra-straps showing. Cop pulls kid to curb, brown sedan, smashed left front fender, headed wrong way on one-way street. "That man hath happiness, contentment, light within." "I got lost," says kid. "His life merged with Brahma's." Thin kid (blond), red shorts, purple comb, skates past, steadying himself, Dr. P. in hand. "That one doth Nirvana touch!" Cop continuing to hassle kid – "You were going the wrong way back there" – writing ticket. Magenta Gremlin passes parked white van, silver vents, sign across street reflected on its side (backwards): "UNIVERSITY STEREO – WE SELL HAPPINESS." Pigeon walks faster to avoid skaters.
Leaving L.A., Santa Monica Freeway, 1:30 pm, June 22. "Thus go the Rishis unto rest." Bumper to bumper. "Who dwell with sins effaced." Sunday afternoon beach traffic. "With doubts at end." California plates: "FLY DC 8." "With hearts calm." Single in Celica. "And governed." VW driver drinking beer (bumper sticker: "WARNING: ARMED." Corolla, Chevelle, Corona (right lane moving ahead). "Glad in all the good they live." Corona, Chevelle, Corolla (author passing again). "Nigh to the peace of God." GMC pickup. "All those live who pass their days." Couple necking in truck bed. "Exempt from wrath and greed." Honk honk tunnel honk. "Subduing self and senses." CA drivers. "Knowing the Soul!" Honking for the hell of it. (Robert E. McClure Tunnel.)
Cabrillo Blvd. OOW, Santa Barbara. "The Saint." California. "Who shuts outside his placid soul." 4:00 pm. "All touch of sense." June 22. "Letting no contact through." Smog burnt off, kite in air, palm above. "Whose quiet eyes gaze straight from fixed brow." Sun above. "Whose outward breath." Chill in air. "Whose inward breath." Author's hair flapping in breeze. "Are drawn equal and slow." Two CA toughs on concrete bench. "Through nostrils still and close." Author stares them down. "That one." Looking at sign behind them: "With organs, heart and mind constrained." "Sunny's Sunshine Kitchen." "Bent on deliverance." Ad beneath for "Moonlight Roller Skating." Ancient lampposts flaking paint. Palms like wizened parts of pachyderms. "Having put away passion." Two female joggers. "Fear and rage." Both in half-and-half shorts: blue and white; red and black. Fat man, white shirt, yellow shorts, green Sprite can. "Hath, even now, obtained deliverance." Family skates by holding one another. "Ever and ever freed." Single dude in white skates, white shorts, double-breasted gangster jacket. "Yea! For he knows Me." Followed by blond doll, black skates, blue satin pants, green titty top. "For I am He that heeds the sacrifice and worship." Sun setting into palm. "God revealed." Mexican baby in white/blue cap, red Mickey Mouse ears, family taking seat in front of author. "And He who heeds not." Hubby in earth colors. "Being Lord of Worlds." Black styling by in yellow earphones, red calf-leather shorts, white knee-socks, high black skates. "Lover of all that lives." Two dowdy girls, two dowdy men. Gulls alighting on trawler mast, "Laguna Marina." "God revealed." "Color Magic: Auto Painting." "Wherein he who will." Mexican mother watching author. "Shall find surety." "La Casa Motel del Mar." "Shall find a shield." Hubby sitting, Bud in hand.
◆
Krishna: "Let each man raise the Self by Soul." City Hall reflecting pool. "Nor trample down his Self." San Francisco, 9:00 am. "Since Soul that is Self's friend." June 28, 1980. "May grow Self's foe." Forty-year-old man doing gull imitations for preening gulls. "Soul is Self's Friend." Who dip their heads back in the water. "When Self ruleth over Self." Ignoring him. Water slides over pool lip in discontinuous sheets. "But Self turned enemy." Gull in for landing over author's head. "If Soul's own self hateth Self." "Veers, flaps down, feet out. "As not itself." Settles.
Eastshore Lines bus passes in front of City Hall, bright sunlight glinting off it. Flock of pigeons descends on dome, cornice, balconies. Tourist in blue net cap (on backwards), white tee shirt, whipcord pants with deep cargo pockets, begins to shoot City Hall with movie camera. "The sovereign soul of him who lives self-governed and at peace." Joined by wife, who takes out still camera. "Is centered in itself." Points it toward three gulls. "Taking alike pleasure and pain." Who turn their backs.
Forty-year-old man, rumpled grey raincoat, takes out magazine. "Heat and cold." Turns pages of color illustrations, reading aloud. "Glory and shame." Accompanies words with appropriate gestures. "He is the Yogi." Six gulls now stand on ledge before him. "He is Yukta." "Pah-pssss" of red bus, stopping to let off tourists, mostly German, all with cameras. "Glad with joy of light and truth." Three blackbirds in horizonward progress. "Dwelling apart upon a peak." "Falcon" bus arriving. "With senses subjugate." Group of seven pigeons departing City Hall. "Whereto the clod." Divides into two groups, one of four, one of three. "The lock, the glistering gold." Six gulls on ledge joined by one more. "Show all as one."
Market Street traffic, viewed through restaurant window ("Golden Sword / American Chinese"), 9:30 am, June 28. Buses moaning in opposite directions. Pedestrian in camouflage Jones cap, dark glasses, forward bearing. "Self-Service, Start Here." "By this sign is he known." Yellow letters, brown ground, orange arrow pointing down. "Being of equal grace." Bum in long hair, long overcoat, striped gabardine pants. "To comrades, friends, chance-comers." Black man, red ribbed sweater, white shirt underneath. "Strangers, lovers, enemies." Elderly Chinese man in white corduroy house slippers, limping. "Aliens and kinsmen." Man in tattoo, Navy watch cap. "Loving all alike." Father with two preteens, tee shirt reading "Alcatraz Penitentiary Swim Team." "Evil or Good."
Merrill's Drugs. The People: "UNEMPLOYMENT CRISIS / The Worst Yet to Come." "Sequestered should he sit." "SHAH SERIOUSLY ILL IN CAIRO HOSPITAL." "Steadfastly meditating." National Enquirer: "Solitary." "SCIENTISTS ON VERGE OF CREATING PLANT PEOPLE." "His thoughts controlled." Six-year-old Chinese girl, red dress and sweater, shows copy of The Empire Strikes Back to ten-year-old brother. "His passions laid away." "Yeah, I know, I got it." "Quit of belongings." Black man goes by window pulling suitcase on rollers.
Onward: Crocker Bank (Market St. and McAllister), "that special taste" [radio]; disco beat. "In a fair, still spot." Winos sitting on pedestal. "Having his fixed abode." Black man comforting white. "Not too much raised, nor yet too low." Passing people: gay in light blue Levi vest; girl in yellow strap top. "Let him abide." "Vote No on Proposition T." "His goods a cloth, a deerskin." "Don't commit sewercide." "And the Kusa-grass."
Building-site graffiti: "There." "BREAKOUTS." "Setting hard his mind upon The One." "Diane Fineswine Oink! Oink!" "Restraining heart and senses." "Jesus Saves." "Silent, calm." Ball-point-pen hippie, hexagonal glasses, one hand holding roach, the other signing peace. "Let him accomplish Yoga." "Douglas Jones was here 2/8/79." "And achieve pureness of soul." "I CORINTHIANS 6:9-10." "Holding immovable body, neck and head." "LEWD, Sheik Vasolino, lead singer." "His gaze absorbed upon his nose-end." "Capital monopoly propaganda is called commercials." "Rapt from all around." Across street: "Pipers Jewel." "Tranquil in spirit." "Florin's Key Shop/Cutlery." "Free of Fear." "Tom's Smoke Shop." "Intent upon his Bramacharya vow." "Bijou Theater": "Odyssey" / "Thunderbums & Souperman." "Devout." "Mac Mee Cafe." "Musing on Me." "Fantastic Foods." "Lost in the thought of Me." Trees obscuring other signs. "That Yogin." High-style street lamp (three globes). "So devoted, so controlled." Two gays on bench, sitting close. "Comes to the peace beyond." Secretary in white menswear blouse, black bow tie, double-breasted wool jacket. "My peace." Disco beat issuing from "Fashion Center." "The peace of high Nirvana!"
Onward. K-Market tee shirt display, behind it a Chinese girl reclines (black pants, blue top), reading a Chinese novel, red telephone on the counter above her. "PONCH" / "CHiPs," portrait in circle; "I love San Francisco" muscle shirt; "Here Comes Trouble," cartoon devil in diapers. "You wouldn't be Karl, would you?" – black man to author. "Diamond Palace"; "Wigs America," models with stars in their eyes; "Ebony Collection," Chinese man mopping floor outside. "Chief Joe Jung WELCOME YOU [sic]," picture of Joe and Mrs. Joe; Chinese youth seated inside window studies "Scoreboard" section, morning Examiner, in Mickey Mouse tee shirt.
Onward: cable-car turnaround, view up side street: two American flags flying in opposite directions. Two hundred people waiting in line for cable car. Two purveyors of Awake in conversation with one another. Trash receptacle: "The Heart of San Francisco." Black felt-tip graffito: "JAM." Fifty-fivish Chinese man taking advantage of line to hold up hand-lettered white card, green "JESUS LOVES YOU."
Market and New Montgomery: women, picketing on corner, sing in unison: "Are you sleeping, are you sleeping, / GOP, GOP, / Put it on the blackboard, Put it on the blackboard, / ERA, ERA." "Do you need some information?" – big-butted 27-year-old, stepping out of line to accost author. "No thanks." "Would you like to join us then?" Women continue singing: "We shall not, we shall not be moved, / Like a tree that's standing by the wa-a-ter." Faces vacant. Mini-plaza statue ("Admission of California, 1850"). "The unity of our empire hangs on this decision" – W.K. Seward. Slender black woman, brilliant magenta knit dress, lounges against fence, tinted locks fluttering at their extremities. Half-black, half-Hispanic woman approaches her, pamphlet in hand. Gets nowhere. Chinese woman, daughter, stand contemplating demonstration. Politely decline literature.
Rand McNally window display, maps on purple carpet: San Francisco Bay Region; California (deep blue Pacific, vaginal Sacramento Valley, crusty Mohave Desert); United States in 3-D leaned against Galileo globe ($175.00); copies of Our Magnificent Earth, The New Concise Atlas of the Universe.
Market and Sutter confluence: brilliant yellow chrysanthemums (Standard Oil of California), Hispanic with watering can. Back-packer heading west under "Sutter ←000" sign. Brick sidewalks, neatly mortared; thinly-leaved sycamores. "DON'T WALK" in tall letters, chicly positioned. Tokai Bank. Headline: "Fiery Crash Closes Nimitz." Skyscraper surround. "76" circled, 11:22 (Union World Savings). Front, Fremont and Market graffito: "Fruit Bats from Minneapolis visit the Bay." Bus ("7 Haight") stops, black gay looking down with gaze of haughty indifference. Sidewalk traffic: long-haired girl, white shift, skinny legs in socks of alternate green/black stripes. Tourist entourage, family of six, all but one in cowboy hats, mother trudging, father beaming. U. S. Mail truck stopping at corner, op in red, close-cropped beard, yellow emergency lights flashing. Braced skyscraper glimpse, end of Front St. Glint of light off trolley tracks. Newsstand: The Wall Street Journal; Examiner headline: "GIRL'S BODY UNDER BRIDGE / Family Thinks It's Missing Daughter."
Oriental couple in white Alfa-Romeo. "For earthly needs religion is not his who too much fasts or too much feasts." Sidewalk bowl of begonias. "Nor his who sleeps away all idle mind." "GIRL'S BODY" showing beneath first copy. "Nor his who wears to waste his strength in vigils." Smell of seaside perceptible; intersection empty; 20 to 12:00. "Nay, Arjuna! call that the true piety." "Bart BA," last two letters interlocking black and blue. "Which most removes earth-aches and ills." Embarcadero Center; Hyatt Regency; The Market Place ("Bar and Restaurant"). "Where one is moderate in all desire." Fat Oriental woman, floppy rickshaw hat, drinking a large o.j., eating big sandwich, glances at watch. "Measured in wish and act." Unfinished megalith, water gushing from its side, twenty stories up; orange external elevator shaft, car riding up it. Passing tourist, two-month-old at belly. "Sleeping betimes." Brisk glance at author. "Waking betimes for duty."
"When the man, so living, centers on his soul that thought." Noon, The Embarcadero. "Straitly restrained." San Francisco. "Untouched internally." June 28. "By stress of sense." 1980. "That man is Yukta." Overpass graffito: "See!" "JEHOVAH/GOD." "Steadfast his lamp burns sheltered from the wind." "S. F. P. D. Restricted Parking." "Such is the likeness of the Yogi's mind." "Violators Will Be Towed." "Shut away from sense-storms." "Pier 1½." "And burning bright to Heaven." Constant overhead stream of autos. View of bay through opening: loveliness of water, subtle gradations: blue, green, turquoise, grey. A single sailing craft, jib in blue, mainsail white. Island fog-covered, dusky shore beyond.
Backwards: June 28, 1:00 o'clock. "When mind broods placid, soothed with holy wont." San Francisco, The Embarcadero, Pier 39. "When Self contemplates self." "On's Chinese Food." "And in itself hath comfort." "Pier Pizzeria." "When it knows the nameless joy." "Hot Dog!" "Beyond all scope of sense." "It's My Parsley." "Revealed to Soul." "Pier Delight." "Only to Soul." "Ice Cream and Yoghurt." "And, knowing." Real pier stock. "Wavers not." Real rope. "True to the farther truth." Plank floors. "When, holding this." "I'm gonna have a hot dog" – hubby. "It deems comparable no other treasure." "I'm gonna have a turkey san" – wife. "But, harbored there." Pause. "Cannot be stirred or shook." Wife gives hubby friendly look. "By any gravest grief." Continues: "Can I go do my thing and you go do yours?" "Call that state 'peace.'" Family with happy kids, twelve-year-old in "1980 USA Olympics" shirt, ten-year-old in red shorts, black "eric" in small letters, back of white shirt. "As often as the heart, wild and wavering." Gorgeous sixteen-year-old girl behind counter, loose-fitting blouse, apron with "Hot Dog!" on it. "Break from control." Glances at author. "So oft let him recurb it." Author writing. "Let him rein it back." Stops. "To the soul's governance." Closes notebook.
San Francisco Bay, 1:15. "For perfect bliss." Foot of Pier 39. "Grows only in the bosom tranquillized." Whitecaps on water, flecked white sail on whitecaps. "The spirit passionless." White tourist shirt against water/pier railing. "Purged from offense." Concrete insolite. "Vowed to the Infinite." Light necking gaggle of whites and off-whites, tourist girls. Giggles. White-slacked silent middle-aged woman on bench next to author, deep in osservazzione, including author activity. "He who thus vows his soul to the Supreme Soul." Husband in white-topped, off-white canvas shorts. Quitting sin." Ketch through slip, past white-walled tire barrier. "Passes unhindered to the endless bliss." White guano-flecked pier deck. "Of unity with Brahma." Mother, to eight-year-old in large "Shape-Up" muscle shirt: "C'mon Dwayne!" "He so vowed." Ketch crashing into tires. "So blended." Wife up off bench to view incident. "Sees the Life-Soul." Blocking author's view. "Resident in all things living." Helicopter overhead; distant cargo ship piled high with piggybacks; giggly girl tourists posing. "And all living things in that Life-Soul contained." Author's hair whipping in face. "Whoso thus discerneth Me in all." Several posing tourist girls look together at author, giggling. "And all in Me." Look again at camera; "Fart," says one in yellow shirt. "I never let him go." Sticks out tongue; laughs; looks at author, smiling. "Nor looseneth he hold on Me ." Helicopter shifts sideways; gulls veer, stand still in wind. "But, dwell he where he may, whate'er his life in Me he dwells and lives." Ketch in tow, maroon and ocher bow motif. "Because he knows and worships Me, who dwell in all which lives." Alcatraz visible. "And cleaves to Me in all." Sails miniaturized against its coast.
Embarcadero, San Francisco, 1:30 pm. Realist photos of surreal veggies: avocado opened to reveal hard-boiled egg; sliced loaf of French bread, Swiss cheese interior; cabbage being grated into multiple Brussels sprouts. Artist holds up picture of tomato (can-of-spaghetti interior) to promising tourist couple. Sign: "Visa/Master Charge Accepted." Artist in white socks, eggplant Romeo slippers; French cheese-maker's smock; tiny beret. "We've had a lot of fun with these," he says. Sewer stench. Headline: "MOLTEN SULPHUR SPILL BLOCKS OFF NIMITZ." Berkeley woman, Rajasthani shirt, full skirt, sandals, approaches author: "Would you be interested in our campaign to save the whales?" Joined by man in full beard, little silver-rim glasses; prospector jeans, Sierra goose-down vest over Donegal tweed turtleneck.
"Computer Portraits in 50 Seconds." (Mason and Jefferson). Captions: "Wild and Crazy," "Good Times in S.F." "Wax Museum," Merlin, owl on arm, speaking to crowd (Admission $4.50). "Wachs Museum, Museo de Cera, Musée de Cire." Guy stands outside talking to boisterous CA girl, white organza tube top, white painter's pants, white leather clogs. Exiting tourist knocks his watch to get it started again. Woman, silk strapless bustier, taffeta nighttime trousers, snaps Minolta, getting author's notebook into frame. "Computerized Horoscope Analysis." "Ripley's Believe It Or Not Museum." Little black kid playing bongos, Taylor and Jefferson. Pier 45, Holiday Lines, Trinidadian playing Bach on steel drum with rubber-covered mallets. Small motionless figure ("The Doll") attracts a crowd; black beret, clown white, yellow rubber boots, a kid's lunch pail for donation. "Guinness Museum of World Records," Chinese woman ticket-taker setting record for (a) good looks, (b) impassive expression. "DiMaggio's Restaurant," disco-radio-passing car. Across street: battered gold VW, "sea" of masts behind it.
"You guys wanna have fun in my . . . rickshaw?" – black guy, panama hat, Hawaiian shirt, rickshaw in Chinese red, gold equestrian motif. "Everyone," says driver, "has a good time . . . in thuh . . . rickshaw!" – switching to "jive" – "I've got golden tours of the Golden Gate" – red gloves, seductive gestures – "and I know you two just can't wait." Passing couple ignores him. Japanese-American woman lining up shot of "Casanova the Clown." "Special: Today Only $1.87 + tax," caricaturist, gloved hand, fingers in five different pastels. Girlfriend, hooded purple car coat, sits in adjacent canvas chair, dark blue cowboy hat, Bordeaux Levis, black boots. "Leatherware / Belts" ("I will make any name in 3 minutes").
"Arjuna! if a man sees everywhere." Wharfside park. "Taught by his own similitude." 2:30 pm. "One Life." "ONLY JESUS." "One Essence." "SAVES SINNERS FROM HELL." "In the Evil and the Good." Two creeps with banner making way through sunbathers. Twenty-five-year-old stands up. "Hold him a Yogi." Yells, "Fuck you!" "Yea well perfected." One of the banner-holders stops to stab at dissenting non-Christian. Arjuna: "Slayer of Madhu!" Others quickly come to defense, things getting out of hand. Two cops arrive, one on foot, one on horseback. "Yet again this Yog, this peace." Self-appointed "preacher" now haranguing captive audience in line for cable car. "Derived from equanimity, made known by thee." "Read the bible," he shouts, "while you're able!" "Therein I see no fixity, no rest." Cops in second pincer action. "Because the hearts of men are unfixed, Krishna!" Send preacher scampering. "Rash, tumultuous and willful." To sparse applause from crowd. "It were all one, I think, to hold the wayward wind, as tame man's heart." Preacher back at it, halfway down hill: "Read the bible while you're able!"
Krishna: "Hero long-armed! beyond denial, hard it is man's heart to restrain." Francisco and Polk, 3:00 pm. Light bright, heat slight. "Yet may it grow restrained by habit, Prince!" Bay visible, whitecaps increasing in steady wind. "By wont of self command." Black-shirted cyclist, descending Polk 30 mph, indicates left turn with full reach of arm. "This Yog, I say, comes not lightly to those ungoverned souls." Greenwich and Polk, mounting 20-mile-a-week author nearly out of breath. "But he." "No Parking." "That will master himself." Graffito: "No Peeking." "He shall win." Onward: Green, Vallejo, Broadway. Layabout accosts sill-sitting, notebook-open author: "Have you ever been a writer, know what I mean?" slapping author's thigh with both hands. "Well, I hope you're happy with the stuff." "Mais, qu'est-ce que j'en sais?" one woman, strolling past, to another.
Arjuna: "And what road goeth he who,having faith, fails, Krishna! in the striving." Double Rainbow Ice Cream Store. "Falling back from holiness, missing the perfect rule?" Polk St., 3:45 pm. "Is he not lost, straying from Brahma's light." Double Rainbow Energy Drink ($2.25):
Milk
Honey
[red]
Wheat Germ
Protein Powder
[yellow]
Yoghurt
[purple]
Fruit
[brown]
Gay, purple Turkish pants, yellow tennis shirt, single earring, clearing tables. "Like the vain cloud." Pale Oriental girl behind counter. "Which floats 'twixt earth and heaven." Macho cowboy, red boardwalk shirt open to navel. "When lightning splits it." French girl in wedding ring licks large coffee ice-cream cone. "And it vanisheth?" Blueberry shake in preparation. "Fain would I hear thee answer me herein." Across street: "F.W. WOO," white building, pale blue sky. "Since, Krishna! none save thou can clear the doubt." Forty-two-ish woman unaccountably steps up to take author's picture. Woman entering with daughter, daughter's boyfriend. Mother: "He who hesitates, never has a mocha ice-cream cone." Krishna: "He is not lost! Nor earth, nor heaven is forfeit because no heart with right desire treadeth the road of loss!" Black cop in near-black blues, tooled bullet case, places order. "But is that the right reason to get married, that you want to have children?" – attractive aging blond woman, cropped cardigan, full batiste skirt, to overweight friend, X-size Levi jumper. "He who should fail cometh at death to the Region of the Just."
Polk Street traffic. "There he dwells." 4:15. "For measureless years." June 28, 1980. "M. Stahl Ltd.," "Sonoma Market," "Weinstein Co." ("Lost Our Lease," pink crepe-paper streamers). "But being born anew he beginneth life again." "Hokamp's," "Zand's." "In some fair home." "Mykonos Island Shop." "And the mild and happy." "Princess Pat Liquors" (Sacramento Street). Author seated on bus-stop bench, black woman to left. Oriental to right. "It may chance he doth descend into a Yogin's house on Virtue's breast." Bus arrives. "But that is rare!" Butch girl crosses street in baggy dungarees. Man in white ducks, blue-striped shirt, leaves curb, passes sideways between red Porsche, green Mustang. "Such birth is hard to be obtained on earth." Meets Hollywood type, this side of street, shakes his hand. "So hath he back again what heights of heart he did achieve." Together they walk toward Sacramento. "So strives anew to perfectness, dear Prince."
Gays stroll by in muscle shirts, tight pants, sandals. VW bus with open bed in front of yellow awning. Mixed couple: Caucasian male in tweed jacket, wing-tip Oxfords; ravishing Oriental girl in cobalt blue smock coat, jute-wrapped wedge platforms, cat's-eye quartz ring. "For by the old desire is he drawn on." Five American flags flutter downstreet in concert. "But, being Yogi." Huge-breasted girl, pink tennis shirt, brown corduroys. "Striving strong and long to purge himself from transgression." Gay in "nice" working-man look. "Following on birth, perfected." Restaurant "family" group strolls past. "He plants his feet at last on the farther path." Gay in "Pt. Reeves" tee shirt. "Such an one ranks above ascetics." Adorable little Chinese girl, skipping past, pauses to look at ice cream through dark glasses. "Higher than the wise." Wedding procession turns corner, honking horns discreetly.
Krishna: "Learn now, dear Prince! how, if thy soul be set ever on me." Golden Gate Bridge. "Thou shalt come most surely unto perfect hold of Me." San Francisco. "I will declare to thee that utmost lore, whole and particular." 9:30 am. "Which, when thou knowest." July 4, 1980. "Leaveth no more to know here in this world." Golden Gate painted red, mat of putting-green grass in entrance park, American flag above, five-bird overflight in formation. "Of many thousand mortals, one, perchance, striveth for the Truth." Silver jet passes half moon to east, floats city-ward. "Of those few that rise high." White flagpole, deep blue sky. "One only knoweth Me." Icy evergreens. "As I am." Red van, white bus passing '40s toll booth. "The very Truth." Cloud-wispy, smoke-like grey hovers at horizon. Yellow-helmeted cyclist, blue nylon taffeta shell, red/white arm stripes, mounting bridge toward Sausalito. "Earth, water, flame, air, ether." Cool wind, bank of white flowers; black of concrete tabloid monument shadow. Jet noise overhead, cabin cruiser streaking over blue-green water. "Life and mind." Chinese man, daughter (four), son (five), climbing stair. "And individuality." Orange suited jogger descending roadway. "Those eight together make up the showing of Me." Distant firecrackers going off at author's back. "Manifest." Light glint off yellow car, warmth of sun on back of author's hand.
"These are my lower nature." Cable car station, Hyde and Beach. "Learn then the higher." 11:00 am. Obnoxious bagpiper, tattered silk hat, black jeans, black corduroy vest, black hair in rubber band ponytail. "Whereby, thou Valiant One! this Universe is." Yellow pavement stripe, black shade. "Produced." Salutes. "By its principle of life." Ahead of author, bagpipe music stops. "Whereby the worlds of visible things are born." "I'm not trying to make an audience of you" – bag-piper. "As from a Yoni." "The people who run the cable car have already taken care of that." More obnoxious bagpipe music. Municipal S.F. Railway worker lounging in white hard hat, luminous red-orange vest. "Know! I am that womb." Conversation, crowd and musician, recommencing. "I make and unmake this Universe." "Fine, I see someone here speaks English." "Than me there is no other Master, Prince!" More obnoxious bagpipe music, tourist arrival continuous. Three-masted tour-boat docking, American flag in stiff breeze atop middle mast. "No other Maker!" Cable car #23 arrives; author boarding. "All these hang on me."
Powell and Market: "Frank Chavez Toyota," "The Buena Vista." "As a row of pearls upon its string." Six-year-old in Garfield tee shirt: "How fast does this thing go?" "A hundred miles an hour" – blond mommy. Chestnut and Hyde, bay visible. "I am the fresh taste of the water." Lombard and Hyde: tourist photographing cable car, sparkling light on brick facade. "I am the gold o' the sun." Silver-haired Chinese woman passing in deep slit-front dress. "I, the silver of the moon." Union and Hyde. "The world of worship spoken in the Veds." Vallejo and Hyde: plane passes over moon. "The thrill that passeth in the ether." Pacific and Hyde: chill azure at Zenith, Caucasians/Orientals entering car. "The strength of man's shed seed." Rattle, flap, bam, crew-cut trainman braking car by hand. "Ng's Grocery," Jackson and Hyde. "Left turn now, hold on!" (Washington and Hyde). American flag atop high-rise; downtown pyramid visible ahead. Washington and Jones, descent commencing: "Turn Wheels to Curb / Prevent Runaway." Trainman in "Don't Call Them Trolleys" button. Oriental restaurant, blue and red eaves ("OPEN"). Trainman negotiating turn: "Chinatown straight ahead, two blocks, get off!" Cable car "ding ding." "Quong Ming Buddhist-Taoist Society." Horn honk. 1100 Powell.
Chinatown, San Francisco, 11:30 am. "I am the good sweet smell of the moistened earth." "Mabel Y. Kao, Obstetrics and Gynecology." Powell and Washington, author descending with Chinese family, all blue-jacketed except for mama in crimson. "I am the fire's red light." Light glancing off blue car hood, sun warming author's back. "I am the vital air moving in all that moves." "Wong Tong Moving & Express" truck (GMC), side panel in Chinese. "I am the holiness of hallowed souls." Pyramid ahead. Elderly Chinese woman ascending. Red paint sidewalk spill. "I am the root of undying." "The Real Thing / Coke," slate with Chinese characters. "Whence hath sprung whatever is." Two beautiful giggly Chinese girls mounting past "Golden Dragon Take-out Food." Chinese Woman, green-suited infant, passing "Sun Yat Sen News," "Button Me Up" on front of baby's suit.
Chinese man, standing in storefront, writes on slip of paper. "The wisdom of the wise." "Ding Ho Cafe." "The informed intellect." "Mandarin Pharmacy." "The splendor of the splendid." "Chinese Center Employment Agency," jobs advertised on 3 x 5 cards. "The greatness of the Great." "Wanted: Chow Wok Cook; Salary: Negotiable; Location: S.S.F." Description in two languages. "Pantryman," "Cook-Helper," "Service Station Attendant." "Kunti's Son! these am I." Universal Café Window. "Free from desire." Movie ad: "Fists of the White Lotus." "Free from passion." "Moonlight Cocktail Lounge," "Great Wall Restaurant." "Yet am I right desire." Woman with two kids, black skirt, red diagonal stripe. "In all who yearn." Little girl in yellow, baby boy in baby blue. "O Chief of the Bharatas!" Firecrackers popping upstreet. Oriental man, cowboy hat, berating Occidental driver, ancient Plymouth, for entering one-way street "way wrong."
"Hong Kong Gifts and Souvenirs." "For all those moods." Caucasian manikins, little blond girl in blue kimono, San Francisco '49ers jersey underneath. "Soothfast, or passionate, or ignorant." Dominoes in white, with red, blue and green markings. Standard Rules for the Game of Mah Jong. Poker chips in yellow, pink and black; chess set in brown jade. "All those moods that Nature frames deduce from me." Cheap ceramic figures: old man fishing, string at end of ceramic bamboo rod. "But all are merged in me, not I in them!" "Have fun on 4th of July" – smoke bombs, fat Oriental ten-year-old vending. "The world – deceived by those three qualities of being – wotteth not Me." Oriental man in ill-fitting maroon jacket crosses street toward author. "Who am outside them all." Gorgeous diminutive Chinese girl standing beside scribbling author. "Above them all." Oriental man and wife pause for light in beige VW bus. "Eternal!" Chinese family stands on corner arguing in English. Sign: "Holy Sun High School Alumni Association."
Commerce St. descent: bakery smells; "Wells Fargo Bank," red building front, green frame background; red and yellow paint on curb. "Hard it is." Ruby-colored Mazda. "To pierce that veil divine." "Steve M. Jong / Realty." "Of various shows that hide Me." Window poster: "America / Reagan Country," R. R. in cowboy hat, open shirt, wrinkled neck. "Yet they who worship Me." "Am. Asia Trading Co." "Pierce it." "Phoenix Restaurant," "Sony Chinatown TV." "And pass beyond." Clay and Kearny: "Y. C. Wong Kung Fu," "Superior Bakery."
Chinese restaurant, 850 Grant St. "Dinner for One" – author. "OK." – waiter. Beautiful Oriental woman passing west, pink blouse, eyes averted, seen through window. 12:30 pm, July 4. Highly made-up hostess directs traffic from register, signaling to waiter/waitress where to seat customers. Three successive parties greeted in Cantonese, English, Mandarin. Tiny Oriental face peers in from mother's arms, orange sedan in background. Soup arrives. Pretty Chinese girl entering with boyfriend. Young boy passes window with twisted pink balloon. Rice arrives. Brown babooshka-ed Chinese woman, 41, of classic beauty, looks in window tilting head; smiles at husband beside her. Pale yellow sign on eastern wall, delicate calligraphy, rose on table before it slowly opening. Highly made-up hostess pats hair held in place with spray; adjusts beige mohair sweater-jacket, color-coordinated blouse. Pregnant Chinese woman passing, heavily-lidded eyes. "TSIN TAO Beer / People's Republic of China" ad. Battered prawns arriving. Elegant Oriental woman enters, black high heels, white leggy sweater-dress, red tie-top travel bag. Older Oriental woman, window booth, puts down chopsticks, picks up spoon. Waiter explains menu to English-speaking customers, gentleman in '70s-look safari jacket, woman in oatmeal pant coat. Waitress, in yellow tuxedo blouse, wing-tipped collar, black pants, touches author as she passes. Hostess, rhinestone silver cross, paces floor with tiny steps. Waiter takes mock kung fu swipe at passing waitress. "Wham! Ba-wham!" – two cherry bombs set off in street.
Chinatown continuation, Washington and Grant. Sirens, people, construction sounds. l:30 pm. Author stands on corner, notebook open. Murmur of Chinese voices, quizzical looks. "I am not known to evil-doers, nor to foolish ones." "Imperial Palace," stars and stripes above. "Nor to the base and the churlish." Golden eagle atop flagpole. Chinese teenage girl in braces, strappy gold leather sandals, pouchy shoulder bag. "Nor to those whose mind." Chinese woman in blue Volvo. "Is cheated by the show of things." Two kids in back seat on either side of grandma. "Nor those that take the way of Asuras." Older Chinese woman, black fur jacket, pink curlers under sheer white scarf. Group of chipper Chinese females crossing street, yammering. Sultry Chinese prostitute, slender ankles, shiny red slippers, hooded jacket, natural lynx belly.
"Four sorts of mortals know me:" Elderly Chinese man in blue and yellow running shoes, white sweater, brown bag. "He who weeps, Arjuna!" Chinese muscle boy, strap undershirt, high-top canvas sneakers, borrows comb from girlfriend to touch up ducktails. "The man who yearns to know." "Hey man" – another youth – "lettsa-go get some bread." "He who toils to help." Wing Duck Co., display of electric woks; Chinese Chive, Pak Choi, Bitter Melon. "And he who sits." India Mustard. "Certain of me, enlightened." Across street: "CENTRAL BANK," Chinese characters in brilliant orange. Caucasian passing in orange plastic glasses. Oriental man with orange balloon: "S.F. 1980." Ancient Chinese man in long grey hair, cigarillo behind ear. "Take that down and smoke it" – black woman passing by.
"Of these four, O Prince of India!" Bank of Trade, Jackson and Grant. "Highest." Jefferson Standard Life. "Nearest." Thy Neighbors Wife (book store window display). "Best that last is." Jewish elderlies speaking Russian: "Eta, eta." "The devout soul, wise, intent upon 'The One.'" "We were lucky we got outta there alive!" – chubby, white, cowboy-shirted twelve-year-old. Dad laughs. "Everything was 49¢ 49¢," son adds, for further approval. Dad in dark blue triple-knit warm-up suit. "Specialty Catering." "I bet they've got some fireworks in there" – college boy to girlfriend. "Dear, above all, am I to him." Rapid fire "Pa-pa-pa-ap-ap-ap-pa" going off at curbside. Girlfriend smiles. "And he is dearest unto me." Fire engine, responding to call, stalled in Pacific St. traffic.
"Oriental House of Beauty." "All four of these are good, all four seek me." Crowd gathered at entrance, ghettoized apartment building, "We will March on May 1" still legible on wall. "But mine own." Money changing hands. "The true of heart, the faithful." Blacks, Orientals. "They taking me as their utmost blessedness." Crap game breaking up. "They are not 'mine.'" "Keep Chinatown Clean." "But I – even I myself!" Distant traffic visible as it inches across Bay Bridge. "Bank of Canton of California." "At end of many births to Me they come!" "Head Home for Red / Johnnie Walker." "Community Service" bus, orange on yellow, followed by green VW, California plates reading "BUGWAFE." Chinese Market, Pacific and Stockton: Doll Instant Ramen, Dried Bean Curd, Koon Chun (potassium carbonate solution); One-minute Quick Quaker Oats; Tientsin Dates; Planter's Cocktail Peanuts; White Fungus Dried Bamboo Shoots. "Yet hard the wise Mahatma is to find." Blue Ribbon Texas Rice. "That man who sayeth, 'All is Vasudev!' (Krishna)."
Jackson and Powell, author waiting for cable car. "There be those, too, whose knowledge." Curbside trash: plastic rings from six-pack. "Turned aside by this desire or that." Gay in pink sweater joins the line. "Gives them to serve some lower gods with various rites." Talking to himself to attract attention. Fidgets; leaves. "Constrained by that which mouldeth them." Caucasian family joining queue, daughter in red and blue Chinese dragon jacket, yellow balloon on string. "Unto all such." Mom in heavy grey cardigan, Dad in black plastic glasses. "Worship what shrine they will." Hum-music of underground cables. "'Tis I who give them faith!" Family conversation topic: likelihood of getting seats on cable car.
"Fares here!" "I am content!" Fare-taker, "Question Authority" button on his cap. "Blind are the eyes that deem the Unmanifested manifest." Passengers squeeze in, California 767 ZQU waiting behind us patiently. "Not comprehending Me in my true Self!" "You guys wanna get off?" – fare-taker. "Well, good luck." "Imperishable." Oriental teens on foot racing toward us. "Here comes Bruce Lee and cohorts." "Viewless, undeclared." Sudden downhill shot, cable car brakes smoking. Five Chinese kids on sidewalk, jumping, laughing, goosing one another. "Hidden behind my magic veil of show." Fare-taker, chatting up two 20-year-old Caucasian girls, resumes: "This is the last stop." "I am not seen by all." "Walk straight ahead for Fisherman's Wharf." "I am not known." Taylor St., juggler in red beret, Ripley's Believe It Or Not Museum. "Unborn and changeless." Sewer stench. "I am not known to the idle world." Wax Museum, Computer Portraits. "But I, Arjuna!" Photos of surreal veggies. "Know all which were." Fire-cracker! "All which are." Coke can skittering in wind. "All which are to be." "Jefferson 000." "Albeit no one among them knoweth Me!"
◆
Arjuna: Berkeley Rose Garden. "Who is that Brahma?" Berkeley, California. "What that Soul of Souls (the Adhyatman)?" Japanese tourist family commentating roses. 12:00 noon. Granma in white sweater, flowered skirt. July 12, 1980. Baby in mother's arms. "What, Thou Best of All!" Aunt in blue sleeveless pant suit, red long-sleeved sweater. "Thy work, the Karma?" "Century Two," "Spanish Sun," "Rose of Freedom."
"Tell me what is it thou namest Adhibhuta? What again means Adhidaiva? Yea, and how it comes thou canst be Adhiyajna in the flesh?" Thwack, bop. Thwack, bop. "O slayer of Madhu!" Tennis foursome: professor, assistant professor, black and Oriental graduate students. "Further, make me know." "White Ore of Sunlight," "Mrs. McGrady," "Montezuma," "Mandalay." "How good men find thee." "Pink Peace." "In the hour of death?" Cloudy sky, pale blue opening on horizon: Berkeley, Bay, San Francisco.
Krishna: Thwack; bop; thunk. "That's love-30, isn't it?" Japanese laughter. "I am Brahman, the one Eternal God." "Do Not Pick the Roses." "And Adhyatman is my Being's name." "Princeling of Hashohito Empire." "What goeth forth from Me." White light on tip of S.F. pyramid. "Causing all life to live." Chirp; squeak. "Is Karma called." "Golden Ore." "Manifested in divided forms." Tall pine, orange-red Howard Johnson's roof. "I am the Adhibhuta." Japanese chatter. "Lord of Lives." Parks Department edger starting up. "And Adhidaiva, Lord of all the God." Japanese father crouches at foot of walk waiting for three- year-old. "For I am the Purusha." Who toddles toward him in green stretch pants, white alpaca sweater. "Who begets." Brown face, black hair. "And Adhiyajna, Lord of Sacrifice." Edger screeching, concrete dust, sparks in air.
"I." Hamburger Deli. "Speaking with thee in this body here." Oxford and Center. "Am." Berkeley. "Thou embodied one!" 12:30 pm. "For all the shrines." Wringer, old washer, plastic bag inside for trash. "Flame unto Me!" Long blond-haired girl in '60s-look jean jacket: "I think it's, like, you just don't discuss that." Nineteen. "And, at the hour of death." Two bright U. C. Berkeley tight-lipped types. "He that hath meditated Me alone." Chicano counter boy: "Ham-bur-ger?" "In putting off his flesh."Author with "Eye-opener" mug of espresso (75¢). "Comes forth unto Me." Long-haired blonde gives author guarded CA glimpse. "Enters into my Being." "Try to register for the draft," she continues, she and companion about to leave. "Doubt thou not!"
Forty-year-old in unduly rumpled hair, elaborate blue-and-white-striped turtleneck, big boar insulated vest. "But, if he meditated otherwise." Ring on third finger, right hand. "At hour of death." Gold-rim glasses. "In putting off the flesh." Reading magazine, flat on table before him. "He goes to what he looked for, Kunti's Son!" Melon breakfast, hand awkwardly holding down Styrocup. "Because the Soul is fashioned to its like." Black couple, he in sea-shanty white cotton cap, Lenin goatee. "Have Me, then, always in thy heart, and fight!" She in U.S. Coast Guard deck jacket, Calvin Klein designer jeans. "Thou too, when heart and mind are fixed on Me." Full sensuous mouth. "Shalt surely come to Me!" Prissy Caucasian woman, gold circle pin on white scarf, blue knit suit, sits reading street literature.
"All shalt come who cleave with never-wavering will." Suave university couple. "Of firmest faith." She in maroon, fine-ribbed, Radcliffe-look sweater. "Owning none other Gods." Off-white shoulder bag, '50s-look hair, black pantaloons. He in yellow/red/black scarf, soft-spoken this-and-that manner. "All come to Me." Plastic forks jelly onto toast. "The Uttermost." Wide-strap leather wristwatch band. "The Purusha." Shelf moustache. "The Holiest!" "Jeff" – Hispanic waitress, behind counter, to dignified working-class forty-year-old, exiting, glasses held in place with elastic strap. Kid in yellow "Cat / Diesel Power" cap, eating with mom, his blue poplin vest on chair beside him, yellow scarf atop it. Clouds dissipating, smudgy sweet blue emerging over Berkeley Hills. Bleach-blond hippie-sophisticate woman, pink and black rainwear top, army fatigue fashion pants, starts uphill toward campus, Oriental puff-cheeked restaurant client, mouth open in reverie, giving her half-attention. Tour leader with whistle to mouth passing window.
l:00 pm, entrance U. Cal. Berkeley: "Riding of Roller Skates and Skateboards Prohibited / CVC 2113." Neat hedge, clean sidewalk, eucalyptus vista. Tiny back-packed co-ed, sensational cloud-mass scudding overhead. "UCB vanpool 642-1825." Styrocup on weathered creek-bridge guard rail, creek "whispering" beneath. Leaf mold on bridge floor, bird perched on second rail. Downed trees preserved in situ for resting spots. Gigantic trees rising overhead. Lamppost graffito: "Something really neat?"
First building: "Vertebrate Zoology," two adjacent O's interlinked, cornice griffon clawing at empty space. Monument: "The Prize of Superiority in Football, 1898 and 1899." Sward engorged with sunlight, girl in auburn hair, cranberry sweater, reading book by creek, back to author. Bongo drums audible in distance. Physiology building. Tourist: "Excuse me, what's the best way to the Greek Theater?" Author: "I'm just a tourist." Architectural vista: Babylonian structure, roof in orange tile. Joggers doing pull-ups, as part of "Parcourse Outdoor Fitness Plan." PRC tour, last member scowling at author, camera in hand. Husband-and-wife joggers, in choreographed exercise ("Deep Knee Bends"). Bongo drift approaching, intersperse of cowbell. Sidewalk graffito: "Them Babies They Be Raw." Eighteen-inch Balance Beam. Graffito: "Devo." Alumni House in deep pine tree shade. "Congratulations, You've Completed the Parcourse Challenge." Graffito: "The Sex Pistols." Co-ed checks out author, checks out source, breezing past on bike. More graffiti: "ANARCHY OF LIFE," "Death to Christians," "Stoned Again." Bongo echoes. "Life is Death on Earth," "No Future in USA Dreams."
Bongo allure, author drawn through empty terrace ("The Ice Creamery," "ASUC Store," "ASUC Senate Information Sheet," members' names, length of terms). Clock tower looms into view: Twenty past 12:00 (stuck). Bongos continuing, source unknown. Ludwig fountain: sludgy water, calling card at bottom: "When the going gets tough, the tough get going." Bongo pause. Bongo rebegin. Fountain rim: empty upright Pernod half pint, Top Dog matches. View across fountain: "SPROUL HALL." Blond hippie saunters up, cadges a quarter. Black street-dude conversing with hairy rad: "What the hell," says latter, "anything can happen." Large black dog leaps to fountain rim, laps a mouthful. Onward: Sather Gate, student notices, sun brightening: "ROOM FOR RENT: Asian-Am. family." Crazy, in white shirt, hand-painted red polka-dots, sits patting glove on cement; changes hands; continues. Black gay jogging past, green book-pack, chartreuse running shoes, black road-hugger outsoles. "Premed Society" bulletin board, chained to adjacent railing. Plain Oriental girl with nervous, Caucasian boyfriend. Two swarthy, mustachioed students, speaking Armenian. "Summer Preview: California History (History 171)." "No one!" – wandering crazy in Roman toga – "No one can prevail against me!" "The course will explore California history from pre-Columbian times to the present." Plaid-shirted graduate student, rimless glasses, Northern California smoke-jumpers. "Major topics: 1) Conflict between Native American culture and white civilization." Middle-aged Oriental man passing, head lowered. "2) The significance of the Hispanic period." Girl in short hair, gold post earrings, avoiding author's scrutiny. "3) American conquest and the Gold Rush." Professor lunging by in deck shoes, Chouinard double-seated trail pants. "4) Great migrations of the 19th and 20th centuries." Two teenies, one – fourteen – smoking: "Uh-oh, here's this guy again." Polka-dotted crazy beating on. "5) Sovereign state of the Southern Pacific Railroad." Disabled veteran, electric wheel chair, angry determination. "6) California's peculiar institution." Bespectacled graduate student, olive heavy-weather parka, pauses to read what author has been reading. "7) Struggles for land and water." Japanese tourist pausing to read Chinese Student Association summer picnic notice; barefooted Caucasian girl, plaid shirt tied at waist. "You're a winner, honey!" – crazy shouts at her – "I love you!" "8) Expression of foregoing themes in the work of Frank Norris and John Steinbeck." "Hiking Club: Spring General Meeting." Undergrad in fleece wear hooded shirt, imitation suede running shoes. "VACAVILLE Prison Project." Two pretty girls in identical clogs, one to other: "I think my verbals'll show up cool." "Lost Dog" Xerox, with photo: "This is not Sally but looks a lot like her." "Music in the Movies: A Clockwork Orange, The Magic Flute." Bongos stopped.
"Whoso hath known Me, Lord of sage and singer, Ancient of days: Stay of all the Three Worlds." Hippie groupies, bra-less girl with biker chain, layabout in Levi jacket sleeping it off. "Boundless one, Bringer of that which quickens it." Single dandelion at feet of author. "Whoso, I say, hath known My form, which passeth mortal knowing." Seated beneath a tree. "Seen my effulgence – which no eye hath seen – than the sun's burning gold more bright dispersing darkness – unto him hath been right life!" People's Park, Berkeley, 1:30 pm, July 12, 1980. Empty speakers platform, two blacks lounging with white girl before it. Blond man with child in lap; solitary guitarist strums continuously; limping black-clad woman blowing soap bubbles. Two teenie girls in braces pass up Dwight Way. Two yellow portable johns.
"And." 2:00 pm, Telegraph Avenue. "In the hour when life is ending." Krishna Copy Center. Natty couple, she in trimmed hair, green corduroy jacket, he in glazed lambskin squadron coat, brown tinted glasses. "Mind set fast in piety." Berkeley Poets Co-op Books, Japanese Cut-and-Use Stencils, The Empire Strikes Back Sketchbook. "Drawing breath beneath calm brows unbending." "Would you sign a petition to get Barry Commoner and the Citizens' Party on the ballot?" "In happy peace that faithful one doth die." People of Han; A Flann O'Brien Reader; Windows, by Michael Emory. "In glad peace." "Do you have any ch-change you could spare?" "And passeth to Purusha's heaven." Six Hawaiian shirts, side by side, white shag carpet on floor of display window. "To the place which they who read the Vedas." "What are you writing about?" "Name Aksharam (Ultimate)." "America." "Whereto have striven the great saints and ascetics." "This isn't America." "Their road the same." "This is a nightmare."
Headline: "THE OLYMPICS ON TELEVISION." Freak Brothers postcards. Skateboarder heading south in "I am Having Fun" tee shirt. Girl standing with bike, Cheezons pack open. "20% off all Bongs, Pipes & Clips," Telegraph and Harte, Peoples Wall Mural, "Copyright 1979": "POWER TO THE PEOPLE," funky figures. "Permanent / HOTEL / Transient." Man in white Hawaiian shirt, white pants, white Elton John glasses. "WALK" in green. "DONT WALK" flashing red. Flabby girl, bloopy boobs, in floppy straw hat, "UMPIRE" tee shirt. Ugly pottery display ("I just love this pottery," white gay to black man, yellow African burnoose). "GOLD, 50% off." Ex-professor at "Question Authority, tee shirt table. Bubble-maker, flitting past, floats a line past author's nose. Snake charmer; two cops in uniform; blissed-out puppeteer. Black dude, red see-through shirt, single gold earring, pauses briefly, red-panted black chick holding onto his arm. Tee shirt table: blue-eyed tabby; unicorn; single rose with two thorns. Bubble blower passes again, bubbles rising. California Hall: "The Offs"; "The Mutants"; "The Dead Kennedys." Tarot table, Keltic reader holding down cards against wind. "Ashkhenaz Music and Dance Café" poster blows off as author studies it. Tarot reader picks it up, looks at author frowning. Mid-thirties couple, he in black, she in yellow. Maui shirts in window, red and white, white and red. Spastic in tattered leather jacket, American flag arm-patch. "It's It / Ice Cream Treat." Bricked-in corner crosswalks. Two little Oriental girls playing violins in off-key unison, pots, bracelets, straw animals on sale at stand behind them. "Sandra? Sandra, Sandra!" someone says. Unleashed dog joins Oriental girls, howls a note or two. Vendor at stand behind them with facedown copy of Richard Adams, The Plaque Dogs. Bus full of people stops at Durant Avenue, its sign reading "NOT IN SERVICE."
Revolutionary Worker vendors. "That way." Working the corner. "The highest way." May Day '80 photograph display: "Goes he who shuts the gates of all his senses." "Our flag is red, not red white and blue." Author using Norman Bank of Commerce red white and blue ballpoint pen ("Bicentennial 1976"). "Locks desire safe in his heart." Berkeley student arguing with female vendor. "Steadfastly set." "Have you ever been to a communist country?" "Centers the vital airs upon his parting thought." You're talking about blowing up millions of people," she says. Turns to author: "Where are you from?" "Norman, Oklahoma." "Ha ha. Would you like to buy a copy?" "I don't have much money." "It's only 5¢," she says, "That's not $1000." "And murmuring Om, the sacred syllable." Author opens book to "Free the U.N." "Emblem of Brahm." Red paint pollocked on cartoon mugs of Carter, Brezhnev. "Dies." "Bank of America" overhead. "Meditating Me." Black letters, white tile background.
Vendor, enamel switch plates in rainbow designs, to author: "The Japanese have travel guide. 'Discount,' they say." "For who, no other gods regarding, looks ever to Me." Appliqué for tee shirt: "Easily am I gained by such a Yogi." White moon, green tree, mauve background. "Stand of America" restaurant (Chinese pagoda roof: "Curry Beef Turnover," "Pork Bow," "Hot Dog." Muffler-less pink Pinto turning onto Bancroft. Satchels in orchid, cat, poppy designs; lasso-, cowboy-hat-and-heart-studded boots. Smiley undergraduate discussing Piaget.
Mural under way, Durant and Telegraph: S.F. seen from Berkeley ("Supported by Your Donation"). Yellow Bay ("It's yellow because it's a sunset" – artist to pausing cyclist). Revolutionary vendor working this corner too. "Fuckin' dingalings" – hairy CA mod to mid-thirties girlfriend, he in Mackinaw cruiser jacket: she in cotton poplin funnel neck overskirt, bulky jeans. "And, attaining Me, they fall not." Artist introducing mural figures. "Those Mahatmas." One by one. "Back to birth, to life." "Kips"; "Ship of the Andes"; "Yoghurt Park." "Which is the place of pain." Oriental violinists still in unison. "Take instead the way of utmost blessedness."
"Like the word of chance." "The worlds, Arjuna! – even Brahma's world – roll back again from Death to Life's unrest." Jesse Wolf Gypsy Reading (in progress). "All Readings Cosmically Valid." Reader's radio sits atop Hunter S. Thompson, The Great Shark Hunt, place-mark two thirds of the way through. "But they, O Kunti's Son!" "Gee, look, I'm a local." "That reach to Me." Says unattractive girl passing author. "Taste birth no more." Open-face slice of pizza in hand. "Ceramic S.F. and E. Bay Victorian Houses." "Viktorianische Häuser," says voice at author's back. "If ye know Brahma's Day." Unicyclist heading north. "Which is a thousand Yugas." "Kaleidoscopes: A Toy for the Mind and Eye." "If ye know the thousand Yugas." "What are you doing?" "Making Brahma Night." Meticulous cloud-scape draftsman. "Then know ye Day and Night as He doth know!" "Father, forgive me!" – deranged, black, hoarse-drunk 33-year-old.
"When that vast Dawn doth break." Palm-reader situated under tree, bark graffito over his head reading "Kathy 'n' Chris," tie-dyed purple/white cloth over card table. "Then is the Invisible brought anew into the Visible." "Is he just writing down our conversation?" – palmist to client. "When that deep Night doth darken." "FBI?" he asks author. "All which is fades back again." "No, CIA." "Into Him Who sent it forth." "Must be someone from the other lawyers" – client. Channing Way: "Super Shoe Sale," all models red, white and blue. Blond salesgirl in red Chinese jacket, yellow undershirt, khaki shorts. "Lion of India Restaurant": "SAMOSA PAKORA"; "PAPADOM"; "GULABJAMUN." "Yea this vast company of all living things." Ice Cream / Barfi Yoghurt." "Again and again produced." Harte St. graffito: "Nuclear Power: Our Last Laugh." Cody's Books: "JUST ARRIVED! Kornberg, DNA Replication." "Expires at Brahma's Nightfall." "We have all the Trixie Belden Books – Upstairs." "And, at Brahma's Dawn, riseth without its will.""Deutsche Bücher zum halben Preis." "To life new-born." Solar Power stand, vendor in rotor-top beanie. "Art Books": Pablo Picasso, Film Noir, Regional Cooking of China. Wall graffito: "Berkeley Police Rookies are Fucked!!!" "Entire Libraries Purchased / Highest prices Paid." Yellow-orange/red-orange Taco Bell cup crushed atop PG&E sidewalk lid. "Entire Libraries" – jean-suited eighteen-year-old blond hippie girl, quoting. Second graffito: "Warmth, rest, enough food."
"But." Shambhala Booksellers. "Higher, deeper, innermost." 4:00 pm., July 12, 1980. "Abides another Life." Oscar Wilde, The Happy Prince; Timothy Leary, The Game of Life. "Not like the life of sense." The Nine Ways of Bon. Incense-filled interior. "Escaping sight, unchanging." Two miniature dogs, one asleep under table, the other panting, on the qui vive. Author seating himself on bench next to man with George Frederick Kunz's The Curious Lore of Precious Stones open in his lap. "This endures when all created things have passed away." Bespectacled book clerk reading at desk, left hand holding right shoulder. Couple whispering, she in moleskin smock, arm on husband's shoulder, both under Bodhisattva wall poster's gaze. Together they kneel before "Psychic-Tarot" / "Magic-Occult." Author examines Astrological Patterns: The Key to Self Discovery. Shambhala-Krishna music. "This is that Life named Unmanifest!" "Judaica-Christianity" / "Islam-Sufi," "The Infinite!" Author perusing Ninety-Nine Names of Allah. "The All, The Uttermost." Girl with unicorn satchel resting against "Homeopathy" / "Healing Arts – Herbals," incense behind her curling ceilingward. "Psychology" / "Jung." Tibetan mandala in silk above "Myth and Folklore" / "Recent Arrivals" (Gwyneth Cravens' Speed of Light.) "But thither arriving none return."Incense rack: "Auroshikha Centenary" / "Classic Fragrances." "For that life is Mine." Overhead: "Ramayana Bedspread." "And I am there!" "$200." "O Prince!" Timothy Leary tapes. "I arrive by the faith that wanders not." "Quan Lin Posters $2.50 + tax." "For there indeed is a way to come thither." "RAGA PURYA KALYAN." Bookstore walls in white, mauve woodwork. Quietism rampant. Little girl in yellow print sundress standing before "Zen & Japan," mommy blocking "Buddhism." "I, the Purusha." Youth in blue sweater, black glasses case attached at V of V-neck, stands with back to "Tibet and Tantric Buddhism." "I who spread the Universe about me." Woman, large derrière, approaches "Hindu / Tantra-Yoga," running-suited gent gazing at her, thereby blocking "India." "In whom dwell." Flute trills. "All living things." Theosophy-anthroposophy." Track lights on books, hands, faces. "Thus may I be reached and seen." Melodic invention unending.
◆
Krishna: "Now will I open unto thee." Pink Elephant Drive-In. "Whose heart rejects not." Colfax, California. "That last lore." 12:00 noon. "Deepest-concealed." August 16, 1980. "Our menu is on the wall behind you" – counterperson."That farthest secret." Pines through window, thin blue sky. "Of Heaven and Earth." "SORRY WE'RE CLOSED" sign, turned inward. "But which to know." Couple – Oriental girl, Caucasian man – enters to order. "Shall set thee free from ills." Blond CA youth couple at table, knotty pine paneling behind them. "A royal lore!" Hot fudge sundae poster, robin's-egg blue background. Oriental girl with arm around boyfriend's neck, as he asks for chocolate malt. "A Kingly mystery!" "Easy on the chocolate."
"Is there a pay phone in here?" – blond CA youth, ripped corduroy cutoffs, red-white-blue striped tennis shirt, hiking boots. "Let's wait until after we eat," girlfriend interrupting. Oriental girl plays with Caucasian boy-friend's hand, knocking it on table top. Glances at author, who glances at her, openwork heart-shaped pendant about her neck. Boyfriend picks up hot fudge sundae. D.H. Lawrence workman enters, orders, sits; gets up to take last copy of Colfax Record from newsstand. Phone rings: twice, three times, four, five. Mountain-terse man and wife ignore it to work at burgers, shakes, sundaes.
Silence reigns. "By Me the whole vast Universe of things is spread abroad." Blond girl eating burger, beautiful pensive look. "By Me, the Unmanifest!" "It's good," she says, quietly. Extravagantly pretty Oriental girl in pale yellow tank top, hair to waist, steps up to outside window to place order. Caucasian boyfriend sucks at Coke through straw. Blond CA youth couple break out in giggles over private joke. DHL worker goes to work on jumbo burger, carton of Foremont Vitamin D milk in hand. "In Me are all existences contained." "You don't answer your phone?" says tank-topped Oriental girl. "Oh, was that you?" "Not I in them!" Black guy outside takes off dark glasses.
I-80 rest stop, en route to Lovelock, Nevada, 6:00 pm, August 16, 1980. Eighty degrees. No water in sight. Pink plastic table. Black family in Winnebago, black-and-white Michigan plates ("Great Lake State"). Single official sign: "Chains or Snow Tires Required." Green bench of picnic table etched with signatures: "Bill Collins, Madrigal, NJ." "I am the Sacrifice!" "OHIO / THE MILLERS." "I am the Prayer!" Black kids cavorting, father, naked from waist up, keeping an eye on them. "I am the Funeral-Cake set for the dead!" Mother staring vacantly out of kitchen window. "I am the healing herb!" Red hexagonal stop sign stark against subtle mountain background: beige sand, charcoal swell, rust interval. "I am the Mantra, the ghee, the flame." Network metal Nevada-shaped stanchion: "A Home of Early Man." "I am." "Stretching before you are two vast sinks." "Of all this boundless Universe.""Terminal areas of the Humboldt and Carson River drainage systems." "The Father, The Mother." "The marshy remnant of Lake Lahontan." "Ancestor and Guard." "Between you and the distant Humboldt range." "Hey Chris. Hey Chris!" – nine-year-old black kid to twelve-year-old brother, "Yellowstone Park" on light blue tee shirt. "The end of learning." "Served to sustain wildlife for prehistoric man, who lived by its shores." "That which purifies in lustral water!" Below: "Great Seal of the State of Nevada."
Sign, leaving Lovelock. Nevada. 7:30 pm, August 16, 1980:
| | | |
| --- | --- | --- |
| WINNEMUCCA | 72 | |
| BATTLE MTN | 125 | |
| ELKO | 198 | |
| HELL | 0 | [red magic marker] |
KOA Campground, Winnemucca, Nevada, 9:00 pm, August 16, 1980. Kid shaking hands with large white dog, poodle nearby sitting on bedroll of man and wife, she stroking his back. Beat of recorded music audible from distant stands (rodeo? auto-racing?). Light beginning to fail, western mountains brightly outlined as in a planetarium. Mauve-grey clouds hang over mauve mountains to southwest. Sound of car tires on highway pavement. Long hm-moan/earth-rattle of train, appearing, other side of author's tent. Three single lights in Winnemucca outskirts. Sudden temperature drop, wind up-starting in cottonwood. Orange VW catching last ray of western light. Cottonwood begins more methodical rustle. Behind author: Nomad RV, multiple plug-ins. Large white dog looks out thoughtfully at failing western light. Pop music beat from nearby radio.
"Dick's Bar and Grill," Valmy, Nevada, 8:00 am. "Whoso will turn to Me." August 17, 1980. "Though they be born from the very womb of Sin." "HIS" sign in red neon, "HERS" in white (unlit). "Woman or man." Hand-lettered sign over hotplate: "Sprung of the Vaisya caste." "COMPLAINT'S TO THE COOK MAY BE DANGEROUS TO YOUR HEALTH." "Or lowly disregarded Sudra." Owner engaging author in conversation: "Gonna bulldoze this sonufabitch down." "All plant foot upon the highest path." "Got seven, eight years to spend my money, and god-dammed if I'm gonna spend it on this." Indian woman, Caucasian man enter together, begin to play slot machines. "How then the holy Brahmans?" Man comes to door: "How then the Royal Saints?" "Larry, is you workin' or is you cruisin' today? Me and my old lady's hungry." "Ah! ye who into this ill world are come."Wife enters, full-figure knit proportion pants in polyester gabardine, begins to play remaining slot. "Fleeting and false." Toothless hubby in work pants, welt-construction work boots. "Set your faith fast on Me!" Wife hits double, nickels raining into trough. "Fix heart and thought on Me!" Indian woman in vinyl stretch pants, border-print mid-thigh belted kibuki. "Adore Me!" Triple bar. "Bring offerings to Me!" Flood of nickels. "Make me your supremest joy!" Larry to Indian woman's hubby: "I'll have some coffee in a minute that'll turn that hair back to brown." "And, undivided, unto My rest your spirits shall be guided."
Main Street, Valmy, Nevada, 8:45 am. Facing East: "Om am I." "Golden Motel, BEAUTY REST," 1960 Caddy parked out front. "Rig-Ved, Sama-Ved, Yajur-Ved." Mountain line blending into sky. "The Way." Greyhound, heavy truck, descending west from overpass, single tree behind it. "The Lord, the Judge, the Witness." White Lincoln Continental, NV plates: "DALE M," next to Dick's Grill. "The Abode, the Refuge-house." Another ancient Caddy set on blocks, scrub grown up about it. Behind a café, a row of old trailers, pickups nosed against them. "SHELL," last "L" paler than other letters. "The Fountain and the Sea of Life." Motorcycles parked in front of station. "Which sends and swallows up." Sun rising over "Valmy AUTO COURT." "Treasure of Worlds and Treasure Chamber."
Store interior. "Seed and Seed-Sower." Worn wooden floors, open cases of Country Time Lemonade, 7-Up, Pepsi, Crush. "Whence endless harvests spring!" Electric fan rotating. "Sun's heat is mine!" "Desert Water Bags for Sale." "Heaven's rain is mine." Refrigerator: "To grant or to withhold." "Help yourself!" Miller High Life clock (8:57), blue 12, red 3, black 6, yellow 9. "Death am I." Outgoing packages on floor; garbage can marked "STORE," letters running down in black magic marker. "Immortal Life am I." Sign: "THINK / And Surprise Us All." Bikers standing about. "Arjuna!" Outdoors: Moto Guzzi Windjammer, black gloves on seat, biker in blue wind-breaker chomping on Twinkie. "SAT and ASAT." Single cloud high in sky. "Super Regular Unleaded: NO Self Serving!" "Visible Life." Field beyond: yellow school bus, two Cessnas, three horse trailers. "And Life Invisible!" "Labor Day Tri-County Fair and Rodeo.
I-80, Wells, Nevada. 12:30 pm. Red outdoor table-top. August 17. Pink, where glaze has weathered, maroonish where burgers have grease-stained it. Sun high, about to shift an hour forward. "1199," 119 in electric bulbs, 9 in neon. Old awning, "Clearance 13' 9" barely legible.
I-80, in sight of Utah border, 3:00 pm. Salt flats, white on brown, mottled in middle ground with green ground-cover. Near-ground stone outcrop graffito: "Mexican Freddie."
I-80. Dugway, Utah exit, 4:00 pm. Two cops emerging from restaurant: "Isn't that George a hoot!" Stand talking, doors to Plymouth cop cars open.
Great Salt Lake, Utah, 5:00 pm. Sand beneath author's feet alive with flies.
Krishna: "Hear farther yet, thou Long-armed Lord! these latest words I say." Hill overlooking Salt Lake City. "Uttered to bring thee bliss and peace." 7:30 pm. "Who lovest me Alway." August 17, 1980. Peach-glow sky, light vaguely streaming in through grape and sea-green cloud formation. Time – in electric-bulb numerals – over downtown building, flashing off and on. "He who seeth Me with faith-enlightened eyes." Dog barks. "He alone knoweth." Distant traffic murmuring. "Unborn." String of red lights down avenue. "Undying." Mountains to southern rim of basin, joining others there. "Unbegun." Sun appears, flooding author, city itself still blocked by cloud. "Whatever Natures be to mortal men distributed." Curb-side grass astream with light. "Those Natures spring from Me!" Single wispy thread of white from nearby smokestack.
Arjuna: "Yes! Thou art indeed Parabrahm!" Sermon, Ogden radio. "The High Abode!" "So God waits for you." 9:00 am, August 18, 1980. "And you are saying, 'I don't know if God exists.'" "The Great Purification!" "You see, I've already signed up; I'm a part of His kingdom." "Thou art God Eternal." "I encourage you to become a part of His kingdom too." "All-creating, Holy, First." "His kingdom is forever." "Without beginning."
Temple Square, Salt Lake City. "What Thou hast said now know I to be the truth." 11:00 am. "But under which of Thine unnumbered forms mayest Thou be grasped?" Fifteen-foot-high stucco wall, cast iron fence. "The Church of Jesus Christ of Latter Day Saints / Visitors Welcome." "Ah! yet again recount, clear and complete, Thy great appearances." Hotel Utah, beehive above, American flag flapping in stiff breeze atop it. "The secrets of Thy Majesty and Might, Thou High Delight of Men!" "Tours Begin at the Sea Gull Monument Every Few Minutes." "Never enough can mine ears drink the Amrit of such words!" Tour guide introducing herself, hopes we are "in the right spirit." Krishna: "Hanta!" "So, this monument is erected not to a bird but to our heavenly father." "So be it!" "And, though this is 1980." "Kuru Prince!" "And a whole new ballgame." "I will to thee unfold." "He still takes an interest in you." "Some portions of My Majesty." Kid in black Steelers shirt. "Whose powers are manifold!" White numerals and letters.
The Tabernacle: glassed-in tourist viewing area. "I am the Spirit seated deep in every creature's heart." Two Chicano girls with mom, younger of two in white red-bordered top, bright red cords, red high-heeled patent leather pumps, older in green monogrammed velour pullover, black glove-leather, ankle-tied pants. "From Me they come, by Me they live, and at My word depart!" "To be honest with you, one of the greatest problems of the Mormon Church is its growth. . . ." "Vishnu of the Adityas am I." "Not too long ago all our leaders gathered in Paris." Exit-from-tabernacle dole of light, gusting wind. "Those Lords of Light." Bearded youth in "YES" tee shirt. "Marichi of the Maruts." "And this building houses the largest genealogical library in the USA." "The Kings of Storm and Blight." "Just take a seat wherever you like." "By day I gleam." Enormous diorama: guy with hammer, fire, kid beside him. "The golden Sun of burning cloudless Noon." Impenetrable darkness, tour guide pushing buttons. "By night I glide." Music, flash of flashbulbs. "Amid the asterisms." "The tradition of the coming of the great white god." "I the dappled moon!" "The history of Jesus Christ's appearance in America!"
"Vrihaspati know Me, 'mid planetary Powers." "And now if you'll just follow me into the next series of dioramas." "Mid Warriors heavenly, Skanda; of all the water flood, the Sea which drinketh each." "Any questions?" "Of Hills, Himalaya's snow." "Yes, are there any countries where the Mormons are not?" "And Chitrarath of them that sing in Heaven." "Mainland China and Russia will not let us have our missionaries there." "The gem of flying steeds, from Amrit-wave which burst." Next, the Book of Mormon." "Of elephants, Airavata.""Here is one of the themes, and it goes something like this: 'Keep My Commandments!'" "Of males the Best and First." "Under your seat you'll find a copy: turn to page 158." "Of cows, Kamadhuk, from whose great milky udder-teats all heart's desires are strook." Vacant voice; trumpets, strings. "Now we jump forward in history, to Joseph Smith." "And thousand-fanged Ananta, on whose broad coils reclined leans Vishnu." "And it came to pass that he spake unto the people." "And of those that judge, Yama the judge am I." Growing darkness; pitch black; Aztec Temple illumination [Tabernacle Choir; "Oo-oo, oo-oo, oh-oh, oh-wa!"]. "Of woodland beasts, the lordly-painted tiger." "He commanded the multitude . . ." "And Ganges, 'mid the streams." Sound of machinery operating curtain. "Yea! First and Last and Center of all which is or seems am I." "So these are Mormon's words." "Wisdom supreme of what is wise." Mormon dying, semi-reclined. "Bitter Death which seizes all." "For Jesus is on earth today." "And joyous sudden Birth." "And his prophet is Spencer W. Kimball."
Arjuna: "Make Thyself visible, Lord of all prayers." Fourteen miles into Wyoming. "Show me Thy very self, the Eternal God!" 3:00 pm. Krishna: "Gaze, then, son of Pritha!" August 18, 1980. "For I manifest the hundred thousand shapes that clothe my Mystery."Buffeting sage. "Infinite, rich, divine." Whistling through open car window. "My changeful hues." Whap! Whop! Notebook page flap. "My countless forms."
Buttescape, forty miles into Wyoming. "Behold! This the Universe!" 3:30 pm. "Look! what is live and dead." White sedan with U-Haul, scooting on down road. "For I gather all in one – in Me!" Little America, Wyoming, road crew laying asphalt. "Look, this is My Glory!" Two girls, luminescent orange vests, holding "SLOW" signs. "Unveiled to mortal sight!" One with white sun-block on her nose.
Café Jade, Walcott, Wyoming, 9:45 am, August 19, 1980. Omelet-maker in blue eye shadow putting Vermeer to shame. Takes large spatula, cuts, re-cuts cut potatoes, setting up hash-brown fund on side of grill. Kid arrives with steaming washer-basket full of cups. Red-haired omelet-maker, pale mottled Irish skin, puts left hand on hip, clears grill with right. Restaurateuse, behind counter, in conversation with rancher, smoke from his cigarette drifting past author's nostrils: "If they pass laws to kill unborn children, they'll pass laws to kill the aged [monosyllabic]." "We're next," says rancher. Rag on counter: Pepsi cups stacked upside down, sunlit truck through window. Omelet, hash-browns, toast arrive.
"When I was a little teenager, I was workin'" – restaurateuse. Rancher: "Kids don' realize." "My kids say. 'Don't talk about the dark ages.' I say to them, 'You may be seein' more of 'em!'" Talking, refills author's coffee. Yellow jump-suited man, grey hair, jumps in: "That's the way our parents talked about us!" Restaurateuse holds fire; gives in, admits it. Talk turns to cars. "We had a new Chivvy," she says. "Drove it up to Caspar and sold it." Wipes already clean counter. "I went back to work and paid off everything." Ice-water pitchers lined up. "Put the kids through college." Old-style in heavy insulated gold. "No loans, no nothing." New in thin brown plastic. "I don't regret it. But that's a lot of heartache."
Restaurateuse beginning another fable. Small Chicano girl, hair dyed red, bends over, scooping ice into tray. "Do you get paid for that?" – man in yellow, pointing at girl's shirt back (stenciled rodeo ad, white on red). Chicano girl blushes. "You're a walkin' billboard, you know." Girl smiles, fidgets with author's check; averts her eyes. Places check on counter, face down, blue florid "Thank You" up. (Omelet, hash-browns, toast, coffee: $4.16.) Vermeer woman approaches restaurateuse behind counter: "You know what Tina says, 'I'm gonna go and stay with Daddy next summer.'" "Restaurateuse takes it in, keeps moving. Vermeer woman returns to grill, wiping grease from Formica panel. Kid arrives with steaming tray of silverware, starts to dry it.
Sanjaya: "Then, O King! the God, so saying, stood, to Pritha's Son displaying the vast splendor, dread and wonder of his Almighty-head." Author seated, lichen-covered piece of quartz, eighty feet above the road. "So he showed!" Wyoming S.H. 130, south of Saratoga. "If there should rise suddenly within the skies." Basin rimmed 360 degrees by distant mountain peaks. "Sunburst of a thousand suns flooding earth with beams undeemed of." Clouds trailing on landscape their mysterious shadows. "Then might be that One's majesty and radiance oft dreamed of!" 12:00 noon, August 19.
"And so did Pandu's Son Behold." Medicine Bow Park, only view upward. Slight tree movement, clouds behind. "All its huge diversity in one vast shape." Author rubs hand on fallen tree trunk. "Be visible." Caresses stubby grass. "Be viewed." Feels departed sun's warmth in dead tree texture. "And blended in one Body." A pair of purple flowers side-by- side. "Subtle, splendid, nameless." First in full bloom, second already desiccated. "This of gods the God all-comprehending." "White marble chips, black campfire embers. "O Never-Ending Deity!" Descent through trees to asphalt road, snow-capped mountain peak ahead. Black pen, white page of notebook. Black trunks against white clouds, green bush in foreground. 1:00 pm.
"Silver of moon and gold of sun are glories rolled from Thy great eyes." Higher still: Medicine Bow Rest Area. "Thy visage, beaming tender." Mountain lake: "Throughout the stars and skies." Its face pellucid. "Doth to warm life surprise Thy Universe." Nature peaceful. "Mystic, Awful One!" Eight-year-old in V-ruffled blouse, belted tier-skirt, lace hemmed. "At sight of Thee, made known, the Three Worlds quake." Four-year-old in liberty overalls, little gents joggers. "The lower gods draw nigh Thee." "Get out of the water," says sister. "They fold their palms, bow body breast and brow and, whispering, worship, laud, and magnify Thy name!" Down-shore twelve-year-old, red tundra coat, medium blue fashion jeans, white fishing boots, casts lure in water. 2:00 pm.
Higher: "O Eyes of God! O Head! My strength of soul is fled." Medicine Bow Park. "Gone is heart's force, rebuked is mind's desire!" Libby Flats. "When I behold Thee so." Medicine Bow National Forest. "With awful brow aglow." Elevation 12,005 feet. "With burning glance." Heavens moving across it. "Thy lips lighted by fire." Sun breaking through cloud. "Fierce as the flames which shall consume at close of all." Outline map of scene. "Earth and Heaven!" Woman, from observation peak, to husband: "Ah me! I see no Earth and Heaven!" "You don't want it up here, stay where you're at!" "Thee, Lord of Lords! I see!" "Look at that orange moon," says her companion. "Thee only – only Thee!" "This is nice" – first woman – "but kinda cool." "Oh Mightiest Lord! Rehearse why hast thou face so fierce?" Woman, still descending, to author: "Whence doth this aspect horrible proceed?" "You makin' a survey of things?" Author: "Uh-hunh." Krishna: "Thou seest Me as Time who kills." Author ascending peak. "Great Time who bringeth all to doom." Too cold at top to write. "The Slayer Time, Ancient of Days, come hither to consume." Graffito scratched on dial: "GENE 11/6/80." "Excepting thee there stands not one shall leave alive this battle-field!" "N / E / S / W." "But then dismayed no longer be!" Rock deposited at dial's center. "Arise! Obtain renown! Destroy thy foes!" Higher still, a circular rim surrounding it. "And fight for the kingdom waiting thee when thou hast vanquished those."
Colorado S.H. l, Wellington outskirts, 5:00 pm, August 19. Storm over Rockies through VW windshield, windshield wipers squeaking. Vast green carpet to left. Roadside daisies looking at author with interest.
U.S. 287, above LaPorte, 7:00 pm. Single hand-painted Zen master stroke stretched across horizon. Brilliant red letters of "HUSKY" station, "CAFE" on white ground.
Headliner Café, Loveland, Colorado, 11:30 am, August 20, 1980. Orange wallpaper collage, New York Times headlines ("TITANIC SINKS," "ARMISTICE SIGNED," "GLENN ORBITS EARTH"). Older woman, yellow loose-fitting smock, in conversation with friend, black turtleneck, blue sleeveless knit top, purple poly/acrylic pants: "Materials have been so high." "Yes, and I never see what I want when they're marked down." "You never get the pretty red or green any more."
◆
Brillig Works Bookshop Bulletin Board, Boulder, 2:00 pm, August 20:
Rick Amaro, Humanistic Astrology (Progressed, Natal, Compatible)
Ms. Yunn Pann, Jin Shin Do, Taoist Yoga
Susan Sava Stupar, Holistic Therapist/Esalen Massage
Adventures in Attitudes, Successful Living Institute of Boulder
Matt Motchkavitz, Ph. D./David Leonard, Visionary Glassworks
martin adler, past life regression, creative hypnotism
The Women's Line, noon to 6 am [crossed out] midnight, counseling for women
An Evening with the Goddess, through color, song and story [goddess bare-breasted; water-filled crescent moon in hand]: a celebration of the intuitive within us
Arjuna: "Lord!" U. of Colorado Campus. "Of the men who serve Thee." Boulder. "True in heart." 2:30 pm. "Which takes the better way of faith and life?" August 20, 1980. Krishna: "Whoever serves Me." "Love's Labour's Lost, Hamlet, Henry IV." "As I show myself." "Monday Night at the Movies." "Constantly true." "Summer Dance Concert." "In full devotion fixed." Enormous brick wall, painted white. "Those hold I very holy." Paint beginning to peel.
"Whereso any doeth all his deeds." Broadway and University. "Renouncing self for Me." August 20, 1980. "Fixed to serve only the Highest." 3:00 o'clock. "Night and day musing on Me." Conoco station. "Him will I swiftly lift forth." Man with collar-length black hair, grey strands, walking north (downhill). "From life's ocean of distress." Guitar case in one hand. "And death." Radio in other. Three hikers, full gear, trudging uphill. "Whose soul clings fast to Me." Bedroll, back-pack, tent. "Cling thou to Me!" Red-helmeted motorcyclist stops at red light, one leg supporting red Honda. "Clasp Me with heart and mind!" Sixteen-year-old girl walking uphill, tee shirt reading "Sheboygan, Wisconsin." "So shalt thou dwell surely with Me on high." Author sitting on lawn, U. of Colorado Institute of Behavioral Sciences.
Downward. "But if thy thought droops from such height." Native American Rights Fund, 1006 Broadway, banner from balcony: "A Decade that Made a Difference." Sprinkler on lawn, cinder shrubbery bed, elegant white stucco house. "If thou be'est weak." Black on roller skates descending, red-tinted fro. "To set body and soul." Red silk pants, black/yellow knee socks. "Upon me constantly." Downward: "Despair not!" Andrews Arboretum. Varsity Townhouses; Varsity Manor, "Apartments now available." "Give Me lower service!" "Sung Lin / Mandarin Chinese Cuisine." "SORRY . . . WE'RE CLOSED / Call Again"). "Seek to reach Me." "Aspen Leaf," man in grey ski suit looking at woman about to fall backwards, Kastle RX national team skis between them ("Made in Austria"). "Worshipping with steadfast will." "University Motel," "Sweeny's Hair Shop," "Arapahoe Amoco" ("Special On Tires"), Pioneer Museum, mountains visible behind it. "Yocum's Studio Restaurant," "Mustard's Last Stand."
Broadway and Canyon Boulevard. Youth passing, Selected Cantos of Ezra Pound clasped, along with other books, to breast. "DOWNTOWN TRAFFIC LOOP / TURN HERE." Approach to Mall. 3:24 pm, 80 degrees ("Capitol Federal Savings"). Author crosses to western (shaded) side of Broadway. Kid in "CORNELL" sweatshirt. Sleek/sultry models (Lawrence Covell). Bra-less girl, tits asway in tank top, smoking cigarette. "The Art Spirit Gallery." White Chevy dump truck full of asphalt ("City of Boulder [mountains]." "Wall Street Jazz Center," "Two Guys from Italy." Tiered red-brick sidewalk. "Oriental Accent" [ox burdened with wicker ware, man winnowing grain, woman weaving]. Breeze fluttering tree-tops. "And my first hit . . ." – kid in long-sleeved chamois shirt, duckbrush pants, pigtail. "We Have What You Need" pen display. Black guy with big radio chatting up eighteen-year-old Caucasian girl.
"New Age Foods." "And, if thou canst not worship steadfastly." Wall of vitamins. "Work for Me." "Hoffman's Super High Protein." "Toil in works." "Tiger's Milk Protein Cookies." "Pleasing to Me." "Apple-honey Acidophilus" in fridge, with Perrier, Calistoga Water, Richlife NutriPop Cola. "He that laboureth right for love of Me." Grains; honey; lotions. "Shall finally attain." Herb tea. Dr. Donsbach's Health Booklets: Stress, Beauty, Acne. "But, if in this." The Overweight Problem. Proprietress approaching: "Thy heart fails." "Vat are you do-ing?" Grey hair in bun. "Bring Me thy failure," "Just looking." "Find refuge in Me!" "I'm afraid of you." Rimless bifocals. "Why are you afraid of me?" Flowered apron, black smock. "You are writing things down." White turtleneck underneath. "Why should you be afraid of me writing things down?" "Let fruits of labor go." "I am afraid." View back in through window. "Renouncing hope for Me." Stairs leading to basement. "With lowliest heart." Sign at bottom: "So shalt thou come." "Employees Only."
"For, though to know is more than diligence." "Tatra Café/Bakery," "Bunga's Cellar," "Old Time Arcade" (electronic symphony). "Yet worship better is than knowing." Poster: "HAVE YOU SEEN THESE CRAZY GUYS?" Sprinkling of street people hanging out. "What's this, the Greyhound station?" – unshaven hippie in kurta-pyjama to group of layabouts, average age nineteen. Black guy with big radio approaching. "Ah-ha. Giuseppe!" – twenty-year-old, zip-and-snap black leather motorcycle jacket. Belly laughs, horse laughs. "And renouncing better still." Naropa Institute window. "Near to renunciation – very near." "The Boulder Poetry Project." "Dwelleth Eternal Peace!" "Reed Bye, Larry Fagin (Monday, August 11)." New York Delicatessen: Bakery and Dessert Shop.
"Who hateth nought of all which lives." One-man street-person band being ogled by clientele of Pearl's Restaurant and Bar. "Living himself benign." Black guy's radio prevailing. "Compassionate." Frank Shorter Sports ("CLOSED"). "From arrogance exempt." Boulder Bookstore window: "DESERT IMAGES (sale: 3995 marked down from 12500). "Exempt from love of self." Thornton's Shoes, clerk in elastic-topped jeans cleaning empty wall of case. "Unchangeable by good or ill." Eyes author nervously. "Vowed unto Me." Cotrell's display: "That man I love!" "The Perrier Glass, 4 for $25.00."
Crossing Broadway: "Overland Sheepskin Co.," "Squeeze the Eagle." Two passing teenie girls, one in "Coors" shirt. "Who, unto friend and foe." Four-o'clock chimes. "Keeping an equal heart." Rock garden empty, kids jumping on bridge. "With equal mind bears shame and glory." "Pat's Booterie," sidewalk half deserted. "With an equal peace takes heat and cold." Youth in "GET HIGH on the Rockies" tee shirt. "Pleasure and pain." Corner building empty for renovation. "Abides quit of desires." Population sparse in lower reaches. "Hears praise." Rocky Flats table empty. "Or calumny." Building-wall graffito: "Please Do Not Write Obscene Grefitti [sic] On Or Around These Knot-holes." "In passionless restraint." "Thank You. The Management." "Unmoved by each." Green magic marker: "FUCK YOU."
Westward again. "Linked by no ties to earth." "The Mane of the Lion," "The Gem Connection" ("free ear piercing"). "Steadfast in Me." Sun bright, tourist car with Arizona plates. "That man I love." National Bank Shade, girl in Harvard tee shirt under Victorian blouse, beaded white Indian mocs. Girl in kashmiri salwaar-kameez, bare feet. Panhandling, cloth-bound picture of Jesus on string about her neck. Author declines. Two women sitting on bench, speaking Russian. "But most of all I love." Bank window, interior scarcely visible, ivy encroachment beginning on dark pane. "Those happy ones." Skater doing halfhearted maneuver. "To whom 'tis life itself." Japanese tourists. "To live in single fervid faith." Smile pleasantly at author. "And love unseeing." Sign: "Special Chinese Art Show Inside." Woodcuts from PRC, elegant, beautiful works. "To drink the blessed Amrit of my Being!" Cotton, Persimmons, Lotus Root. "New Concept Optical," Oriental knick-knacks. 4:19 pm, 79 degrees Fahrenheit.
◆
Arjuna: "Now would I hear, O gracious Kesava! of life which seems." Stapleton International Airport. "And Soul beyond which sees." Denver, Colorado. "And what it is we know." 6:20 pm, August 20, 1980. "Or think to know." "Miss Spiegel, Lucille Spiegel." "Krishna:" "Please come to the information desk." "Yea, Son of Kunti!" Light on floor, reflected from metal interstices. "For this flesh ye see." Light behind glass, light from outdoors diffused. "Is Kshetra." Shadows of passengers on floor, passing. "The field where Life disports." Man standing at "Mutual of Omaha / Foreign Money Exchange" counter. "And that which views and knows it." Violin case in hand. "Is the soul." Bottle of German wine on counter, light from "Travel Insurance" sign filtering through it. "Kshetrajna." Flight attendants looking haggard, blonde in navy blue American Airlines uniform, mascara running. Family of four in shorts, red, white (on kids), blue, black (on mom and dad). "In all 'fields,' thou Indian Prince! I am Kshetrajna." Author studying "The Warbird Collection" (order form: "Please take one!"). "I am what surveys." Lockheed T-33 T-bird; Curtiss P-40 Warhawk; North American F-100 Super Sabre. "Only that knowledge knows." Vought A-C Corsair 11. "Which knows the known." "Grumman UF-16 Albatross." "By the knower!" Republic P-47 Thunderbolt. "What it is." Douglas Dauntless. "Is that 'field' of Life." "Mr. Goodnough, Peter Goodnough, please come to page telephone." "Eastern" / "Western" / "Continental."
6:30 pm. "What qualities it hath." Captain in airline hat, epaulettes. "And whence it is." Vietnamese family. "And why it changeth." United 24 GC luggage-transporter. "And the faculty that wotteth it." Moving by, silent electric power. "The mightiness of this." Author, ball-point pen out of ink, switching to pencil. "And how it wotteth." Man, in sear-sucker suit, puffs on pipe, moc-toe slip-ons, hardware trim. "Hear these things from Me."
Middle-aged gent in western shirt conveys departure plan to family, using gestures, good humor. Oriental woman approached by Caucasian husband, half-oriental, half-Caucasian child in his arms, white travel bag suspended from shoulder, rainbow strap. "EXIT / Please Do Not Enter." Oriental wife touches head of half-oriental, half-Caucasian pigtailed daughter, who holds mommy's other hand by little finger. Spanish-speaking family group, males white-shirted, two buttons open, black plastic glasses hanging from papa's neck. Glances at author, squinting. Black woman sitting next to author, pure silk wrap-on, billowy sleeves, reads from author's notebook as he writes. Author turns; woman adopts glazed attitude, pretending she hasn't been looking.
Concourse C arrivals. "The elements, the conscious life, the mind." Woman, yellow blazer, full skirt in green leaf pattern. "The unseen vital force." Meets husband in dark blue Dacron suit, beige raincoat. "The nine strange gates of the body." Daughter, in pink terry-cloth top and shorts, flexible toe flats, waiting attentively. "The five domains of sense." Black woman: "Brian, where's Brian?" "Desire, dislike." "Brian, come on!" "Pleasure and pain." Twenty-year-old, hooded Melton coat, lilac tights, to mother in Revlon Charlie spray cologne: "It wasn't nearly as good as I expected." "And though deep-woven." Blond woman, shimmering velvet skirt, jabot blouse, both in salmon, fitted jacket in sheared beaver, turns and looks at author by mistake. "Persistency of being." Apologizes. "These are all wrought on Matter by the Soul!" Brunette daughter in ankle-length braided squirrel glances at mother, looks at author, glances at mother, laughs.
Author. "An ever tranquil heart." Turns attention to incoming flight. "With will set firm to worship Me." "NEWS-GIFTS," "No Smoking." "Loving all solitudes." Gate to Concourse C open to people awaiting arrivals. "Shunning noise of foolish crowds." View of planes lined up against terminal. "Endeavours resolute." Woman in polyester/rayon dandy blouse, Pierrot collar, polka-dot bow tie. "To reach perception of the Utmost Soul." "Arrival Information at Gate C-7." "And grace to understand." "Windjammer Snack Bar." "What gain it were." "705 New Orleans Houston Oklahoma City." "So to attain." Pregnant woman in cowboy hat. "This, O Prince, is true Wisdom." Two flight attendants munching peanuts on way to gate. "And whatever is otherwise." "The General Store," "Cocktails," "Deli." "That is ignorance." Girl in brick-red corduroy jumper, young hubby, both downed-out.
"Now will I speak of that knowledge best to know." "Fiji Fantastic Continental Airlines." "The Truth which giveth man Amrit to drink." "Check Here." "The Truth of Him." Denver Post headline: "The Para-Brahm, the All, the Uncreated." "AT&T FORMING NEW SUBSIDIARIES." "Neither ASAT." "Mr. Zonczech." "Nor SAT." "Don Zon-czech, please come to airline paging." "Neither form." Leggy blonde with luggage on rollers. "Nor formlessness." Two women in early middle-age, seated next to author. "Yet both." One scratching dandruff, the other lamenting: "And more." "He keeps saying, 'Trust me,' and I keep thinking, 'Well, I ought to call a lawyer.'" "Whose hands are everywhere." "The thing is he tells everyone but me." "Everywhere plants his feet." Man in massagic dress shoes checking arrival board. "Everywhere we beholding." "And whatever we would put in together." "Hisears in every place hearing." "Together would be ours." Sultry woman in one-shoulder chiffon jersey fluffs hair, lining up at C-14. 7:03 pm.
"Know thou that Nature and the Spirit." Main Street. "Both have no beginning!" Idaho Springs, Colorado. 10:00 am, August 21. "Signs of Love," by Jeraldine Saunders (Cosmopolitan). "Know that qualities and changes." Argo Gold Mine." "Are by Nature wrought."Nature in mid-morning grim. "The Cancer Man." Miniature gold town dwarfed by detritus from mine. "That Nature puts to work." "7-Eleven" sign perched over bronze Chevy pickup (illusion). "The acting frame." Chicano in truck using chain to drag up junk from slight ravine. "The male moonchild is overly sensitive." "But Spirit doth inform it." "He takes off-hand comments too personally." And causes feelings of pain and pleasure." "The Dogsled – Gifts/Souvenirs." "How he loves to fondle." "All is Spirit." "And be fondled!" "Linked to molded matter." Overwhelming mountain mass, mighty in its lack of magnanimity. "Entereth into bond with qualities by Nature framed." "Yet how important for him to have the right atmosphere." "And, thus." "He is the person in the zodiac who most fears rejection." "It married to matter." "He needs more reassurance than any other sign." "Breeding the birth again." Grey Rabbit, CA plates, pulling into nameless restaurant. "In good or evil yonis."
"If he says. 'I love you.'" "Yet in this." "And you come back with, 'I bet you say that to all the girls.'" "In its bodily prison." "You just don't know how to handle a Cancer man." "Spirit pure, spirit supreme." "Breakfast / Sandwiches / Dinners" in modest pink neon. "Tell him instead that you love him." "Surveying, governing." "Need him." "Guarding and possessing." Anderson Boneless Beef truck arriving at side of restaurant. "That you appreciate him." "Lord and Master still." Delivery boy undergoing ordeal of uncertainty deciding which door of restaurant to enter. "Purusha, the Ultimate." "Elaborate your devotion to him with your body. . . ." "One Soul with Me." Finally decides to try front door. "Many Cancer men are inclined to play around." "And they who, by such eye of Wisdom." Successfully. "See how Matter, and what deals with it, divide." "Because their hunger for sex is a matter of moods." "And how the Spirit and the flesh have strife." "It makes them feel more secure to know." God is the Governor of Colorado. "That when you aren't in the mood." "The wise one goes the way of life." "They can turn to someone who may be . . ."
Scenic Overlook. Krishna: Approaching Breckenridge. "Yet farther now will I open unto thee." 12:30 pm: August 21. "This Wisdom of all Wisdoms." Beauté des ages, images, mirages. "Uttermost." Tiny vessel, vast blue lake. "The which possessing." Baby spruces, baby clouds, baby pebbles. "All my Saints." College boy in number 83 tee shirt, conversing with maroon-panted tourist. "Have passed to perfectness." Escarpment, butte, peak. "On such high verities reliant." Lush development in middle ground. "Rising into fellowship with Me." Orange economy car heading east. "They are not born again." Swathes of pleated forestation. "At birth of Kalpas." Pubescent arboreal growth. "Nor at Pralayas." In deep maturation. "Suffer change!!" V-notch at western end of panorama.
"Sattwan, Rajas, Tamas." Pedestrian Gore Creek Drive. "Thus are named the qualities of nature." Vail, Colorado. (Soothfastness, Passion, Ignorance.) 2:00 pm. "These three bind down." August 21. "The changeless Spirit in the changeful flesh." "Straight Sex Talk," by Niels Lauerson, M.D. (Cosmopolitan). "Eve's" gift shop [apple with bite taken]. Interior: "Gucci Cologne Pour Homme." "My boyfriend complains about the taste of the contraceptive jelly." "Ultima Norell." "That I use with my diaphragm. What can I do?" "Whereof sweet Soothfastness by purity living unsullied and enlightened." "These lines are all under franchise." "Binds the sinless Soul to happiness and truth." "Since there are so many jellies on the market, why not switch to one with a more acceptable flavor?" "What are you doing in my store? What are you writing down?" "You could also delay inserting the diaphragm until just before intercourse." "Passion being kin to appetite." "Making the procedure a part of arousal." "Binds the embodied Soul, O Kunti's Son!" "Get the hell out of my store!" "By tie of works." "Get off the premises!" "Many men find the experience erotic." "I'm going to call the police!" "And are even stimulated by helping." "I don't think that'll be necessary, here they are" (cop car happening by). "Of course you won't be able to move directly from foreplay to intercourse." "This guy is in my store writing things down." "And if this bothers you or your partner." "When I ask him what he's doing, he gives me smart-assed answers." "Then my suggestion is not for you." "Ignorance, begot of Darkness." Cop: "Blinding mortal men." "Just get out of the store." "Binds their Souls." Author already standing on sidewalk. "To stupor." "Once the diaphragm is in place." "Sloth." "Wash external vaginal areas with soap and water." "And drowsiness." "I'm out of the store." "That way, he'll enjoy oral contact." "Yea, Prince of India!" "Don't go back." "I won't."
Arjuna: "Oh! my Lord! which be the signs to know him." Aspen Square. "Who hath gone beyond the three-fold Modes!" Aspen, Colorado. "How liveth he?" 12:00 noon. "What way leadeth him safely?" August 22, 1980. Krishna: "He who with equanimity surveys lustre of goodness." Texas banker stands before "Paragon" ("Words to Live By"), photographing window reflection. "Strife of passion." CA mod, tinted glasses, floppy moustache. "Sloth of ignorance." Girlfriend, stringy blond hair, high tits under "Sonoma County Wine Country" tee shirt. "Nor angry if they are." Texan's wife in V-neck one-piece jogging suit, canvas casuals, daisy behind her ear: "Not wishful if they are not." "Did you get what you were looking for, honey?" "He who sits a sojourner in their midst." Maroon-panted tourist writing post cards. "Unruffled, standing off saying – serene – when troubles break." "Two Heinekens, please." "These be the Qualities!" Seven-year-old, four-year-old brother, checking out tee-shirted grizzly bear at "Silk-Screened T-shirts." "He unto whom – self-centered." Older boy in "JESUS" tee shirt. "Grief and joy sound as one word." Four-year-old: "That's funny, bears don't wear tee shirts!" "To whose deep-seeing eyes clod, marble and gold are one. "Sometimes they do" – seven-year-old brother. "Whose equal heart holds the same gentleness for lovely and unlovely things." Headline: "He named Surmounter of the Qualities!" "HEAT WAVE IN TEXAS LEAVES MANY DEAD."
Cascade Hills Motel. Cascade, Colorado, 10:00 am, August 23, 1980. Pine-hedge mountain ridge, CO manager cleaning out rooms. Krishna: "Men call the Aswattha (the Banyan tree) – that which hath its boughs beneath, its roots above – the ever-holy tree." "Cascade Hills" black, "MOTEL" red. "Yea! for its leaves are green." Black-on-yellow "ICY ROAD" sign. "Waving hymns that whisper Truth!" Diamond-shaped, hand-lettered (badly). CO motel man in conversation with elderly client. "Who knows the Aswattha." Someone has come in off road. "Who knows the Veds." And used the facilities. "Who knows all." Manager: "I don't appreciate the fact."
"Its branches shoot to heaven, sink to earth, even as the deeds of men, born from the Qualities." Argument now breaks out between manager and green-capped man with two kids. "Its silver sprays, its blooms, all the eager verdure of its girth." Green-capped man (son of elderly client) to dad: "You're right! We didn't use them!" "Leap to quick life at kiss of daylight." Sun bright, author seated in deck chair. Green-capped man carries bags to camper, in which he, kids, arrived, having spent the night elsewhere. "As men's lives quicken to the temptings fair of wooing sense." Manager appears, surveys scene suspiciously. "Its hanging rootless." Decides to check out author activity. "See the soil beneath." Author writing present sentence: landscape, mountain, tree, sunshine, manager reading over shoulder. "Helping to hold it there." Shows author his watch: "10:26." "We check out in four minutes, sir." Manager lodges complaint again with elderly client. "As action wrought amid this world of men." Gets no satisfaction. "Bind them by ever-tightening bonds again."
"Know, too, from Me shineth the gathered glory of the suns." Gulf station, Raton, New Mexico. "Which lighten all the world." 2:00 pm, August 23. "From Me the moon draweth its silver beams, fire its fierce loveliness." "That ole wind startin' to kick it up" – gas station attendant. Clouds massing. "Magic Triangle Restaurant," orange neon arrow beaded with white bulbs.
"I penetrate the clay." Single spruce, 40 yards distant. "Lend all shapes their living force." Author perched on rock, middle of stream alongside NM 64. "I glide into the plant." Raindrop on page, purling downstream flood, cool/cold to author's touch. "Root, leaf and bloom." 3:30 pm. "Make the woodlands green with springing sap." Six sudden droplets; ink blurs. "Becoming vital warmth." Sun unaccountably bursting through cloud mass, brilliant blue aperture. "In glad, respiring frames I glow." Bank foliage rough but not unruly. "Passing with outward and with inward breath." All other sound lost in constant water gurgle. "To feed the body."
Outskirts of Taos, 5:00 pm, August 23. Healthy, full conifers, northern mountainside in shadow. "Now the sacred Mystery." Light-green-tipped deciduous trees. "Secret declared to thee!" Half-orange, half-black ant ascending sand pile. "He who comprehendeth this hath wisdom!" Attractive lichen-covered quartz outgrowth, wildflowers thoughtfully disposed. "He, quit of work, is blissful!" Sixty-eight degrees, air of still expectancy.
El Portal Sandwich Bar, Taos, New Mexico. Krishna: 5:30 pm. "Fearlessness." August 23. Two secretarial types, lightly tanned, in decorous conversation. "Singleness of soul." Tailored shirts, Bermuda shorts. "The will to strive for wisdom." Sipping diet colas. "Governed in appetite." Sixty-year-old Navaho woman seated alone, full dress (burnt red), silver concha belt, silver-set turquoise bracelet. "Pious, loving lonely study." Two 38-year-old tourists with wives. "Humble, upright, injuring nought which lives." "How does that go?" – first wife, ruffled blouse, blue-and-white check vest – "It's 5:30. Do you know where your children are?" "Veracious, slow to wrath, lightly letting go what others prize." Second hubby: "You couldn't keep her at Texas Tech." "With equanimity of mien, tender toward all who suffer, spying no man's fault." Second wife in tennis shoes, tennis dress, nylon handbag. "A contented heart, fluttered by no desires." First hubby, wing-tip tassel slip-ons, wide-wale corduroys. "Modest and grave, with manhood nobly mixed." Gymnastic work-out shirt. "With patience, fortitude and purity." Other hubby in rugby shirt, grey flannel slacks, fringe moccasins. "An unrevengeful spirit, not given to rate itself too high." Smiles pleasantly at friend's wife, drop-yoke skirt in beige, soft sole campers. "Such be the signs of them set on the path to heavenly birth."
"Hear from me now of those unheavenly." Single dude in flowered shirt, bare feet, cowhide pants, smoking cigarillo. "They know not how Souls go forth from Me." Pigtailed NM type in less than full-length black tee shirt. "How they go back to Me." Levis tied with thongs at ankles. "Neither is there purity in these, nor Truth." Turquoise earring, sandals. "Nor rule of Life." Punk-cut dude, tooled morocco leather belt, emerald tee shirt, white rapacious eagle. "Surrendered to desire insatiable." Talking to waitress: "But where are you from originally?" "Full of folly, full of pride." Waitress in large pink hair bow. "Full of deceitfulness." "The East." "In blindness cleaving to error." Open-back cocktail dress. "They trust this lie as it were true." Breaks off conversation. "The lie that leads to death." Returns to barstool, half-finished gin and tonic. "Finding in Pleasure all the good which is." Eye-teases two local dudes sitting at bar. "And crying, 'Here it finisheth!'"
Rich tourist, forty-three-year-old, with wife, waitress seating them by painting of pueblo, pseudo-Indian manger (house on white ground). "Conceited, fond, stubborn, proud." Draws their attention to it. "Dead-drunken with the wise of wealth." Wife in snotty ooh's and ah's. "All their offerings have but show of reverence." Husband glances at wife. "Being without piety of ancient faith." Inquiring as to price. "Thus vowed to force, insolence and wrath, these my blasphemers be." Cricketer sport coat, redhead hunting pants. "In the forms they wear." Wife engages waitress, waving husband away with unseen hand. "And in the forms they breed." Waitress pleased with her performance. "Both my foemen are." Returns to bar. "Hateful and hating."
"Cruel, evil, vile, lowest and least of men, I cast them down again." Cowboy-hatted dude, 44, in reptile boots, to waitress: "I'm gonna go pretty soon and just clean up." "And yet again at end of lives." Waitress hanging fire. "Into some devilish womb, whence, birth by birth, the devilish wombs respawn them." Acknowledges remark without a smile. "All beguiled." Dude looking at her hopefully. "Well, maybe we'll see ya over there," she says. Green traffic sign out window: WEST 64 / EAST 64 ®.
Arjuna: "If men forsake the holy ordinance, heedless of Shastras, yet keep faith at heart." Santa Fe. "And Worship." Old Palace of the Governors. "What shall be the state of those, Great Krishna." 3:00 pm. "Sattwan, Rajas, Tamas?" August 24, 1980. "Say!" Sun out on Borden truck, white, red, black, yellow. Krishna: "Threefold is the faith." Texas tourist leans from older green sedan, snapping Minolta. "And springs from those three qualities – 'True,' 'Passion-stained,' or 'Dark' – as thou shalt hear." Boy with umbrella walks into parking meter. Nice, sophisticated mommy turns back, black yoke on white up-ruffle blouse: "Are you all right, sweetie?" Restaurant smells issuing from open lobby door, La Fonda Hotel. "Have you ever been to Texas?" – one kid to another in entourage of families. "ARMADILLO" stamped in concrete, "E. San Francisco St., Old Santa Fe Trail." "The faith of each believer conforms itself to what he truly is." Little girl, blond ponytail, red substance smeared on forehead. "Where thou shalt see a worshipper." Nine-year-old, red Honda bike. "That one to what he worships lives assimilate." Pulling twelve-year-old on rope behind, roller skates, red plastic rollers. "Such as the shrine, so is the votary."
"The soothfast souls adore true gods." Cop, in shade, holds out hand palm up; sunlight strikes it. "Souls obeying Rajas worship Rakshasas or Yakshas." Two picturesque mailboxes ("Local," "Out of Town") huddled together. "And the men of darkness pray to Pretas and to Bhutas (evil spirits)." Woman, black sunglasses, black tee shirt, erect nipples, crosses authorward; opens "Out of Town" slot, deposits letter. "Yea, and those who practice bitter penance." Two natives, white running gear, jog through plaza. French tourist, white jeans, black chemise, pausing before shop window. "Know them to devils devoted, not to Heaven!" "NO SE PERMITE ESTACIONAR."
"Hear this of Me!" Palace Arcade ("El Palacio Real"). "There is a food." Navaho woman, seated. "Which brings substance, strength and health." Spreading wares on subtle blanket. "Joy to live." Turquoise ground, bands of rouge and white. "Being well-seasoned." Splendid silver necklaces. "And cordial." Woman kneeling, arms akimbo, Gaugin-esque shawl at midriff. "Comforting." Deeply-lined, Oriental features. "The 'Soothfast' meat." Skirt in large russet flowers, ocher/olive background.
"And there be foods that bring unrest and aching." Indian woman, Hallmark Card display. "And grief." Takes peanut out of sack. "These be too biting, salt and sharp." Cracks it with her teeth. "And craved by too strong appetite." German tourist filming her, camera with soft black microphone attached. "And there is foul food." Navaho vendor, cheap turquoise jewelry, copy of Cosmopolitan in one hand, its page folded back. "Savourless, filthy." Open to "Give Him a Devilish Surprise." "Which the foul will eat." Surveys scene, a stick in his other hand.
"Worship of gods meriting worship." Young half-Navaho beauty, black tinted shades, politely answering inquiries, pentagram earrings on circles of enamel. Seated next to her: aged mother, nearly deaf. "Lowly reverence of Twice-borns, Teacher, Elders." The daughter in jeans, hand-made sandals, beautiful hand gestures. "Purity, Rectitude." Two nine-year-old Navaho kids sitting at curb, black bangs of little girl bursting in the wind. "And the Brahmacharya's vow." Elegant Scandinavian woman enters into considerate discussion with vendor. "Not to injure any helpless thing." Finally purchases expensive silver chain, inset turquoise pendant. "These make a true religiousness of Act."
Two thin, brown-skinned, sixteen-year-old kids, sitting in Galaxie, stopped, as portly white cop berates them. "Words causing no man woe, words ever true, gentle and pleasing words." Wizened Navaho man at arcade end gives author kindly look. "Those ye say in murmured reading of Sacred Writ." Author glances again: man's deep brown eyes signal suffering. "These make the true religiousness of Speech." Head tilted back against white-washed wall. "Serenity of soul; benignity; sway of the silent Spirit." Eyelids closed. "Constant stress to sanctify the Nature." Re-open. "These things make good rites." Expressing a peaceful resignation. "True religiousness of Mind." Cop still writing ticket, music playing quietly in car.
"Such threefold faith." "In 1881 the Spitz Jewelry Store was Established." "Kept in highest piety." "A clock, without works, was placed in the Plaza to advertise its wares." "With no hope of gain." "Pitch In / Lead a Clean Life." "By hearts devoted." "Let's Put New Mexico First" bumper sticker. "That is perfect work of Sattwan.""Be a Friend of the Earth." "For that is true belief." First National Bank. "But religion shown in act of proud display." Sheridan Avenue. "To win good entertainment." O'Meara Gallery. "Worship, fame." Fritz Scholder Indian litho visible within. "Such – say I – is of Rajas, rash and vain." Laurencin nude, hair-pie revealed. "Religion followed by a witless will." Between spread buttocks. "To torture self or hurt another." Lippincott Gallery. "'Tis of Tamas, dark and ill."
Rest stop, I-40, en route to Tucumcari. Arjuna: New Mexico. "Fain would I better know the very truth, Heart's Lord." 7:00 pm. "Of deliverance." August 24. "And renunciation." 1980. Band of yellow horizon light, occluded. Krishna: "The poets." Ink-stained, lugubrious. "Rightly teach that Sannyas (abstention)." Overwhelming, liberated sky above. "Is the purging of all acts springing from desire." Pure serene indentations of blue. "And their wisest say Tyaga (renunciation)." "TEXA O" sign. "Is renouncing of all fruitful acts." Supported by silver stanchions. "Renunciation, they say, is of threefold form." Through (beyond) them a single wooden pole, multiple cross-bars. "Worship, Penance, Alms, not to be stayed." Arching over all: an iridescent rainbow, spawning a second overhead. "Nay, to be gladly done." Yellow light, now brilliant, hitting its upper third. "For all those three are the waters of purification." Trees at end of parking lot also struck by light in uppermost reaches. "Yet even those high works must yield from attachment."
Honda Civic, hood rain-spattered, pulling in directly before rest stop window. "This is My judgment, Prince! this My insuperable and fixed decree!" Couple emerging, she in red tee shirt, yellow "CHI OMEGA." "Abstaining from a work by right prescribed." Restaurant door locked by manager from inside. "Never is meet!" Couple returning to car. "So to abstain doth spring from 'Darkness.'" Woman lovely, lithe, face flushed pink, in gold necklace. "And Delusion teacheth it." Back in seat, puppy jumps into her lap. "Abstaining from work grievous to flesh." Husband backing out. "When one saith, ''Tis unpleasing!' this is null!" Yellow disappearing from horizon. "Such an one acts from 'passion.'" Red and white of "TEXA O" aglow.
"But, Arjun!" Amarillo, Texas. "Abstaining from attachment to the work." 10:30 am. "Abstaining from rewardment in the work." August 25, 1980. "While yet one doeth it full faithfully." Santa Fe map sprawl (Canyon Road shops); KOA guide; goatskin wine flask. "Saying, ''Tis right to do!'" Windshield bug splatter. "That is 'true' act and abstinence!" Yellow, black and white. "He who doeth duties so." Yellow wild flowers, wilted, on car floor. "Unvexed if his work fail." Matchbook on dash: "Hannibal Bank." "If it succeed unflattered." Motel wall in new soft brick, some white-coated, chipped red." "In his own heart justified." Praying mantis attached to window screen. "Quit of all debates and doubts." Early wind moves curtains gently in and out. "His, then, is 'true' act." Door numbers in trapezoidal units, unequally luminescent. "For being in the body." "16" in neon over door. "None may stand." Blue pickup, TX plates, still parked at 20. "Wholly aloof from act." View to highway, cars passing. "Yet who abstains from profit of act." Man in blue cap raking grass. "He is truly abstinent."
1:30. "This, then, is 'true' Knowledge." Outskirts of Amarillo. "Learn thou its nature:" Leaving Amarillo. "To see one changeless Life in all the Lives." August 25. "And in the Separate." Twin buttes. "One Inseparable." Orange VW by side of road, buttes caught between door and windshield. "This is imperfect knowledge:" Puffy cloudlet (WSW); sky; sky through windshield. "That which sees the separate existences apart." Single yellow bug smear. "And." Vague clouds on horizon. "Being separated." Vaguer still near butte. "Holds them real." Windy grass. Gust through car interior. Car approaching downroad, crispy tire crunch, red Chevy pickup. Cricket sound. "And this is False Knowledge:" Yellow flowers still on car floor. That which clings blindly, as if 'twere all." Wind burst; buffet: door closing on author's foot. "Seeking no Cause." Sun on boot, door shadow vacillating. "Deprived of light." Road in asphalt, gravel-embedded. "Narrow, dull." Orange center line. "Deadly, 'dark.'" Yellow-overpainted. Asphalt a part of the landscape.
Texas Ranch Road 1061. "A Brahman's virtues, O Prince!" 1:40 pm. "Are born of his nature." View of twin mesas: scrubby bush stuff; scaffolding barely visible. "Serenity." Door shadow broader facing west. "Self-mastery." Subtle fern-like leaves in dance. "Religion." Bird chirp. Eastern Mesa. "Purity." "CHEM TOI [portable toilet] / PHONE 374 0651." "Patience." "Amarillo, Texas." Grasshopper chirp, mesquite, turquoise outhouse. "Uprightness." Plywood panels leaning against hillside "Learning." Double sea-green welding cans, "FLOATING MESA," white trailer side (black letters).
"And to know the truth of things which be." Floating Mesa, 1:55 pm. Black four-door Cadillac, hood open. Wind, compressor sound. Tracks of wheels in red, sage-scumbled. Red dust whipping up past trailer. Glint of light off welder's helmet. High compressor putter. Near ground rustish, middle ground in all sage, irregular band of pesky scrub leading into the distance. Far ground fading to blue horizonal confusion. Western edge, Floating Mesa. Shadow of author's hair half on page, half on rock Trailer box beneath knoll. Amarillo skyscraper visible to south. Notebook page flaps up. Single ladder leaning against scaffold. 2:00 pm. Mesa top. 2:15. Welder, quiver full of rods, grey-flecked beard. Electric line. Cricket buzz, compressor sound.
◆
"Now, Son of Kunti! learn from me also this:" Texas dirt road, 4 miles from Oklahoma border. "How one." 3:00 pm. "Attaining perfect peace." August 25. "Attains Brahma." 1980. "The supreme, the highest height of all!" Author shadow. "Devoted, with heart grown pure." Boot in dirt. "Restrained in lordly self-control." Clay, sandy soil, dust atop it. "Foregoing wiles of song and senses." Red rock base. "Freed from love, freed from hate." 107 degrees Fahrenheit, no air conditioning. "Dwelling, 'mid solitudes." Quiet. "In diet spare." Water jar with ice cubes. "Body, speech and will tamed to obey." Wind at ear. "Ever to holy meditation vowed." Fly whine. "From passions liberate." Cricket activity. "Quit of the Self." Mooing cow, moaning.
Truck on highway (inaudible). "Of arrogance." Heat, wind-mollified, still intense. "Anger, pride." Hand, pen shadowing page. "Freed from surroundings." Single straw in roadbed. "Quiet." Tire tracks revealing human presence. "Lacking nought, such an one grows one with BRAHM." More tire tracks (closer attention). Human footprints up to here: animal tracks beyond. "Growing one with BRAHM, serene, such an one sorrows no one." Nettles flourishing by roadside. "His soul." Sound of car approaching, dirt road. "Equally loving all that lives." Green pickup, white doors. "Loves well Me." Man getting out. "Who have made them." Six hundred feet away. "He attains to Me." Approaches cows, who respond to human presence. "By this same love and worship does he know." Man returns to truck. "As I am." Closes door. "How high, how wonderful." Engine starts. "How knowing." Truck disappears up driveway. "Then straightway enters into Me." Road empty.
"And whatsoever deeds he doeth." Wind again a presence felt. "Fixed in Me." "Are we in Oklahoma?" "As in his refuge." (Tourist voice, awakening.) "He hath won." Daisies, in wind by roadside. "For evermore." Flap and flutter. "By my grace." Sway, disport. "Th'eternal rest." A myriad of things. "So will thou!" Grains of sand. "In thy thoughts." Earth contours. "Do all thou dost for Me!" Grass, weed, flower, bush. "Renounce for Me!" Earth, cloud and heaven. "Sacrifice thy heart and mind." Telephone pole, telephone line. "And will to Me!" Electric pole, electric line. "And live in faith of Me!" Barbed-wire-fenced embankment, something surely beyond. "For only on faith of Me." Look over shoulder revealing: "All dangers thou shalt vanquish." Green fields. "By My grace." Yellow band beyond them. "But, trusting to thyself." "Stubble in foreground. "Heeding not." Bare pebbles at author's feet. "Thou can'st but perish!" Dust on boot.
"If this day thou say'st." Beyond the yellow band, a stand of trees. "Relying on thyself." Further row of beige cultivation. "'I will not fight!'" "Beyond that: a ridge, leading to horizon. "Vain will the purpose prove." Beyond the ridge: "Thy qualities would spur thee to the war." Hilly upgrowth. "What thou dost shun." Mountains. "Misled by fair illusions." Low clouds/haze. "Thou would'st see against thy will." Horizon line holding cloudy/clear uncertainty in focus. "There lives a Master." Wind gust to eastward. "In the hearts of men." Answered by western wind reprise. "Maketh his deeds by subtle pulling strings." Whistling through lines. "And they then dance." Car in view. "To the tune he wills." Driver's seat vacant. "So trust Him!" Hand on car roof. "And, by grace of him, attain." Car on road. "So, but meditate!" Road on clay. "Then act!" Clay on red rock.
I-40, Texas border, 3:16 pm, August 25, 1980