include "lang-nav.inc" ?>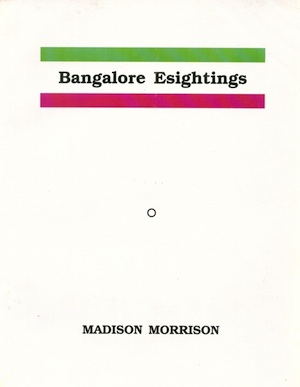 Bangalore Esightings
1
Upmarket Bangalore, Hotel Broadway: author's first meal in moderately priced restaurant since registration at Rs.300-a-night Gupta's Boarding and Lodge. His thirsty indulgence consists of ordering coffee and water and lassi to go with butter chicken and roti. The decorous dining hall is decorated with earth colors: rust/rouge/black/tan tablecloth, matching rust napkins. In keeping with South Indian practice the plates are metallic and shaped for finger usage, though silverware has also been provided. Author's luxurious two cups of sweetened coffee arrive in a thermos, his lassi (curd drink) in a glass, his mineral water in a plastic bottle.
Now the "butter chicken" arrives in a rust-rouge sauce with side plate of tan chopped onions. A young waiter in black hair and moustache, dark brown skin, folds rust-colored napkins by holding them up to chest-level against his white, rouge-bordered sherwanee. The Karnataka skies are scumbled in dark grey cloud. Onset of monsoon season coincides with Deepavali, the Festival of Light. Over the windows rattan screens have been drawn down, the wicker-shaded lights hanging above individual tables left unlit. A rouge-tiled ceiling slopes from fifteen feet at the restaurant's interior to the top of air conditioning units abutting its windows.
○
The Festival of Light — Deepavali — is likely to turn into a festival of darkness for seven people including five children, most of whom face the possibility of losing their vision. In the case of three victims an eye each has been surgically removed (Deccan Herald, November 6, 2002). Pick any Gents Shoes / Pick any Ladies Chapal. Tragically four of the victims sustained injuries when crackers lighted by others hit them accidentally. The Cellar Top Hair Dresser. All seven victims. Time Land (a watch shop). Have been admitted. Suitall (men's clothing). Over the last two days. Body and Sole ("Foot Wear"). At Minto Eye Hospital in Bangalore. Olympus: Focus on Life (Mysore Photo Emporium).
The patients are: Nasruddin (6) of Shantinagar in Tumkur. Forever Yours Orient Fans; Perfect General Stores; Liberty Collections. Manjunath (9) of Amrutahalli. Old Monk XXX Rum; Pearl Times; My Dream Pub-Bar. Vinay Kumar (13) of Chikkanahalli village in Mulbagal taluk of Kolar district. Hotel Himalaya, Hotel Hindustan, Master Tailoring. Priya (15), daughter of a daily wage labourer in Laxmipur near Gandhinagar. Monsoon Express Travel; Bombay Dyeing; Om Shiv Recreation Association. Mahesh (21) from Allalsandra near Yelahanka in Bangalore. Sapna Book House; Live-In Jeans; Peter England Fancy Apparels. Narendra Kumar (15). Chanceless Sports. And Umashankar (22) of Srirampura. Government Silk House; Ultimate Collection; Paradise.
Nasruddin. Pan America Shirts & Trousers. And Manjunath. Attitude: Carry It in Your Bag. Sustained eye injuries when a cracker lit by somebody else hit them in the eyes as they were walking on the road. Burma Bazaar, Bangkok Plaza, Dubai Bazaar. They were immediately rushed to the hospital. Admire: The New Look of Fashion; VIP Frenchie Briefs, He and She Foot Wear. One eye each of Priya. Classic International. And Mahesh. Foresight: Computer Horoscopes. And Vinay Kumar. Silly Point: The Sport Shop; Veg Fast Food; PlayWin. Has been removed by surgery. Asiatic Stationers. Priya is a Standard X student in Sevashram School. Olympic Hair Dressing Saloon. She was injured. Status Bar and Restaurant. When a rocket. Hotel Fish Land. Hurled by a boy from a neighbouring house. The Catholic Syrian Bank. Hit her in the eyes. Venus Plaza: Futuristic Shopping Centre. As she returned home from school. The Crocodile Gallery. While she has lost one eye, her vision in the other eye too is blurred. A. Gopi Prakash: High Court Advocate. Mahesh sustained eye injuries when the bomb he lit inside a coconut shell exploded. Rawa IT Solutions. The impact of the explosion was so great that one of his eyeballs popped out.
Vinay Kumar was injured in the eye when he was lighting a "Laxmi" bomb. Khokar Dispensary. His eye has been removed. Consult Dr. Khokar for Sex Problems. Umshankar sustained eye injuries when a cracker lighted by some other person hit him as he was returning from the weaving unit where he works. Louis Philippe Europa. Umashankar has expressed his inability to see anything. Only Vima. However, doctors are yet to perform surgery on him. Puliani and Puliani: Karnataka Law Publications.
Meanwhile, a resident of Shamanna Garden, Saleem (28) is battling for life at Victoria Hospital with 60 per cent burns, after a "rocket" (fire cracker) accidentally hit him. Nalapads Hotel Broadway. The incident is said to have occurred in the evening. The light is dim but adequate. Byatarayanapura police have registered a case.
○
At the end of the dining room, as waiters shuffle past, as three newly-arrived youths stare at author from adjacent table, a wood-carved fisherman in haut relief casts an actual net from an actual wooden fishing boat, elevated above the roiling mural sea and stationed beneath a swirling sky of spray-painted grey, white and blue configurations.
The bill arrives: Rs.171 (less than US$4). Author leaves a generous tip.
○
K.G. Road rush hour scene: a cow heads up the railed median divider against full-throttle, full-throated traffic symphony. A lad tending her has been trapped on the other side of the divide and must alternately hop up on the median to poke at her with a stick and hop down to catch up with her. Picking up the pace, she trots on out of author's purview.
Across the way stands a portion of Gupta's Market: "metro fashion. retro prices.," reads its modern sign, black on backlit white; "megamart," another, whose second and third syllables have been separated by a "g," figured as a pocketbook, into "me" and "gamart." Beneath this encompassing banner smaller fancy shops are clustered: "Anarkali Silks," "Sonata Software Solutions," "Titan," "Sai-Bin Silks," "Gurals Saris."
Yellow-topped black-bottomed auto rickshaws sputter, cough, splutter along, rasping out their metallic horns against encroaching buses, bicycles, a white minivan, a green tractor returning to the city a wagon filled with sleeping workers. Saturated neon burns into a dark smog-grey sky. Everything is brightly colorful: "Hotel" (red) "Sharada" (blue); illuminated storefronts; a lurid movie advertisement, whose principal figures rise four, five, six stories above the square. "Info at your fingertips. Only from Hutch," reads a sign covering the pedestrian crossover railings.
○
Phnom Penh: "Om Kotak Mahindra / Life Insurance." It's all about economic diplomacy and turning the decade-old "Look East" Indian policy into a "Do East" policy. "The Raymond Shop" (a chain store). With an eye on this, Prime Minister Vajpayee proposed an ambitious Free Trade Area (FTA) with South East Asian nations during the first-ever India-ASEAN summit Tuesday (The Times of India, November 6, 2002). "Santosh Textiles / Mysore Silk Showroom."
Also taking note of the menacing shadow of terrorism in the region, Vajpayee called for "sharing of intelligence and information to jointly counter the scourge." In the neighborhood author has now made the acquaintance of: (1) The young man in tortoise shell glasses who pours his morning coffee at the vegetarian restaurant.
The FTA proposal, with an implementation period of ten years, was generally welcomed by the ASEAN nations during the summit, said Yashwant Sinha, External Affairs Minister. (2) The woman who sells him his midafternoon bag of Lays Sour Cream and Onion Potato Chips. India has proposed that the FTA gradually pave the way for becoming a full-fledged member of ASEAN, especially since SAARC is making no real progress in resolving Indo-Pak political differences. (3) Vijay Chendra, attendant at the nearest Internet café, who today, in a friendly gesture, gave author his email address. By becoming a close partner of the only existing effective Asian trading bloc, which has a combined GDP of $737 billion, India will be able to deal in the future on better terms with powerful regional blocs like the European Union and North American Free Trade Area. (4) The family selling saris on this side of K.G. Road, who last evening presented him with a box of sweets in celebration of Deepavali.
Moreover, apart from creating much-needed economic and strategic space within the entire Asia-Pacific region, India is keen to keep abreast of rival China, which has far outstripped her in the economic development race to carve out newer markets and to wield greater political influence in the region. For such a big city, Bangalore's denizens are remarkably friendly toward the unknown foreigner who has suddenly appeared with neither money nor business connections. Significantly, ASEAN and China have already normalised an FTA arrangement scheduled to be implemented over a ten-year period. Once he has recovered from his 24-hour journey, he is hoping to explore Bangalore's yet more complex modern sector. "We are seeking to accelerate trade and investment flows between India and ASEAN through enhanced cooperation with the ASEAN FTA," said Vajpayee.
○
No sooner has Deepavali ended than Ramazan begins. Islam is a religion that cares for human relationships and shares the sufferings of fellow beings. Among the shopkeepers of author's neighborhood, a good many seem to be Muslim. This is evident also from the fact that after entering into its fold through Kalima-e-Tayyiba. At the sweets stall this morning such was the case. The believer practices the four fundamental tenets of Islam, two of which, Fasting and Zakath, are dedicated to and concerned with the mankind. In the sari and silk shops, yesterday as well as this evening, he encounters people of the Muslim faith. Fasting is obligatory in the month of Ramazan, which draws its holiness from the fact that the Holy Book of Quran, a source of guide to the mankind, was descended on earth from Heaven in this month through the Prophet Mohammad (Peace be upon Him), the last Prophet of Islam, from Allah, the Almighty. Both times he is invited to take a seat for extended conversation centering on family, on occupation, on place of origin but on neither politics nor religion.
When he asks the son of a dealer in women's clothes (not the sari but the chatcha and the rangaree) if he will follow a career in business, author is reminded that this is a question of God's will. Fasting not only teaches us self-control over passions for evil desires but also makes us feel the intensity of the hardship of the deprived for daily basic needs of living. This merchant, after other conversational topics have been politely exhausted, proves especially eager to tell of a new healer who has made his presence felt in the region. It develops sympathy for those who are not able to meet their two square meals. Upon a sufferer from cardiac disease he has performed a miracle. Quarreling, backbiting, telling lies are strictly prohibited during fasting, which deeply hurt the feelings of the affected people. Its details are recounted. Though on other days too these evil practices are forbidden for any Muslim. At an assembly of 4000 devoted admirers and medical practitioners he has taken a simple pair of kitchen scissors and excised the heart. Fasting provides a mode of training to eschew such evil habits. The patient, who hitherto had been unable to walk, was told to arise and go. Fasting also promotes the passion for patience, humbleness and sense of submission to the Creator.
His heart returned to its cavity completely healed, he set out on foot, no mark of the incision visible. A small portion of wealth, left accumulated in the previous year, is to be distributed among the deserving people, thus creating a sense of gratitude among the rich and a sense of gratefulness among the under-privileged to the Almighty. All those who have performed their spiritual duties to the Creator and the created in this month and have accomplished the mission ordained upon them, have every right to celebrate Eid-ul-Fitr, as a day of successful culmination, but of course, not before paying Fitra, another obligatory gesture of kindness towards the poor (The Hindu, November 7, 2002). This healer is also reputed to have solved the problems of cancer victims and AIDS sufferers; the clothing merchant's own son has been cured of heart trouble.
○
EXPATS ON THE BACK (The Economic Times, November 8, 2002). Seventy years ago there was Larsen and there was Tourbro — two Danish engineers who quit their jobs while on a posting in Mumbai with a big-time transnational firm. They decided to turn entrepreneurs and start a company — which grew to become one of India's most highly valued conglomerates.
Cut to the present. Since 11:00 o'clock, when I read your email with its suggestions as to what I should do to solve my problem, I have spent five hours with two computer experts. Indian business territory is once again being cased by dozens of new-generation Larsens and Tourbros. I copied down the settings of the local machine, as you suggested, then asked the waitperson at the expensive Internet café on Mahatma Ghandi Road whom I might ask to help me. Former corporate executives from Britain, France, Australia and Italy are convinced that India is the big new entrepreneurial opportunity. He directed me to a guy about 45 years old, named Peter Prem, who runs an Internet café of his own and a print shop. In the globalized knowledge economy they're building upon international experience, leveraging their knowledge and brazenly hard-selling their expatriate connections to rope in business for fledgling enterprises. Peter was unbelievably friendly and helpful, interrupting his printing business for four hours to work on my computer. None of them wants to go back home.
Within an hour or so we had managed, through phone conferences with the local AT&T office, to connect to their Bangalore server. Francis Wacziarg first came to India as a backpacker fresh out of business school and returned soon after as a commercial attaché to the French consulate in Mumbai. In India one can only use attglobal by itself to reach other addresses in India. Four years later, he shifted base to Delhi, where he was chief of Banque National de Paris. The Indian government will not allow any foreigner to operate an international server in India. When he quit and launched out on his own, he took the path most familiar to executives with the entrepreneurial itch: he became a consultant.
So, after I had connected and waited for authentication, after I sent a message, I was told that I was "unauthorized" to do so. Initially set up to aid Indo-French joint ventures, the private company that bore Wacziarg's name ultimately became a successful trading house, importing French wine, cheese and perfume, and supplying leather goods, fabrics and garments to major European retail chains. As the inevitable surplus accumulated, Wacziarg took the next logical step, the one that is likely to remain the 60-year-old's main claim to fame. In 1986 he bought the Neemrana Fort in Rajasthan from Maharaja Rajinder Singh and, along with friend Aman Nath, set about restoring the property and converting it into a hotel. It took another hour to figure out what the problem was. Today, Neemrana Hotels Pvt Ltd has eight properties in Rajasthan, Maharashtra and Pondicherry, and Wacziarg is an hotelier of some repute.
In 1990 he received Indian citizenship, the culmination of a three-decade love affair with the country. The AT&T person kept suggesting that I make a long distance call to Singapore and connect there. "I first tried getting citizenship in 1984 but was refused. I didn't need it for my business, since I already had the necessary permissions. For me, it was an emotional issue. I felt a sense of homecoming the very first time I came to India 33 years ago," he says. Needless to say, I was not about to do so. Indeed, for most expatriate entrepreneurs, the decision to stay on in India is as much emotional as rational. Some fall in love with the country's colourful culture, its exotic spirituality — or, more often, its beautiful women.
British interior designer Oliver Husker, for one, stayed on because he married Delhi-based entrepreneur Padmesh Singh, who had a great business going in leather exports. Husker then launched his own venture — Imperial Furniture, which manufactures classical hand crafted furniture — and now exports to markets across the world. "I couldn't have done this in the U.S.," he says, "The superior craftsmanship and low costs I found in India were the inspiration."
Moving to a foreign country inevitably kindles a sense of adventure and nurtures a risk-taking spirit that's the key to entrepreneurship. Besides, expatriates bring with them a special perspective derived from their home culture, which can make for a competitive edge when they turn to business. For Wacziarg it was his understanding of all things French — he's a founding director of Table de France Society, which promotes French cuisine in India — that helped him launch his first venture. As for Husker, it was his first-hand knowledge of the furniture markets of Europe.
○
Finally we figured out that in India you must have a vsnl account or another newer Indian account to which you first connect and from there connect to attglobal. This procedure will work either for connecting by cable at an Internet café or for direct dial-up. But now the drama began: it took Peter, constantly on the phone to AT&T, two more hours to configure my attglobal settings, but even so I couldn't get through. Finally he sent a boy out to purchase 25 hours of Internet time from a company called Now. Then he spent another hour on the phone with the Now representative trying to get their information to configure properly.
When Peter despaired, we had to ask the Now representative to come over. In about 45 minutes he managed to configure my computer so that my mail would go to Now and on to attglobal. I immediately downloaded 30 emails yet found that I couldn't send. This required another half hour of reconfiguration. I watched every bit of this being done, but I'd give myself about one chance in a hundred of repeating what it took these two computer experts five hours to accomplish. When I get back to Taipei, I will have to ask you to undo everything and return my computer to its normal settings. I suppose that will take at least another hour.
○
HIRE AND NOW. Outing to Windsor Manor Sheraton. SHRIMP DUMPING CHARGES MAY HIT AID FLOW TO INDIA. Author situates himself in Irish Bar, where the menu advertises Guinness Ale for Rs.170 a glass (offer declined). INDIA TO TAP U.S. E-BOOKS OUTSOURCING MARKET. Over dim mantelpiece, an assemblage of expensive garage-sale English provender: two silver candle-sticks in the shape of Corinthian columns; a blue-and-white Qing dynasty vase; a decorated silver bucket (Dionysian grape motif); a deep Chinese soup tureen turned on its side to reveal view of English village painted in its deep-blue porcelain interior; an ornately figured, silver-framed mirror. AIR TODAY, GONE TOMORROW.
Above the silver-framed mirror, the TV monitor shows India vs. West Indies at cricket, score 240-4. Silk maharaja-turbaned black-skinned waitperson, white gown, green gold-bordered cummerbund, stands with handheld communicator behind his back, enjoying the silent broadcast. On the wall opposite, all sails are "go" off Kilkenny. Assistant manager in double-breasted blue suit too large for his five-foot frame enters, approaches author's table but defers to author's activity.
KNOWLEDGE MANAGEMENT IS POWER. As modernized Limerick/Tipperary/Sligo folk songs waft over us, waitperson Raijan tells author that this is the first Irish pub in India. Parlis Kumar, in white dhoti, white jacket and sash (angarastram) suggests that author should wear South Indian clothing. Bill Gates on India vs. China: "Excuse me, sir," asks Raijan, "What is your favorite sport?" "China is definitely the one to look toward; after all, these global jobs will move around to the country that does them best." Conversation turns to American football, basketball, baseball. For the moment cricket is in eclipse.
WEB SERVICES SPACE IS NEW, BUT RIVALS FEAR MICROSOFT (all headlines from The Economic Times, November 8, 2002). Meanwhile, through-view into all-white terrace, over-arched in the manner of the great European glass exhibition halls. (Ahmedabad, Chennai, Hyderabad, Kolkata, Mumbai, New Delhi.) Besaried wait personnel, chefs in tall hats, a western-uniformed hostess stride by. Bill Gates on Whether an Indian Can be CEO of Microsoft: Virtually no clientele have taken the bait. "I think there's a definite possibility of an Indian heading Microsoft someday in the future." Author has ordered mushrooms and, for the benefit of Raijan, proudly pronounces himself "vegetarian." "Brahmins do not eat mushrooms," Raijan retorts.
○
Bangkok. Marking a major change in foreign policy, Prime Minister Atal Behari Vajpayee on Friday said, for the first time, that there was a "healthy competition" between India and China. Vajpayee's statement assumes significance, especially following Yashwant Sinha, External Affairs Minister, who had categorically said on several occasions that India was not competing with China. The statement was made in the context of India's "me-too" policy of setting up, a day after China had done so, a free trade area for the next ten years with ASEAN.
2
Author by auto rickshaw, 9:30 pm, to check out the hot new band in town, which is playing at The Park.hotel. Bangalore rockers Thermal and a Quarter revive an exclusive live experience. The wallah wants twice the normal rate due to the late hour. For years Bangalore has craved the music that is so intrinsic to its cultural fabric. We careen through broad but still dusty, underlit avenues to arrive circuitously at Trinity Circle on M.G. Road. Where they could be themselves, chill out and listen to the musicians they love most, playing live in their midst (The New Indian Express, November 9, 2002).
Looking forward to a whole spectrum of moods and a rousing, energy-driven set from the new album "Jupiter Café." At the gate the foreigner in proper attire (polo shirt, khakis) has no difficulty gaining entrance. Bangalore's favourite music by Bangalore's favourite performers gently blended with "thermaled" cover of Sting, Pink Floyd, Dire Straits, The Beatles, Cat Stevens, Steely Dan. Inside the gate, cars of the daddies of rich kids fill the court.
Entry is by invitation only, so make sure you invite yourself over. The band itself is a little disappointing: heavy on guitar, light on imagination. Passes are available at Pecos, Sound Options, Habit. Naïve and jocular, the lead singer engages in social repartee with his well-heeled audience, who have soberly, modestly seated themselves on the carpeted floor of a small annex. Music World, Planet M and Calypso. After 20 minutes author departs, engaging a new auto rickshaw wallah who wants twice again the earlier rate but at last agrees (having been walked away from) to a fair price.
○
The Asian Age (Weekend Edition, Bangalore, Sunday, November 10, 2002), BACK IN FOCUS. Slip [sic] disc seems to be a growing problem among actresses these days. Wonder why? Bipasha Basu is resting it out at Leelavati Hospital in Bandra to get her back in action. Doctors have told her that the problem arose because of too much stress. Bipasha has just returned from Pondicherry, where she was shooting for Jism with John Abraham. Actress Reshmi Ghosh has returned from Mauritius with a slip disc. She was shooting with Milind Soman and Riya Sen for Saazish. And we all know that Milind is quite capable of handling two girls at the same time. Hope the slip disc is not the result of manhandling!
○
Lakshmi Gopalswamy is a Bangalore-based Malayalam actress. Her debut film Arayannagalude Veedu fetched her the Kerala State Award. Apart from that, she is an accomplished Bharatanayam dancer. She shares her likes and dislikes with Lakshmi Gopal, interviewer for The Bangalore Age in its cultural supplement, "artrageous":
You love . . . Straightforwardness. As a populist gesture in 1997 the government of Punjab ordered the state-owned utility to stop charging farmers for the power that runs their irrigation pumps. Now the government has been forced for lack of funds to reinstate the charges.
You hate . . . Selfishness. "This house, these buildings, everything you see is pledged to the banks," complained Baldev Singh Mianpur, 50, who runs one of Punjab's farm unions and also grows wheat, rice and vegetables on ten carefully tended hectares near here.
Your worst nightmare . . . That I'm on stage and blank out. "Besides," he added, "We were paying for electricity before, but neither the quality nor the supply was reliable."
Your favourite singer . . . Haariharan. While India's liberalization efforts have spurred some success stories, notably in the software industry, its economy continues to be hobbled by trade barriers, poor infrastructure, interest-group politics and bureaucratic resistance.
Your favourite movie . . . Breakfast at Tiffany's and Umrao Jaan. "Americans hesitate to invest in India," said Robert Blackwell, the U.S. ambassador, "because of uncertainty over India's economic reforms."
Your favorite play . . . "Phantom of the Opera: a Musical." Part of the Indian government's resistance to market-oriented reforms of the power system stems from genuine concern about the effect of higher electricity rates on the poor.
Your favorite sport . . . Soccer. But it also reflects the clout of key constituencies, notably farmers, who are among the largest beneficiaries of power subsidies.
Your favourite book . . . "Seagull and Alchemist." Punjab is India's breadbasket.
Your favorite cuisine . . . Thai. A vast expanse of wheat and rice fields lapping at the foothills of the Himalayas.
You regret . . . If I had shed three kilos sometime ago, my career could have been better. It is administered here in Chandigarh, a pleasant, park-like city 112 kilometers northwest of New Delhi designed a half-century ago by the Swiss-born architect Le Corbusier (The International Herald Tribune, November 8, 2002).
○
A butterfly, pale and quick, flits above the courtyard's trellis, on which three plantations of "Creepy Charlie," says a gardener, have managed to create a full canopy. The lush, expansively designed and elegantly executed courtyard, the manager informs us, was instituted in 1992. The lively gardener has treated author to the names of the plants that he is watering, along with many more that he routinely tends.
On the wooden stanchions supporting the trellis have been pinned Mexican sashes striped in carmine, forest green, pistachio, orange, sea blue, white and purple. Behind us, on the arcade's tiled floor, lounges a comically lazy ceramic Mexican in a real straw sombrero; he gazes out past two regal stone elephants. In the foreground, before the trellised restaurant space, cacti bristle atop a suave surf of Liliturf. To the right begin terraced hedges of Alfania, Aglomia and Sealing Wax Palm; behind them soars a Bird of Paradise plant.
Overhead: a tree "too big" in the gardener's words, so big, in fact, that the hotel's architectural plan had to be modified to accommodate it, at the cost of "many many money," says the manager, who had earlier cast aspersions on the gardener's English. Through its manifold branches are visible the hotel's staggered balconies, all fringed in lavender Lantana, some accentuated with tufts of orange-red Exira. White railings add a reassuring touch.
○
The Bangalore of old used to look down with genteel snobbery at what it viewed as the glitz of Bombay, the power of Delhi, and the intellectual pretensions of Madras and Calcutta. Today it vies with Bombay in commerce, and with Madras, Calcutta and Delhi in lifestyle (Maya Jayapal, Bangalore: The Story of a City).
A senior French couple at the next table next clink their little mugs of beer. "Bonjour," they pronounce in uptalk tones to new arrivals, as they stand to greet these younger guests. After establishing his authority by extending his dominion in the surrounding area, Kempe Gowda gave himself the title "Yelahanka Nadu Prabu." At noon the skies are beautifully mottled, last night's temperature drop requiring today a second shirt or in author's case a summer suit. In the time the Yelahanka Nadu Prabhus ruled the region but were feudatories of the Vijayanagara kings. Having now reseated themselves, the French couple is joined by a lively Indian lad of eight or nine in electric green cable-knit sweater with an emblem of Mickey Mouse over his heart. As author continues to survey the horticultural scene (Duranta surmounted by Euphorbia Caracasana, atop which a leafy copper plant unnamed), he eavesdrops on the boy's impeccable French. Later they became vassals of the Marathas and the Muslims, as dictated by the exigencies of the times. (Out of this bank rises an Areca Palm, behind it all a flurry of Lord's Lady Palms, above which Coconut Palms, behind them indigenous deciduous trees along with native and western conifers.) In 1728 they were conquered by the ruler of Mysore, Dodda Krishna Raya Wodeyar, and their day was over.
○
Two Japanese businessmen have arrived to take seats at a table in front of the tiers of hedge. It was about the same time that the Maratha leader, Shahji Bhonsle, Shivaji's father, rose to prominence. One is dressed in a tennis shirt, the other in starched button down. Keen to make his court the center of Maratha art and culture, Shahji invited poets, musicians and saints to present their compositions at court. A Japanese-speaking waiter is summoned to take their order. Hearing of the intellectual and artistic ambiance of Bangalore, many noted artistes came from places as far as Nasik, including the poet Jayaram Pindye, who, on being introduced to Shahji, is said to have placed twelve coconuts before him to show that he could compose poems in twelve languages. The senior businessman takes out two spiral folders, one light blue, the other darker blue, and lays them on the table. Shahji also encouraged learned men to give discourses, thus making the court a focal point of intellectual activity. Two cups of coffee are presented, with great ceremony: linen placemats and napkins, coffee spoons, cups and saucers, a goblet of ice water, a boat for sugar, a pitcher for cream, finally the aromatic pouring of Mocha-Java.
○
Meanwhile to the left of author a middle-aged American woman has taken a seat against a backdrop of Philodendron Selloum, Dracaena Mahatma and Weeping Fig. In 1658 Shahji returned to Bangalore and remained there till his death. Briefly a tactful assistant manager engages her in readily comprehensible pleasantries. He died in 1664 after a fall from a horse while hunting at Basavapattna, on the banks of the Tungabhadra River. After she has asked if she might see a magazine or two, half a dozen are brought to her table.
○
The development of the Bangalore Pettah as a commercial centre in the days of Haidar and Tipu is often overlooked. The francophone Indian lad has run off to play. The textile industry gave rise to subsidiary trade in the materials necessary for dyeing. Beneath his green cable-knit is a fashionable yellow undergarment, visible at the neck and now at the waist. Such as indigo, tamarind, soda, sugar and sesame oil. The American woman has also departed, leaving behind her unread stack of magazines. Turmeric, arsenic, lac, gum, wax and other items imported from places as far away as Madras. The balding elder Japanese, who had chosen to face hotel rather than garden, takes out a cigarette from a small gold case and lights it with a gold lighter.
Fath Mohammed had two sons, Shahbaz and Haidar Ali. The Indian lad returns to re-engage his adoptive parents in conversation. Haidar's pride in Bangalore is evident from his efforts to improve the fort and town. Suddenly the threesome arises and leaves amid much French chattering to an uncomprehending waiter. With the help of the khilledar (commandant) of Bangalore, Ibraam Khan, his maternal uncle, he saw to it that the oval fort in the South was rebuilt with strong stone. The francophones are replaced by a middle-aged blond woman whose natively spoken English cannot at first be identified as British or Canadian.
He also constructed the Delhi Gate in the North and in the South the Mysore Gate. The other, clearly American, woman has been replaced by two lively Dutch girls, quite attractive, both in their mid twenties, both in ponytails. Another Bangalore landmark by which Haidar Ali is remembered is the Lalbagh Gardens. Politely they switch from Dutch to scarcely accented English, as an Indian waiter in black vest arrives, his tieless white shirt buttoned at the neck. Impressed by the Mughal gardens, especially by the masterpiece at Sira, he conceived the idea of Lalbagh in 1760. Having ordered, the girls survey and comment upon the Oberoi courtyard.
An account of his life by a Portuguese serving in one of his regiments reveals that Haidar would work in his garden in the evening with his concubines, each holding a nosegay of flowers. An Australian guy in his early thirties, pink-smocked, has been joined by two girls in their early twenties. Those from whom Haidar took a bouquet were the ones designated to keep him company that night. A blond Caucasian woman, having taken a seat at the table of the departed francophones, is now joined by a beautiful, longhaired Oriental girl in maroon shift, neither of their nationalities yet determinable. "Rim Naam" reads the wood-carved restaurant sign behind the Australian and his consorts, who have both lit cigarettes. The Oriental girl and her Caucasian friend having suddenly departed, the Australians pick themselves up from their less comfortable upright chairs on the terrace to settle into the vacated easy chairs to author's right.
Dr. Buchanan's most detailed comments were reserved for the weavers and dyers. The two girls are both full-bodied and sexually active. According to him the Puttuegara, or silk weavers, dyed much of their own fabric, using turmeric to make it yellow. Arm in arm two Chinese girls stroll down the arcade. Then they gave this silk to the Nilligara, who dyed it with indigo. The more fully breasted of the two Australian girls drags deeply on her cigarette and smiles at author. When washed by the Puttuegara in tamarind infusion the cloth turned a fine green. Now the second girl, in purple V-neck tee shirt and tight Levis, glances at him too. He lauded the ingenuity of the weavers and noted that, with encouragement, they were "capable of making very rich and elegant clothes of any kind." She too drags deeply on her cigarette, glancing at the Aussie's beer belly. The two Dutch girls have arisen and departed. The Japanese businessmen call for second cups of coffee. Author finishes page, asks for the bill, gathers up his book about Bangalore, his Herald Trib, his notebook, his pen and heads on out.
○
Snipe shooting was another sport enjoyed by the officers. Trinity Circle. Since snipe abounded in the marshes around Bangalore. Two mule-drawn wagons of green hay clomp through the intersection, the second with a bicycle laid across its fodder, a boy-driver perched atop the pile. The late Ralph Mitchell, an 82-year-old Bangalorean and former teacher at Baldwin's Boys School, remembers how he and his companions went to the villages off Hosur Road to shoot wild boar, which were in the habit of digging up their groundnut fields. Battleship.
From author's vantage point, as he takes seat atop a stone pillar in the traffic island, are visible: There was also plenty of duck shooting. KidsKemp / Boys, Girls, Women's Wear, Toys. The Frog Prince, Pinocchio, Superman, Sleeping Beauty. In the tradition of English country squires, Bangalore had a hunt season and a Hunt Ball at the BUS (Bangalore United Services) Club. The high-rise rust-and-cream Vijaya Bank; the Taj Residency Hotel; Holy Trinity Church. Three Little Pigs, Jack and the Beanstalk, Hansel and Gretel, Gulliver's Travels. The Reverend William Elphick recalls in his letters the Hunt Show that he attended. Its trefoil archway bearing atop it a proud, four-square cross: at midday unilluminated bulbs on each end of the crosspieces, four more running down it from tip to toe. The Flintstones, Magic Tricks, Monopoly, Stay Alive (The Ultimate Survival Game). He was suitably impressed by the Musical Ride of the Mysore Lancers. Action Man, Looney Tunes, Batman, Popeye.
Mrs. Bagley. Bead Studio, Play Faces, Fashion Wheel, Snakes and Ladders. Recounts how she and her husband. Crinkler, Case of Colors, Mop Top, Animal. Bicycled up Battery Lines. "DON'T CROSS YELLOW LINE," say red letters on a white ground in turn painted on the green police stand at the center of the traffic island opposite. And how she exercised his ponies in the countryside. Creative Kit, ABC & 123, Solitaire, Connect 4. This photo shows a happy trio [Indian male arm-in-arm with English female/Indian female] on bicycles, 1928-1929 (Courtesy Patrick Wilson). Judo, Chinese Checkers, Downfall, Cluedo? Continuing on the other side of the street: Mickey Mouse, Memory, Animal Families, Monsters, Inc. Prudential ICICI, Mutual Fund, IndusInd Bank, Du Parc Trinity. Badge Maker, Mastermind, The Game of Life, Guess Who? The horse too was a tremendously liberating influence for the Englishwoman. Money Manager [games for young Bangaloreans]. For she could roam about the countryside and get to know it. The Game of Games.
○
Old-time residents of Bangalore remember the walks they used to take in the late Forties and early Fifties. Author takes midday stroll to the Bangalore City Rail Station to inquire about onward passage and to study its up-to-date book and newspaper stall. It was a ritual much anticipated and enjoyed. "The Promise of Purity," reads a kiosk's advertisement, "Softee Ice Cream." Bowering Institute, called Literary and Scientific Institute, was established in 1868 [a second passage from Bangalore: The Story of a City]. "Retiring Rooms."
They would be dressed in their Sunday best. "Insert One Rupee Coin." The foundation stone for the original building was laid in 1888 by Lady Prendergast at the bandstand in St. Mark's Square. Seated on the marble floor of the station, in pink silk sari/choli, is a gorgeously black Indian woman in her early thirties. The building was completed in 1891 at a cost of Rs.23,000. Which consisted of frilly dresses with flounces and ribbons. "Tea and Fruit Stall." And they would promenade to the bandstand and continue along what was originally a circular carriage road, to see and to be seen. Now, unfortunately, she is joined by her husband.
There was a billiards room, a card room, a theatre, tennis courts, a library and a reading room. A girl walks past with a purple bag fashionably slung over one shoulder, a watery, shimmering, gold-bordered silk sash across her breast. The entrance fee to the large building was Rs.3. "Internet Center: Dishnet DSL." According to old bulletins, games such as Brag and Baccarat were played at this Institute in the early days. "Mysore Sandal Soap." Even though gambling was forbidden, and a loss of Rs.4300 was registered in the bulletin of July 20, 1905. "Refreshing New Taste." Therefore it was no surprise when the November 2 bulletin of the same year. "All New Herbs." Recorded that the game of Brag was struck. ("Colgate Herbal"). And Picquet substituted.
○
The pride of place in Bangalore's architectural landscape [a third passage], therefore, goes to two public buildings, the Attara Kacheri and the Vidhana Souda, standing opposite each other in the middle of well-tended gardens. Shiv Khera, You Can Win ("International Best Seller"). Together they symbolize the Karnataka Government. ("Now India's #1").
Bowring was also responsible for these stately Public Offices (the Attara Kacheri, which now houses the High Court). "Higgin botham's WEL COME [sic]." The ritual [that second passage again] included an ice cream from where the popcorn stand now is, near the present Tennis Stadium. Macmillan India Ltd.
The Vidhana Souda was built under the supervision of Sir Arcot Narayanaswamy Mudaliar during the stewardship of Kengal Hanumanthiah as Chief Minister of Mysore State. (Delhi Chennai Jaipur Mumbai Patna Bangalore Bhopal Chandigarh Coimbatore Cuttack Guwahati Hubli Hyderabad Lucknow Madurai Nagpur Thiruvananthapuram Visakhapatnam). The flavours were vanilla and strawberry. Published New Delhi, 1998. And they were served in silver paper cups. Jackie Collins, Hollywood Wives. Completed in 1956, after a construction period of four years, it cost Rs.75 million. Harold Robbins, The Secret. It is a most imposing edifice, a magnificent example of the fusion of Indian styles: This book will help individuals to: Dravidian, Rajasthani, Chola and Kannada.
— Have confidence by mastering the steps to positive thinking. A rack of comic books. With ice creams in hand, they would stroll to the fountain, beautifully lit and cascading. "Developer: Graphic Goodies."
— Be successful by turning weaknesses into strengths. Over 5000 labourers and 1500 stone and wood craftsmen worked on building and embellishing it.
— Gain credibility by doing the right thing for the right reason. With frieze panels and ornamental details, including arabesques, floral patterns, geometric designs and motifs picked out in colours on doorways.
— Take charge by controlling things instead of letting them control you. "Touristic Information Centre of Karnataka."
— Build trust by developing mutual respect with the people around you. "Cauvery Arts & Crafts Association."
— Accomplish more by removing the barriers to effectiveness. Through the station's doors we are offered a view to the fenced park that sits before it, within which a statue of Laxmi, her breasts enormous, her hands held with their palms together, raised above her head.
3
"SUDDENLY SOMETHING." It's official now: Mid-morning low-tech outing to IT Park by public bus. Bill Gates, the world's richest geek. "IBM FINDS PATH TO 3D CIRCUITS." We are passing Baldwin's Girls High School. Who recently fought a bruising antitrust battle with rivals. "On Monday the company reported." Has a heart after all. "That it's found a way to build three-dimensional integrated circuits." The neighborhood is a fancy one. And he's betting US$24 billion to prove it. "Which will multiply the amount of computing power on a microchip." At least one of high commercial value: This huge endowment makes the Bill and Melinda Gates Foundation. Richmond Bank, TNT, Montessori School. Started in 2000 by merging two funds. "In its 3D circuit, says IBM, it builds separate layers of transistors simultaneously." The world's largest private charity. "Then connects them together electrically." Fortunately for scribbling author bus driver turns his motor off at red lights.
Today, his sandy hair beginning to grey, Mr Gates is in India with plans to combat an HIV/AIDS epidemic with a few broad ideas — and US$100 million. We have reached Vellara Junction and experience another long delay in the heavy 9:45 am traffic. "FEEDBACK VENTURES: INDIA'S LEADING INTEGRATED DEVELOPMENT GROUP" (ad, The Economic Times). Before ET met him for an exclusive one-on-one, the folks handling the richest man in the world spent a lot of time laying down the ground rules for our conversation. "Infrastructure is India's most vibrant industry:" On our way through town we have seen several modern stadiums, many new office buildings under construction, one already finished whose architecture is quite distinguished. "Don't even mention Microsoft." "Feedback Completes 1700-Acre International Model Township [the advertisement's quoted headline]." "Don't even breathe the word 'Software.'" "Feedback assists APTransco in Reforms Process." "Delete Linux from your consciousness." Feedback Reaches Agreement with CIDB for Malaysian Road Projects in India." "Just stick to the Gates Foundation and AIDS."
We are passing "Xerox: The Document Company" to continue on through a neighborhood of upper-middle-class houses, schools, broad public spaces, parks planted with new trees. "Feedback to Work on Bangalore Water Supply Master Plan." Point taken: November 11, the Official Bill Gates AIDS Control Day. "Feedback Project to Manage the Country's Largest Multiplex in Pune." Presently this situation devolves into a district of freestanding apartment buildings. Question: "In a country teeming with social causes to address, why choose AIDS over, say, infant diarrhea?" We are passing a large hospital and begin to pick up speed. Answer: "We run vaccination programs too, but I believe that we have to do something fast to control the spread of AIDS world-wide." Before long we enter a more urban environment of two-story shops. Says Mr Gates, relaxed without jacket and tie, as he sips from a glass of Coca-Cola. According to a sign, we have reached Puravankara, the roadway attractively bordered with tall deciduous trees intermingled with palms. The fingers of his right hand drum on the tabletop, manipulating an imaginary mouse. Ashokas line the median. He dreads the thought of people 50 years from now asking why we did nothing to control this terrible epidemic. A cooling breeze has rendered the bus's interior tolerable. "AIDS is devastating — for society, for families, for individuals." "FOLLOW LANE DISCIPLINE," reads a street command. "It stigmatizes, it leads to discrimination and isolation, it damages a country's potential for growth."
"ARE WE SITTING ON A NUCLEAR REACTOR?" At a terminal, white-and-baby-blue buses slowly back in and pull out. (Science and Technology Section, Deccan Herald, November 12, 2002.) "ARE WE SPREADING PANIC OR LIVING A DENIAL?" Again the driver kills his engine. (Ecoscope, by Neeraj Kaushal.) Beside us, on an idling motorcycle, a man in his thirties, moustache closely cropped, has strapped his briefcase onto the seat behind him. "That the composition of Earth's core widely believed since the 1940s to be a huge ball of molten iron-nickel is now being questioned." Your correspondent is taking a risk in writing this column, for she may be accused of "spreading panic" among readers. The bus is filled with salarymen, their colorful attire quite individualized — if they nonetheless are all wearing slacks and dress shirts. "A new theory proposes instead that a natural nuclear reactor is responsible for its magnetic field." These days Health Minister Shatrughan Sinha gets furious when people start talking about AIDS in India. Stripes are in fashion: pink and white; brown and light green; beige, black and cream (in contradistinction to the checked shirts worn by a lower class of Indians). Last week he accused U.S. Ambassador Robert Blackwell and Microsoft Chairman Bill Gates of "spreading panic among the Indian public." Some of these techies and managers have chosen solid colors: saturated pink, dark red, light olive. So what did Mr Blackwell and Mr Gates do to invite Mr Sinha's wrath? We are passing Apar InfoTech. Mr Blackwell cited the U.S. National Council's prediction that the number of HIV infected cases in India would run between 20 to 25 million by 2010, if the spread of AIDS remains unchecked. The Leela Galleria, a vast, ornate Raj-style mall, looms on our left.
Mr Gates's fault seems less clear. We have reached Udipi Park, skirting it for several blocks. The Microsoft Chairman is visiting India to inspect on-going AIDS projects that he has been funding. We pass the Jesus Krupa Complex. These two foreigners are on our soil, saying things about us that we don't like to hear. The bus begins to empty of passengers. It seems Mr Sinha is not the only minister angry with Mr Gates and Mr Blackwell. We have entered the Airport Traffic Subzone. The entire government is fuming. We have reached the Heritage Centre and Aerospace Museum. "WHEN VACUUM PREVAILS" (Deccan Herald, Science and Technology Section). Their response to the international concern about AIDS is no different from the reaction of African politicians a few years ago when the news of AIDS in Africa started spreading. "Ever since Copernicus put the Sun rather than Earth at the center of the Universe, scientists and philosophers have suspected that there's nothing special about our cosmic time and place." Briefly we exit into the landscape, only to return to the configurations of the town. In fact, their myopic vision delayed response to the deadly disease, until it was too late. "But now two scientists have suggested otherwise." We are crossing over a super highway.
"Only galaxies about as old as our Milky Way have the right conditions for intelligent life to develop, argue Professors Garcia of the University of Barcelona and Vilenkin of Tufts University in Medford, Massachusetts." On one side of the road stands InfoGLYPTIC, on the other, Shri Gayatri Hardwares. "And such an age, they say, might coincide with a period of fundamental change in the Universe." At last we have reached the countryside, or at least a ruralized version of urbanization. "What's more, the search for other planetary systems could tell us whether they're right or not." Large houses occupy the centers of otherwise vacant lots. "Four years ago astronomers discovered that the Universe's expansion is speeding up." The town, however, quickly re-encroaches on the landscape. "Some think that this is due to a dark energy that's opposing gravity and driving all matter apart." "INFINET," reads a sign for "India's best Internet connection." "One idea is that this dark energy comes from the constant creation and annihilation of particles and antiparticles."
Along the length of the roadway skinny workers are enlarging a trench by hand. "But the mystery then is why this vacuum energy seems to be so small — physicists predict that it should dominate the way in which the Universe behaves." We have arrived at the Sri Sathya Sai Institute of Higher Medicine and begun our approach to the IT Park. "One day it will, say many cosmologists." We descend from the bus for a 20-minute walk to its gate. After five more minutes (to reach its main building), author awaits the appearance of Brinda, who had spoken to him yesterday and again just now over the lobby phone. "The observations of the accelerating Universe, combined with studies of the early Universe, suggest that in several billion years vacuum energy will dwarf all other forms, such as the energy of the stars, of light itself." In the event, Brinda does not arrive but instead refers author to her superior, who gives him a call. "Today vacuum energy accounts for about 70 per cent of the Universe's total energy, whereas eleven billion years ago, when the Universe was young, it accounted for about ten per cent." The superior informs him that his application for a tour of the IT Park is incomplete. "Based on this reasoning, the Universe's current dark-energy component should be roughly the same size." Having failed to write in advance for permission (though having also been encouraged to present himself today) author is refused admission to the offices; his request for a brochure, however, is granted. "It should be a little larger, closer to 90 per cent." Today's tour of the IT Park will be self-conducted.
Once more author waits patiently in the lobby, this time for the brochure to be delivered. "Linux Bangalore 2002 will be held December 3 and December 5" (the Science and Technology Section). Having received the brochure, delivered by a brown-uniformed, mustachioed guard, he situates himself outside on marble ledge of small pavilion covering stairway to parking garage. "This three-day conference includes Core Linux technologies, Open Source, Embedded Systems and other allied technologies." Equidistant from three high-rise curtain-wall constructions, in blue tinted glass with opaque grey bands, their porticos are faced in mottled marble. "Krosswindz has absorbed hip-hop, Irish folk, jazz, funk and Indian music" (Deccan Herald). Large, boxy, silver three-dimensional letters identify them as: "To create a style of their own, which they call 'World Rock.'" "INNOVATOR," "CREATOR," "DISCOVERER."
Author takes out brochure: "International Technology Park: Your Portal to Productivity." Unlike the traditional organisation chart, with its rigid square boxes and strict rules of arrangement (Indian Management, November 2002), an organigraph is flexible, volatile and, above all, represents a customized picture of an organisation created by managers with an open mind and imagination. The brochure, he decides, can wait. An organigraph has less to do with names, titles and designations and more to do with processes and relationships among people. The time has come for a little research of one's own. It shows that while the overall flow is a chain, other forms coexist within it. Author descends from sunlit sidewalk under a bright blue sky filled with puffy breeze-blown clouds into the International Tech Mall. The field worker's relationship to the community, for example, can be seen as a web: to build rapport with community leaders is to build networks of sources. Eschewing Icadama Vegetarian Food Park and a restaurant in the open concourse, he opts for the chain Café Coffee Day. The whole developmental organisation might be considered as a hub, upon which all sorts of inputs converge: Near its entrance, engraved on a metallic wall plaque, is a list of the Mall's occupants. The target population's need; their cultural background; their participation; leadership and community resources. Before entering the coffee shop, however, author nips into a grocery store across the way for his Lay's "American Style" Sour Cream 'n' Onion potato chips. Because they are not integral to the organisation's linear flow, various support and administrative functions are depicted around the hub rather than within it.
○
His prescience is rewarded, for though he is the restaurant's only client at this pre-lunch hour, his fast food order has been suspended in Indian time. The Benefits of a Positive Attitude: (Shiv Khera, You Can Win). Increases productivity. The ambiance of this inner space is cool. Fosters teamwork. As advertised, the chips are "Light & Crisp." Solves problems. Across the way, within the same space as the restaurant, High Tech Health Club is welcoming noon-hour patrons. Makes for congenial atmosphere. "Be a part of my World Cup squad," reads an ad in its window. Improves quality. Again author takes out the IT Park's brochure, whose front and back covers show different "artists' conceptions" of the same buildings from nearly the same vantage point. Breeds loyalty. Examines contents page: "The Mission." Increases profits. "The Location." Fosters better relationships with employers, employees and customers. "The People." Reduces stress. As food finally makes its appearance, a thin, rather haggard-looking woman in kurta pajama arrives at the desk of the Health Club. Helps a person become a contributing member of society. "The Infrastructure." An asset to his country. It is 12:00 noon exactly. "One-Stop Services." And makes for a pleasing personality. Now a gorgeous girl in red lipstick and silver earrings takes seat at the next table, joined there quickly by a male co-worker.
Our life is an obstacle course. As she begins to order, romantic Indian music starts up. By adopting a negative attitude. The Brochure, p. 1: We become our own obstacle to success. "A Firm Commitment, A Resolute Mission (a whole new business chemistry)." A negative attitude in turn leads to bitterness, resentment, ill health and high stress. Continuing to peruse the brochure, author learns that Bangalore's dream is a "state-of-the-art futuristic park," "an academic technical and cosmopolitan el dorado," "The Silicon Plateau of India," "wired, connected, on the move . . ." As he is paying his bill, he finds on the counter a copy of the restaurant's own magazine, The Beat: City Info Caféhop, in it a special column, "Caféhop with Mohammed Fazal." "It boasts more global big names in IT than the rest of India combined."
Beat:

What is your name and how old are you?

"IBM, Compaq, Lucent."
Chitra:
"Texas Instruments." Chitra. "Microsoft." I am 18 years old. "Oracle."
Beat:

What do you do?

Author enters adjacent Microsoft.Net Resource Center.
Chitra:
I am doing my 1st year B. Com. SOFTWARE ENGINEERING
Beat:

Can you define Chitra?

Tom Gilb, Principles of Software Engineering Management; Steven McConnell, Code Complete; Donald E. Knuth, The Art of Computer Programming, Volume 3, Sorting and Searching. ECOMMERCE. Perl
Chitra:
She is very ambitious and wants to be a successful businesswoman. HARDWARE
Beat:

How often do you visit this place and why?

Smith, Application-Specific Integrated Circuits. SQL/DATABASES. Data Base System Concepts
Chitra:
About once a week. NETWORKING. I like the atmosphere. V. Rajarama and H.V. Sahasrabuddne, Complete Programming in COBOL. It's a cool hang-out. Russel Merris, Graph Theory; Voice & Data Communications Handbook. INTERNET
Beat:

Did anything special ever happen to you here?

TELECOMMUNICATIONS
Chitra:
I found my first blind date! TCP/IP; Hicks, Handbook of Mechanical Engineering Calculation. ORACLE. ASP.Net Bible; Visual C++.Net
Beat:

Is he still with you?

WINDOWS. Charles Petzold, Programming Windows
Chitra:
Yes. UNIX/LINUX. Mastering Gnome; Solaris. Very much. C/C++/VC++. But he's not here right now. Deitel & Deitel, C: How to Program. ASP/XML. JAVA
○
When we become aware of our negative attitude, why don't we change? (Shiv Khera again). Author takes seat on ledge of loud fountain, corner of sunken Tech Park Mall courtyard. On the second day of his Indian tour, Microsoft Chairman Bill Gates unveiled a US$400 million investment package for the Information Technology (IT) sector that includes. Apsara Beauty Parlour. An IT education scheme. HDFC Bank (in white on blue). And increasing Microsoft's "bouquet of Indian language products." Beau-Belly Beauty Institute. Which already include Hindi. Bodycraft Herbal Beauty Parlour. SPICE TELECOM (in grey on red). Sanskrit. Chandana Beauty Parlour. ICICI Bank ("24 Hour ATM"). Telugu. Christina Beauty Parlour. TATA. Marathi. Complexions Beauty Parlour. BLUE DART (the "BLUE" in blue, the "DART" in green). Malayalam. Curls Beauty Parlour. CITIBANK. Bengali. Eve's Beauty Parlour. THOMAS COOK. And several other Indian languages. Fascinations Beauty Parlour, Glamour Beauty Parlour, Image Beauty Salon. DHL (red on white)/AFL (blue and green on white). Sometimes we get so comfortable in our negativity that we don't want to change. Mona Lisa Beauty Parlor, Neeru's Beauty Concepts. Even when the change is for the positive. Senorita Beauty Parlour, Shine Beauty Parlour, Taj Beauty Parlour. We don't want to accept it. Shahawal Husain's Herbal. Instead we stay with the negative. BIRTHS AND DEATHS REGISTRY.
SPORTS ASSOCIATIONS (Bangalore Guide Book). At 1:00 o'clock the courtyard is beginning to heat up. Charles Dickens wrote about a prisoner who stayed for many years in a dungeon. All India Lawn Tennis Association, Bangalore Golf Club, Bangalore Turf Club. After serving his sentence, he was given his freedom. Greenacres Country Resort Club. Yellow trumpet flowers emerge out of a dark green waxy foliage. He was brought out from his cell into the bright daylight of the open world. They extend their blossoms over the brown-tile-bordered, deep-cream-painted wall beside the pink-brown marble staircase. Karnataka State Basket Ball Association, Karnataka State Billiards Association. The man looked all around. Karnataka State Bridge Association. And after a few moments found himself so uncomfortable with his newly acquired freedom. Karnataka State Cricket Association, Karnataka State Lawn Tennis Association, Karnataka Motor Sports Club. That he asked to be brought back to his cell and placed in confinement.
Author mounts the staircase behind four moderately pretty girls in (1) Orange-salmon. Karnataka State Football Association. (2) Watered café-au-lait. Karnataka Hockey Association. (3) Acidic blue-green. Karnataka State Mountaineering Association. (4) Pure white sari getups. Karnataka State Olympic Association. To him, the dungeon, the chains and the darkness were more secure and comfortable than accepting the change of freedom and the challenge of the open world. Karnataka State Rifle Association, Karnataka State Sports Council. Hedges with lavender flowers, with yellow flowers, with no flowers line the exit walkway. Instead of risking more low-tech transportation (buses, one is told, run sporadically during lunch hour), author opts for mid-tech auto rickshaw back into Bangalore.
○
Winners Versus Losers
Start by doing what is necessary, then what is possible, and suddenly you are doing the impossible.
New Delhi (The Economic Times, November 12, 2002). The Winner is always part of the answer. "Microsoft will be deepening its India commitments by investing US$400 million over the next three years in education, partnerships, innovation, localisation and its development center at Hyderabad," said Mr Gates at his second press conference in as many days. The Loser is always part of the problem.
The Winner always has a program. Among Microsoft's four-pronged investment plans, the most ambitious is an education package titled "Project Shiksha — Empowering the Future," which intends to reach out to 80,000 schoolteachers and 3.5 million students over the next five years. The Loser always has an excuse.
○
Mumbai (The Hindu, November 13, 2002). The Winner sees an answer for every problem. TOO MUCH AIDS MONEY FLOODING IN WITHOUT PLAN. The Loser sees a problem for every answer. Microsoft tycoon Bill Gates's US$100 million grant for AIDS prevention programmes has rekindled the controversy over the actual number of Indians infected with HIV. The Winner says, "It may be difficult but it is possible." A recent CIA report covering five countries described India's HIV/AIDS epidemic as a "security threat" to the U.S. The Loser says, "It may be possible but it is too difficult." Many public health experts here are questioning the threat of programmes in HIV-prevention. The Winner says, "Let me do it for you." Rather than care and support for patients. The Loser says, "This is not my job."
"I feel angry about so much AIDS money flooding the country without a clear plan of how it is to be used." Winners have dreams. "And without learning from the failure of earlier approaches," says TB expert Sheela Ranga. Losers have schemes. The National AIDS Control Organisation has said, "Over time the new infections may reduce to a negligible number." Winners choose what they say; losers say what they choose. "Which is an indicator of the plateauing of the epidemic." Winners use hard arguments but soft words. "Good nutrition and prompt treatment are preferable to pouring such massive funds into vaccine programmes for HIV," she said. Losers use soft arguments but hard words. "Once again we are being taught to provide a technological fix to a sociological problem."
○
Bangalore (The Times of India, November 14, 2002). Winners make it happen. Software sultan Bill Gates's maiden visit to Bangalore was brisk, businesslike and refreshingly bereft of theatrics. Losers let it happen. There was a brief meeting with Chief Minister Krishna, passionate presentations to software developers at InfoSys and Wipro, a brief joust with a hungry media and a one-hour interaction with city CEOs.
"The biggest focus of our US$5 billion R & D spend is on trustworthy computing which will enhance fault-tolerance and security issues," said Gates. Winners plan and prepare to win. "We will surprise the world by solving these problems." The key word is preparation.
Wipro Vice-Chairman Vivek Paul succinctly summed up Gates as "a supergeek who has dramatically changed the world of computing."
4
| | |
| --- | --- |
| Ambrosia Restaurant | Hotel Seven Star |
| Ashoka Deluxe | The Grand Taj |
| Bamboo Shoots Chinese & Thai | Impulse |
| Bangalore Bistro | Indiana Fast Foods |
| The Barons | Jacaranda |
| Big Chef | Kandy Korner |
| Black Cadillac | Lemon Grass |
| Blue Fox | Mainland China |
| Blue Heaven | Nanking Hotel |
| Casa Piccola | The Only Place |
| The Cellar | Peacock Restaurant |
| The Chimney | Round the Corner |
| Copacabana | Shogun |
| Ebony | Talk of the Town |
| Food World | Tiger's Trail |
| Hidden Place | Time and Again |
| Hong Kong Bar | Woody's |
○
"Bridal Extravaganza" (Fashion Bloom, November 2002). Marriage is the one big event that every young Indian girl looks forward to and she wants to look her best on this day. "Girls, Be a Great Catch!" Be strong and independent.
Studio Aamrita is a one-stop shopping experience for women, providing trousseau, lenghas, saris (Banarsi, Kanjeevaram), besides much more. "Having your own activities and interests outside of your relationship gives you an air of mystery." Along with pashiminas and shawls and stoles. "Independence and sex appeal." Mandira Wirk. "When you are not around." Her bridal collection. "And make him want you more." Consists of heavy lenghas, shararas and the revival of a very ancient traditional outfit known as. Give him breathing space. "Farshi." "Being clingy is the quickest way to lose him. The toast of global fashion emerges in the gold, the maroons, blues and pinks. Keep your emotions under check. Of the intricate resham and crystal work. "Nobody can stand a drama queen." Her bridal collection is the epitome of femininity and glamour.
"Occasional tears are OK." Pitambari is one of the oldest designer sari brands. "But women who always cry for one thing or another." An array of lengha cholis, saris and suits in vibrant hues. "Can actually drive men crazy." (Beautiful pinks, blues, reds and yellows.) "So beware of daily crackdowns." Are a part of their bridal collection. Keep inferiority complex at bay. A fabulous Banarsi silk brocade, twelve Kali Kugha in magenta and purple with antique gold kundan, and zardosi work embellished with multi-coloured semi-precious stones are ideal for reception and engagement. Just love yourself. Aurobindo Marg, New Delhi.
Be fun-loving. Nazreen Raza's exclusive trousseau wear. "Watch cricket match." (The elegant blend of sheer and shimmer.) "Or some action film." Is clearly designed to adorn the contemporary woman of impeccable taste. "For his sake." Clean cuts, minimal opulence, controlled jewel-studded embroidery in burnt gold. "Try to win his pals." Swarovski crystals and pearls blended with silver aari work. "A boy just adores the woman who charms everyone." Give to her outfits the inimitable Nazreen Raza look.
○
"Grandeur for Grooms." No other Indian ritual stirs up as much frenzied activity and excitement as a traditional Indian marriage. "Tips to Tame a Dude," by Zoleen Maqsood. It is one occasion when a man will leave no stone unturned to look his dashing best. Ignore his Adonis image. Denis Parker, exclusive men's ethnic wear brand has unveiled its bonanza collection of Royal Sherwanees and ethnic suits for the wedding and festive season. "Your Greek God needs a li'l tweak of his inflated ego." The entire set of sherwani comes with a long upper garment, a churidar pyjama. "Just casually mention at the dinner table." As a lower wear and a contrast bandhini stole. "'I guess I'll have to do away with these cheesecakes and chocolate truffles.'" Santino boasts of an elaborate range of traditional men's wear (in pure silk). "'Considering your ever expanding paunch.'" Including sherwanis, achkans, kurta pyjamas, among other garments. "Your beau will soon be unsure of himself." At Santino you have everything from murjaris, safas and kalingas to pins, cufflinks and deodorants.
Shantana and Nikhil recreate the magic and passion of India's golden era in their collection of sherwanis, short kurtas and jackets to be worn with dhotis. Play hard to get. The accessories. "Whenever he promises to call you." Consist of stoles. "The phone just refuses to ring." One of them interestingly made of lamb and fake fur. "Perhaps that's because he knows he'll get you whenever he wants." The fabrics are raw silk and Indian silk and jacquard. "Next day." Embellished with intricate embroidery. "When he asks." Made of metallic threads. "Giggle." Exuding the royalty of a bygone age. "And whisper that you were not at home."
Fool him a little. Designer Renu Nigam has launched Wedding Magic, her new collection of trousseaus for men. "Pretend that you are surrounded by suitors." The classic black sherwani is crafted in silk tanchoi. "Place a fresh bouquet on the table." And the exquisite zardosi embroidery adds to the intricate dabka work that gives an antique look. "As soon as he gazes at the lovely flowers." The sherwanis are available at Renu Nigam's Designer Studio. "Feign a sheepish grin and mention that a sometime old flame sent you them." Tughlakabad Extension. "Leave him bewildered."
○
Cloth production is a complex process that involves fibre production, fibre processing, dyeing, spinning, fabric design, loom preparation and rearing. All these tasks were distributed among different communities. For instance the Gonigaru wove gony or gunny (coarse packing cloth). The Karubus (shepherds) wove kambli or blankets of wool. The Kuruhina Settys wove white muslin. (Bangalore: The Story of a City.)
○
"A variety of fabric materials, like dupions, plain silk, deluxe, satins, chiffon, chinnons, crepe, and brocades are woven from mulberry silk. Cosy furnishing materials are made from hard-spun mulberry silk. Spun silk fabrics are made from silk spun from the silk wastes generated during the reeling of silk cocoons. Some of the waste silks are hand spun into matka, feshua and noil yarns. "Golden Muga is consumed by the domestic market in the form of saris and dress materials. Fine quality Eri spun silk is used for dress materials and the coarse variety for making chaddar, shawls and quilts." (G. Ganga and J. Sulochana Chetty, An Introduction to Sericulture.)
○
"Babita Sharma: Penchant for Perfection" (Fashion Bloom)
Q: Fashion to you is . . . Club Cabana (35 km), Jade Garden
A: Being yourself and comfortable in whatever you wear. Fantasy Green Acres
Q: Which is the comfortable outfit for you? Eagleton: The Golf Resort (30 km)
A: Jeans and T-shirts. The Georgian Resort at Eagle Ridge
Q: Which fashion accessories do you fancy the most? The Club (8 km)
A: Rings and Pendants. Shakti Hill Resort
Q: What are your grooming secrets? Riviera Classic (18 km)
A: Be optimistic in life. The Village, Near the Big Banyan Tree
Q: What attracts you to a person? The Dominion (15 km)
A: Sense of humour. The Sambhicam Roost
Q: Do you believe in love at first sight? Sylvan Villa Resort
A: This can be possible. Emerald Island Resort and Club
Q: Marriages are made in heaven. Do you believe? Kristal Resort (40 km)
A: Yes.Ramanashree California Resort (20 km)
Q: What do you value most in life? Woodrich Club and Resort
A: My family and their values. Holiday village
Q: What are the greatest assets in a woman? Clubs and Associations
A: Patience and love. Other Accommodations
○
Brisk, sunny morning, refreshing breeze for outing on foot to Belapet, district of weavers, less than a kilometer away. Author passing Majestic Theatre, dwarfed by its gargantuan ad for a Kannada film, whose English title has been translated "Man of Affection." In a red silk kurta the hero gestures out over the open court before the theatre, gold chains hanging in profusion about his neck. His impassioned face is almost as red as his costume.
The space before the theater is filled with people regarding the advertisements, all attired in drab slacks (grey, beige, greige, brown, light blue), all in checked shirts of similarly unaesthetic appeal. Another, smaller ad for the same film shows three strident figures dressed entirely in white, each scowling, each mustachioed. Two young women, who have placed themselves outside the railing that contains the male audience, are nonetheless also awaiting today's first showing. Unlike the males they are dressed much more colorfully, albeit decorously, in flowing shifts with matching scarves.
○
We have reached Belapet, whose name most of its denizens do not seem to recognize. The first authentic reference to silk is found in the Chronicles of the Zhou King of China (2,200 BC). Author stands with open notebook before the Sri Laxminar-Simha Temple. From China the secret of silk-making spread first to Korea. On its steps sit three men, almost motionless. From Korea it spread to Japan. The first is clad in a brown cap, pink-striped shirt and dirty cream trousers. From China it spread to Tibet. The second, in a brown shawl. From Tibet it is reported to have spread to India. The third, in a white turban, a blue, white-collared jacket, brown slacks and brown bare feet.
Spread of sericulture to the European and other western countries occurred through the famous Silk Road. At a stall before the temple cups of ghee are for sale, nestled in amongst green coconuts. Chinese silk was exchanged for gold, horses, jade and the coveted glass of the West. Which, along with fresh flowers and limes provide offerings for devotion. Ideas from Buddhism were exchanged for those of Nestorian Christianity. A man in blue checked shirt and blue gabardine slacks, a blue plastic ballpoint pen in his pocket, removes his shoes and purchases a small offering. The 6,400 km long Silk Road started in what is now Xian, followed the Great Wall of China northwestward across the Pamir Mountains and the Takla Makan deserts to Afghanistan, on to Antioch in Syria, thence via Egypt and the Mediterranean ports to Europe.
We are approaching our goal. It was a hazardous route. Opposite the Hotel Shivaganga the sign standing before a large store reads, "Kancheepuram Nagaji's Silks / Silk Weavers." Few persons traveled its entire length. A man trudges up the street heavily burdened. Goods were handled through middlemen in a staggered progression. Atop his head he is balancing a bundle of freshly woven silks in various colors. The famous Venetian, Marco Polo. Next to the sign, at another shop selling saris and other silk clothing, author is given more precise directions. Traveled by the Silk Road and brought back silk from China. He must proceed, he is told, to the first corner, turn left, and continue several blocks in order to reach the center for silk weavers and wholesalers.
The Silk Road was not used for these purposes after the fall of the Roman Empire. Four bare-footed schoolgirls skip past in their cotton uniforms. Until, that is, the Mongols revived it. Followed by three boys also clad in the same checked shirts and dark blue ties. India stood along this fabled road. It is noon Saturday, and the kids have just been released from school. Indian caravans laden with luxury goods like spices and indigo traded them for silk from China. Author pauses to study the wares at a shop dealing in lively, handcrafted papier-mâché masks. He pauses again before three seated women in cotton saris marketing vegetables: green peppers, long purple eggplants, string beans, other unidentifiable legumes and roots. (Quotations from An Introduction to Sericulture.)
○
We have arrived at "Shiva Garments," a wholesale dealer in clothing. Within the shop, above a dirty-sheeted mattress, boxed products have been stacked against the wall: "Top Plus," "Love Bird," "Baba Ber," "Sonia Kid's." The proprietor makes his appearance in response to author's incomprehensible question of assistant, "Where are the weaver's of silk?" One can no longer find silk weavers in Belapet, he says. Directions are provided for reaching the proper district, which, he assures us, is "next to the temple," "nearby," "straight ahead." Again author sets out.
Before "Choice Fashion: House of Matchings" pastel fabrics gently sway in the breeze, as across the way, beneath its sign, "Sheeta Family Boutique" displays saris, underwear, men's shirts, brassieres, children's clothing, in an almost random arrangement. "Any Shirt," reads a sign, "Rs.99 Only." He continues. Having reached his new goal — the temple precinct — and found no weavers, he follows earlier procedure and inquires again at a wholesale shop. "Farther, father," he is told. Beside a display of ripe, freshly harvested bananas he pauses to record his observations. One of the banana sellers, a 50-year-old woman, arises and stands before him to urge a purchase instead. Her cotton sari, in lavender, mauve, purple, orange, saffron and avocado, swirls in the wind. Having tried to coerce him, again and again, to buy a single banana, she at last gives up, resituating her sinewy frame and delightful black visage behind full baskets of provender.
Within another block the neighborhood has become much more intensely devoted to textiles. Each sericultural state in India has a reputation for a particular kind of silk goods: "Maharashtra Textorium," reads a second floor sign above "Nehru Textiles." Benares Silk, Kashmere Silk, Bengal Silk. "Wholesaler & Retailer Chiffon, Crape [sic], Handloom Silk Saris. Mysore Silk, Kanjeevaram Silk, etc., to name a few. "Printed Silk Saris & Dress Materials." Each state followed its own rearing method, used local silkworm races and mulberry varieties, traditional techniques for reeling and weaving. Five middle-aged, heavy-set women steam past in their pink, white, lavender, cream and purple saris.
We have reached another small temple with its simple but gorgeous display of white jasmine, red rose petals, orange and yellow blossoms. The mulberry, it is believed, is a native of the lower range of the Himalayas, either of India or China. "Ramaya Silks," "Pooja Silks," "Dundara Silks & Saris" (on the left side of the street). The principal mulberry-growing countries are: "Maruthi Silk," "Laxmi Silks," "Amruth Silks & Saris" (on the right side). China, Japan, Russia, India, Burma. A short, overweight 60-year-old woman trundles past in a scarlet, gold-bordered sari. France, Greece, Brazil, Yugoslavia, Vietnam. In the first narrow alleyway signs advertise "Putta Silks & Saris," "Loknath Silks and Saris," "Meenakshi Silks," "Taj Silk Koth," "Sanjay Silks and Saris." Korea, Spain, Egypt, Iran, Bulgaria. A younger woman, wrapped in a violet sari, having removed her sandals, retouches her forehead dot with red in preparation for worshipping before a small altar. Thailand, Bangladesh, Afghanistan, Indonesia, Rumania. Her gold necklace glistens in the sun. Cambodia, Lebanon, Cyprus.
The National Silkworm Seed Project, Bangalore. We have arrived at an area within the wholesale district where virtually every storefront is advertising either saris, silk fabric or both. This project was established in 1981 for the production of quality silkworms through a network of silkworm seed production centres in different parts of the country. "Radha Silks and Saris," "Milan Textiles," "Vandana Silks," "Meghdoot Textiles/Megha Exports." The Central Silk Technology Research Institute. At the curb a man with a rag is dusting the roof of a red sedan, three loafers looking on. The Institute, devoted to providing R & D support to post-cocoon technology. "Sathanarayan Silk Palace" (in red letters on a purple ground). Was established at Bangalore in 1982. "Sri Mamta, Wholesalers in Art Silk Printed Saris," "Mysore Saree Udyog (B)." It conducts research in reeling, spinning and processing. Mini-vans fill both sides of this inadequately paved street. Including machine fabrication. As yet more cars, bicycles, three-wheelers compete with pedestrians for passage through the narrow gap that is barely open to traffic.
○
The earliest and most outstanding of extant Tamil rhetoricians was the author of Tholkappiyum, a work as remarkable as the Sanskrit grammar of Panini (N.S. Jagannatha, from his Introduction to Kamba Ramayana). Having all but given up on discovering a silk weaving factory, author is suddenly descended upon by six schoolboys, who at half past 12:00 are on their way home. Tholkappiyum is a tour de force of taxonomical grammar, which names the 34 elements that make up a poem. Vinod, Arjun and Sharam are the only three whose names he can record quickly enough, as the boys surround and animatedly question him. On form and structure, it provides detailed prosodic accounts of six metres.
Having discovered what author is looking for, Vinod immediately takes charge, leading two of his companions and their new friend upstreet and into a very narrow alleyway, through a door into a gloomy hall and from there into a dark room filled with machinery. Content-wise Tholkappiyum mentions two broad categories — "Aham," love, and "Puram," human concerns other than love, such as war and worldly affairs. In this room alone four of five looms are at work turning out fine silk fabrics. "Aham" poetry has a vigorous scheme of locales each with its unique identifying flower, its appropriate denizen and activity, the kind of love to be written about, its appropriate hero and heroine. Vinod points to the perforated cards that embody the algorithms for each of the intricate designs being woven.
All five looms are dimly lit by single fluorescent bulbs. There are five such locales: Vinod shows author the threads on each loom. Mulki (jungle), Kurinchi (hill tracks), Marutham (farm land), Netyal (sandy coastal plains), and Paalai (desert regions). "Where are you coming from?" he inquires. "From China," author replies, as he offers his calling cards, with his name in Chinese, to Vinod, Arjun and Sharam. "Silk is coming from China," he adds. Vinod and pals smile at the bad joke. There are two kinds of love — secret or illicit ("kalavu"), married and chaste ("karppu"). "Come in," says Vinod, opening a door to a room across the hall filled with four larger looms, two of which are in operation. Illicit love is again subdivided into "kamapunarch" (first union impelled by uncontrolled libido), and "ida punarchi" (second union at the same place). Both are loud enough to inhibit all but the most minimal conversation. Love facilitated by a male or female friend; and so on. Barefooted, in undershirt and fine gabardine trousers, a young weaver pauses to look into author's notebook as his name, Dhruva, too is entered. "Oodal" (sulking and contrariness) is common to both kinds of love.
All four companions having crossed the street together, we enter "Ambica," whose window is showing brightly colored saris. Together with its owner, Mr. Bhandari, we seat ourselves cross-legged on white-covered mattresses. One of his employees, Lalith Ranka, hails from Detroit, Michigan. For author's benefit Mr. Bhandari displays his saris, including one of Mr. Ranka's own design, "a marriage sari," says the latter," "for my cousin Deepika." Married love is associated with agricultural society. In return for one of author's Mr. Ranka presents him with his card: "Vinod Silk Mills"; "World Peace," he remarks, pointing to a globe in its corner. Paalai, or the arid region, is for love in separation, patience, endurance and lamentation. Mr. Ranka urges author to purchase one of these expensive garments. There are twelve character types for speakers and ten for listeners. Author protests that he is an impoverished teacher from China. "All Americans are rich," says Mr. Ranka. All are governed by eight emotional states: At the mention of China, a piece of Chinese silk is produced and praised for its high quality. Laughter and weeping, disgust and wonder, fear and pride, anger and joy. "Malaysia is a very beautiful country too," says Mr. Ranka, adding, "I have been to Malaysia." "Yes," says author, "so have I."
5
Transportation. Taking the bus service is for thrill seekers only! Bangalore is working very hard to achieve #1 ranking in India for fatalities attributed to bus and lorry accidents. This is not the way to get around! For travel about town hire a taxi or take an auto rickshaw (negotiate the fee in advance) and for extended trips hire a car and a driver. (In and Out of Bangalore.)
"Entry into Cauvery Bhavan & Taluk Office Only" (final neighborhood outing, on foot from Gupta's Market, up G.K. Road, in search of examples of Bangalore arts and crafts). Carpets and Rugs. A genuine Oriental rug is made of wool or silk, woven entirely by handicraftsmen in Asia. Urgently required for Kuwait (Assignments Abroad Times, November 16, 2002). "11:13," read the glowing red neon letters in the Bhavan's lobby. Furniture Designer. "Data Regarding Peak Load and Energy Consumption as of 16-11-02 [orange and white metallic stick-on letters, black felt board]." Furniture Carpenter. ("Karnataka Power Transmission Corporation Limited" [sign over elevator door].) Furniture Painter. All across this and surrounding countries there are whole villages still engaged in the art of weaving rugs. ("Power Sector on Reform Wheels.") It is an art, a tradition, an industry and a way of life for the people who create them. ("To Give You Quality Power.") And if you have the patience and a deep pocket, you can find some very rare and beautiful pieces (for cotton rugs, ask for 'dhurries')."
Having failed in his half-hearted attempt to locate the arts and crafts showroom, author exits Bhavan onto G.K. Road in search of gemstone and book sellers on nearby Avenue Road. Urgently Required for Abu Dhabi. Blinds, Drapery and Upholstery Fabrics. Where Mr. Gupta has told him that he will find more genuine shops. Civil Engineer. Be warned lest you buy expensive fabric and give it to a tailor who is "cheap and cheerful" but who does a poor job. Civil Foreman. "B.G. SHIRKE Construction Technology (P)LTD.," reads a sign across the street from the Bhavan, many of whose offices are indicated only in Kannada. Crane Operator. There is nothing you can do, as they will NOT refund your money.
○
At the Hindu temple we reach the entrance into Avenue Road and head downhill. Urgently required for Dubai. Household help is both a blessing and a hassle. Restaurant Captain. We are passing "Reliance Stationery World." Barmen. Vasa Scientific Company. Waiters / Waitresses. Empire Studio: Pioneer Photographers." Although the cost of employing staff is very reasonable, the time and effort required to manage these people is often significant. A bookstore is offering discounted law books, computer books, textbooks of all sorts: Start by hiring the minimum number of staff that you will need. "A Concise Textbook of Surgery." You can always hire more later. "The Principles of Physical Chemistry." Urgently required for Saudi Arabia. "A Textbook of Biology."
Vasam's "Easy to Draw Human Figures." Radio Broadcasting Engineer. Interview a minimum of three people for each position. Machine Operator. Ask for references and check them. Asphalt Plant Operator. Most expats give their staff a letter of referral prior to leaving the country. The portly proprietress of the bookstall, in tie-dyed orange-rust sari, oversees exchange between pleasant salesperson and unpleasant, sharp-nosed student. "Data Structures," "Strength of Materials," "Elements of Civil Engineering." Kannada romances have been piled high in front of the textbooks. "Modern Physics," "System Softwares," "Higher Mathematics."
Experienced staff who can read and write English are available, but they expect to be paid more for their skills. Urgently required for U.A.E. When you find someone you want to hire, offer the position for a one-month trial period. Naval Architect. Arrange and pay for the cook and ayah. Spray Painters. To be given a health check-up. Welder Fabricators. This should include both HIV and TB tests. Author continues his descent through a cross street, past "Childrens [sic] Books," past "Kamat Hotel" ("Delicious North Indian Dishes / Thali Meals"), on past "Om: The Fashion Avenue." With household staff you must consider internal security. Urgently required for Muscat. In India it is common practice to keep cash and valuables in a drawer or chest. Shovel Operators. Help staff members avoid temptation by locking your purse and wallet away. Dozer Operators. Most people do not give the front door keys to the staff. Scrape Operators. Be patient, speak very slowly, write down anything that seems appropriate and ask them to repeat back to you the key issues. Butcher, Heavy Duty Mechanic, Dental Hygienist. Clearly defined roles help to prevent misunderstanding.
The traditionally run Indian home maintains a well-defined hierarchy among the staff positions. Sofa Maker, Upholstery Tailor, Grader Operator. We have reached the object of our quest: the gemstone district. DRIVER. "Ethnic Jewellery." He is first in the hierarchy. "Natural Cosmetics." In addition to driving, he should shop, pay bills (get receipts) and run errands. We pass "Kodak ENLARGEMENT," the letters of the second word growing progressively larger from the first "E" to the "T." It helps to write a daily list for him on which you note down times, addresses, telephone numbers, what needs to be accomplished and the amount of cash you have given him. Jewelery stores have begun to dominate the scene. SAP & Oracle Professionals for UK (Employment & NRI Times, November 15, 2002). COOK. "Shinidhi Jewellers, Specialist in Diamond, Gold and Silver." The cook should be able to help you by shopping for the food. "Ellore Jewels Palace," a multi-story building faced in brown stone and stucco. Cleaning the vegetables and fruits. Author crosses street, where the bookstalls now resume. Washing the dishes. Software Consultants for Singapore. "Mastering Turbo Pascal." Cleaning the kitchen. "SmartSuite 3 for Dummies." Cooking lunch for the staff. "Managing Projects." And cooking Indian food for the household. Technical Writers for India. Jewels and books, books and jewels.
We have arrived in front of Rice Memorial Church, its white Doric columns, capitals and architrave reading against dull maroon-painted walls fabricated from concrete blocks. MAID. A Matador truck lumbers past, as author recrosses the street to investigate Sri Gurukrupa Jewellery House, Tayi Jewellers, Praveen Jewellers. The maid washes dishes, cleans bathrooms and takes the garbage out. Sri Books Paradise has for sale "A Course in Electrical Power," "Computer Networks," a whole stack of "Basic Electronics." She answers the door and telephone and takes messages. Excellent Communication Skills for USA. Four Muslim women in black garb pass down the street together. Does laundry and ironing. Their impression of gloom interrupted by a girl in yellow shift striding quickly uphill. AYAH. The jewelery stores are filled with customers, so many that author would have no place to sit, were he to enter one. The ayah represents the equivalent of a nanny or baby-sitter. Instead he stands to observe the jewelery stores that here line the opposite side of the street as well. She does anything concerned with the children, including tidying their bedrooms. "Subha: Gold Covering Jewellry"; "Indian Jewellry Collection." For a Company in Mumbai: A strong whiff of incense, mingled with the aroma of apple cart, reaches his nostrils. An Account Required. "Kantilal Raju, Jewellers & Diamond Merchants"; "Manju Jewellry Works"; above, in the same building, "Chetana Book House / Bangalore."
○
Vijayanagara encouraged not only Sanskrit but also all the South Indian languages. Vidyaranya himself had laid down the principle that since to the ordinary masses Sanskrit works like the Vedas and the Puranas were unintelligible they must therefore be taught in Deshabhasa (regional language). Thus the Kannada, Telugu and Tamil languages and literatures were patronised by the various emperors of the Vijayanagara kingdom. As for the literary activity concerned, this period can fittingly be compared with the Age of Augustus and the Elizabethan Period.
— H.V. Sreenivasa Murthy, Aspects of Karnataka History, "The Imperial Phase"
○
We have arrived at "STANDARD FIREWORKS," its banner composed of two parts: The contributions of Vijayanagara to Sanskrit literature are very great indeed. "ANIL" and "FANCY FIREWORKS & CRACKERS." SWEEPER. Local Recruitment plans. Vidyasankara, Vidyaranya, Sayana and his sons Madhava and Madhava Mantri together produced hundreds of works on all aspects of Indian culture. S. Kumars Branch Managers (five required). Traditionally the sweeper is the lowest in the hierarchy of servants and is useful in large houses. The proprietor's son steps to the door and discusses with author their current stock. Not only purely religious works but also works on astronomy, grammar, medicine, music and other subjects. Roman candles, cherry bombs, crackers, sparklers and other fireworks. The sweeper may sweep and mop the floors. Vedarthaprakasha, a commentary on the Vedas, composed by Sayana at the instance of Vidyaranya. Sweep the driveway. He is said to have been assisted in this sacred task. The pathways and the roof. By well-known scholars such as: And take out the garbage. Panchangi Madhava, Narahari Somayaji, Warayana Vajapeyi, Pandan Dikshita, Nagabharana and Vamana Bhatta. Momentarily the fireworks market is depressed, son tells author, but it is soon to be reinvigorated by another holiday next week. These great scholars repaired to the Vijayanagara court at the invitation of Vidyaranya. Author makes inquiry as to what the three boxes from the USA marked "Rollcaps," recently received and left stacked by the entranceway," might contain. Sayana also wrote Yajnatantra Sudhanikhi, Prayaschitta Sudhanidhi and Purushartha Sudhanidhi. "You have the gun," says proprietor, gesturing with one hand by way of explanation, "you put it in," gesturing with the other.
The battle between gem merchants and booksellers, so it would appear, is never-ending: "Ajantha Jewellers," its window etched with a gorgeous circular design, faces (off against) "Vidya Mandir [Hindi Books] Centre" on the opposite side of the street. SECURITY GUARD. The former's window is filled with a river of cut diamonds. Maduravinayam modeled her work on that of the great poet Kalidasa. The latter, with tattered old books. Vidyaranya was said to have composed 60 works. If you are leasing a single-family home, a guard is recommended due to theft and occasional civil unrest. Among the royal authors in Sanskrit mention may be made of Mallikarjuna and Krishnadevaraya. He will also keep at bay the continual stream of hawkers and beggars who will come by your gate. S. Kumar Executives (50 required).
Sadhama Agencies: Receptionist Required (female). Anna Maxtel, How to Seduce Your Dream Man, "Contents" (Indian edition). OUTSIDE SWEEPER. There is also competition for jewels and books: Useful if the property and garden are large. Sadhama Agencies: Recruitment Coordinator Required (female). "Suri Sports," "Singer Sewing Machines," "Bajaj Bulbs," "Ragav's Refreshments," "Bata Shoes," "Visya Bank," "Avenue Medicinals."
○
"Clothes to Make Him Dribble," "Knock-Him-Out Appearance Tips," "Reassessing What You Want." Completing a circle, we have re-entered Ranga Swamy Temple Street, where our earlier tour of the silk district had concluded. As for the Brahminical poets, Kumaravyasa wrote Kannada Mahabharata, popularly known as Gadughna Bharata. It is a narrow way swamped with auto rickshaws and motorbikes. He was an inspired poet, and poetry gushed out of him at his bidding through the grace of God. People returning from the small temple have had red spots painted on their foreheads atop larger yellow spots. It is no exaggeration to say that, with exception of Pampa, Kumaravyasa is the greatest poet that Karnataka has ever seen. "Flirt for Flirting's Sake," "The Even More Direct Approach," "Reeling Him In." His luxuriant imagination and rich experience. "Putting Up His Ego," "Perfecting the 'Come Hither' Look," "Don't Play Dumb." Clear, vigorous and beautiful style. "Real Life, No Knickers," "Pace Yourself," "Real Life, Real Booboo." Daring fervour and dash. "A Dash of Rejection," "If the First Date is Awful," "You-Call-Him Protocol." Earnestness and devotion. "Massage Tips to Jellify," "To Hold Out or Put Out?," "The Evening After." Picturesque conceptions of character. "Catching a Rebound Man," "A Nose Ahead," "Don't Ask Stupid Pointless Questions." Fresh and unexpected sex similes. "Parade Yourself Dripping Wet," "The Dinner Party of the Century," "Never Use Threats, Veiled or Otherwise." And sex metaphors. "Don't Try to Force Intimacy," "Behave Like Brats," "He's Taking You for Granted." All these make his poetry sublime and everlasting. "Get Him Dancing," "Don't Ever Criticize His Mother," "Never Stop Enjoying It."
We have returned to the exit point of author's personal Silk Road. His is a glory never to be forgotten or dimmed. "Usha Bangle Stores," "Icy and Juicy," "Mangala Fashion Boutique" (a dreary bangle, bottled water and plastic comb shop). Nityatmasukayogi translated the Bhagavata, and Narahari, the Torave Ramayana. High above, the gods and goddesses have congregated, overflowing their niches.
The greatest advance in Telugu literature was in the times of Krishnadevaraya. Vishnu and Shiva. Until then the Telugu poets wrote about puranic stories. Devi. But under the new king's patronage independent composition, called the Prabandhas, began. Rama, his skin in blue. Krishnadevaraya was himself an accomplished poet in Telugu. Hanuman, seated at his master's feet. He wrote Amuktamalyada, which contains his political ideas. The devious Ravana. This poem treats of Godadevi, a Vaishnava saint and shows that Krishnadevaraya leaned towards Srivaisnalism. His head wrapped in cellophane. His style is very abstruse and complicated. A painter is adding a coat of dark red to the temple's protective fencing. Which shows that he was very learned, having mastered all the religious and secular classics, in the vernacular as well as in Sanskrit. Behind the fencing gleam his masterful recoatings of pillars: In the court of Krishnadevaraya also flourished the Asitadiggathas. Sky blue above, encrusted gold below. The eight little elephants who supported the world of Telugu literature. Within the temple rises a single pillar, on it a bell that is ringing. They were: Atop the sandstone gopuram archway touches of color have been added: Allasani Paddanna, who wrote Manucaritam. Aquamarine. Nandi Timman, who wrote the great Parnatapaharanam. Yellow. Ataalaraju Ramabhadrakavi, who wrote Radha Mao Havam. Blue. Dhurjati, who wrote Kalahasti Satakil. Green. Mallana. White. Pingali Surana, who wrote Kalapurnodayam. Black. Ramaraja Bhusana, who wrote Vasucharitan. Lavender. And Tenali Ramakrishna Kavi, who wrote Udbhatakarya Charitam and Paduranga Mahatmayam. Orange and red.
○
Culture Shock
No matter how well-prepared you may be intellectually about the host culture, the day-to-day multi-sensory encounters with "foreignness" and differences build up over time and can result in physical and emotional symptoms and stress.
It is helpful to understand culture shock:
It's normal

It's part of the expatriate experience

It typically occurs between the first and fourth month after you arrive, when the novelty and excitement wear off and the realities set in

It's recognizable
Its symptoms can include
Homesickness

Irritability

Excessive sleeping, drinking or eating

Fits of weeping

Stereotyping of host country people
And,
You can take positive steps to overcome culture shock, develop emotional resilience and begin the next phase of adjustment to your host culture.
Some suggested actions to cope with culture shock are:
Read about the country and its people

Gain a mastery of its culture

Try and interpret each situation from the local point of view

Reach out to others who are positive and can help

Develop a good support system

Avoid those who complain too much

Support your partner and family

Get involved in activities that lead to personal enrichment

Practice good stress management
Finally, have faith in yourself: assess and appreciate your attributes, and apply them positively. Good Luck! (In and Out of Bangalore.)
○
Having surveyed Gupta's Market from Gupta's Board and Lodge, author, on his last day of recorded sightings, is invited by Praveen Gupta, the proprietor, to conclude his limited survey of Bangalore over lunch at The Bangalore Club. Heading east from Mysore, you'll enter the Mudhumalai forest, a lush nature reserve with a multitude of wild life, including monkeys, elephants, tigers, panthers and deer (Carol Shuster, from In and Out of Bangalore). We arrive by automobile at this palace of the upper-middle-class Raj, founded in 1863. The forest opens up to the picturesque Nilgiri tea plantations. It is organized into many buildings: In a multitude of shades of green and terraced hillsides. Main Club House, Swimming Pool, Tennis Courts, Physical Health Building ("Please switch off the treadmill when finished"), Squash Courts ("Only light-coloured soles allowed"). Portions of the road are not for the faint of heart! Library, Guest Rooms, Pharmacy, Grocery, Ladies' Beauty Parlour, and on and on. As you continue to climb in elevation, the road begins to wind and narrow. At every turning, indoors and out, a well-stocked bar appears, one — not without controversy — for males only.
Having met the leading figures on both sides of the master/servant equation, author heads with host toward the Dining Hall. After a nine-hour drive from Bangalore, you will at last reach Ooty, queen of the hill stations. In the antechamber primitive weapons have been arranged on its walls. Atop a black mahogany table sits a vase of pink and white gladiolas. Of the Club's 25,000 members only a handful are availing themselves of today's buffet. We take our seats at a salmon-clothed table. Author encourages Mr. Gupta to reveal to him the extent of his worldly wisdom in as brief a compass as possible (see Shiv Khera's response: "There is no free lunch.")
PG: You mean the wisdom of father to son, "Don't do this, don't book yourself into this lady?" But the son doesn't listen? The temperature has grown cooler.
MM: If you like. The mountains, serene; the valleys, beautiful.
PG: All this Confucian learning, this guru learning, comes to a complete zero. Although the town is somewhat run down, you should stroll through the streets. I knew a lady, the mother of a famous man, who sold an idea to a software baron. To see the old colonial buildings. She was an officer in a central bank and had to fend for the family. That provide its grace and history. Now she's become a multi-millionaire.
MM: I notice that in several senses you live in two different worlds.
PG: How does one merge the idealist with the practical mind? I would like many things to happen, but going along with the ordinary man we are missing the aim so often. The point of wisdom is to laugh it all off. For the golfer the Ooty Club offers an eighteen-hole course.
MM: Let us return, if we may, to the question of the perennial religious traditions.
PG: The classics of religion do not really preach religion. They are merely practical. From primitive times, whether it were an animal or a man, suspicion has been inbred.
MM: Some say that only by avoiding this question do we progress.
PG: I think that you are absolutely right. Many Indians have revulsion against Muslims, not because of any bad incidents but rather because of history. This revulsion was inborn. Find a member who knows the golf course well, for its terrain is rather hilly.
MM: What, then, will be the outcome of our current crisis of civilization?
PG: Man will not change. The solution? Get rid of the politicians!
○