daDaist poMe: Compact Disc Rap
(for Madison Morrison, Human Storyteller)
1
HOT BURRITOS! ! !
THE FLOCK, DINOSAUR SWAMPS
WE GET REQUESTS, SWEET TEA
NEW FLAMENCO, COCKEYED WORLD
LAYERS OF TIME
FEELS LIKE RAIN
SHAKING THE TREE
GRATEFUL DAWG, TRANSCENDENTAL BLUES
NIGHT IN TUNISIA
I FEEL ALL RIGHT
HOT TUNA!
ENDLESS BOOGIE, BEYOND BOUNDARIES!
EARTHQUAKE WEATHER
OVER THE EDGE AND BACK
SEE THE LIGHT, KASHMIR
BABYLON BY BUS
TRENCHTOWN, HOUSES OF THE HOLY
DOMINO, DANCE
INSPIRATION ON THE INSIDE
JAGGED LITTLE PILL
LIE TO ME
MATRIARCH OF THE BLUES
BORN UNDER A BAD SIGN
MY FAVORITE HEADACHE
CHERRY BLOSSOM
RAINBOW RARITY
MOONDANCE, AS IT ALL BEGAN
APPALACHIA WALTZ
TAPESTRY OF PHANTOM BLUES
NOTHING PERSONAL . . .
MONK'S DREAM
INNER MOUNTING FLAME
AMERICAN GARAGE, MILK COW BLUES
FEEL THE SOUND, SOLACE
MUSIC FROM THE TOP OF THE WORLD
GUITAR FORMS, LOST GOLD & SILVER
VERVE YEARS, PINK MACHINE
SAXOPHONE COLOSSOS
LIVE FROM UNION CHAPEL
GIANT ROBOT
YOU HAD IT COMING
BLACKTOP BLUES VOCAL DYNAMITE
WHITE ALBUM
LED ZEPPELIN
PASSION, GRACE & FIRE
EAST TO WEST: SUPERHARPS
2
LIVE IN JAPAN
A STREET CALLED STRAIGHT
GATE SWINGS
STANDING MY GROUND
SWEET HOME BLUES
MUSIC FROM BIG PINK
THE BAND, STAGEFRIGHT
RED ROAD ENSEMBLE, NATIVE AMERICANS
CAFÉ BOHEMIA
DELTA BLUES JAM
BLUE OYSTER CULT
BROKE, BLACK & BLUE
BUCKWHEAT ZYDECO SHOWDOWN!
FROM THE CRADLE
THE DESERT LIFE
HARD CANDY
ACROSS A WIRE
UNPLUGGED & SEATED
DISRAELI GEARS
LIVE RUST
GAMBLIN' WOMAN
CHRISTMAS WITH YOU
SHOULDA BEEN HOME!
HEAVY PICKS
THE HARDER THEY COME
BOOGIE CHILLUN, REGGAE PULSE
LOOKING FORWARD
ARE YOU PASSIONATE?
ROAD ROCK VI
AMEN
THE MIRROR MAN SESSIONS
WITH A LITTLE HELP FROM MY FRIENDS
SAFE AS MILK, GIANT STEPS
NAIMA, DESIRE, LOVE & THEFT
SPECTRUM
RIGHT PLACE, WRONG TIME
LOUD GUITARS, BIG SUSPICIONS
THERE IS A TIME
WATER BABIES, KIND OF BLUE
FILLES DE KILIMANJARO
BIRTH OF THE COOL
TUTU BITCHES BREW
IN A SILENT WAY
DIRE STRAITS
ROLL OF THE DICE
GOOD BOYS . . . WHEN THEY'RE ASLEEP
7 May '04
OOH BOP BA DA!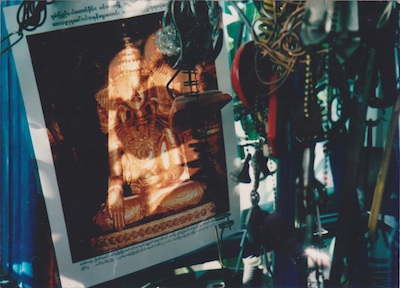 The Gorpf, Assemblage (including Buddha sent by MM from Myanmar)