A
'73-'74
COSMOPOLITAN
Step Into My Parlor
Women Artists Today
How Sexually Mature Are You?
The Closet-Queen Neurosis
Get Thin and Stay Thin!
Meat on the Hoof
Hey, Is That Goldie Hawn?
Two Golden Girls
Who Work out of the West
Come to Me in Silence
The Inhibited Man
Long-Distance Love Affair
Be a Maverick: Go Western
Indecision
Thinking of a Used Car?
Beauty Bar: The Art of Self-Perfection
How I Fight Insomnia
Herbal Medicine
NEWSWEEK
Kathy Rigby
competing in
Olympics
Detroit's heroin
subculture

the President
in Shanghai
meeting with
Chou
en Lai

Secretariat
superhorse
the running
backs
world trade

Wall Street's
global
companies
too big
to handle?

Dinty Moore's
restaurant
the high
cost of
eating

heart attack
curbing
the killer
crime in the
USA
ADS
So. You're very
1973.
Helpless? Never.
Your man may be all
thumbs. But you're not.
You can solder toys and
fix your own plumbing.
Being more of a man
used to mean
being strong enough
to be gentle.
Being more of a woman
used to mean acting
hard to get.
Today it means
hardly acting
at all.
Are there times when
you feel like you're
the only two people
in the world?
Puerto Rican Rum
won't intrude on
that feeling.
AUCTION & BOUTIQUE
Auction
Seven Days in Hawaii; A Week in Pebble beach; Cedar Cabin in Vermont
A Long Weekend Cruise on The Stranger; A Man's Watch; A Case of Assorted Wines
A Gas Barbecue; A Sterling Silver Handwrought Tray — 14 inches in Diameter; A Miniature Camera
A Bergdorf-Goodman Evening Bag; A Chain Saw; Forty Chinese Prints
An Airplane Ride for Six; A Certificate Good for Four Tires (Sorry, No Truck Tires); Paint Supplies
A 10-Foot Mounted Sailfish; A Painting of "Bateau"; A Power Bat
Boutique
A School Tray; A School Paperweight; School Blazer Buttons
School Glasses; A Dozen School Etchings; School Charms
Japanese Temples; The Epic of the Moon; A Picture History of Western Man
A Night on the Town; a Hand Thrown Ceramic Pot; Washington Stainless Cutlery
Patchwork Neckties; A Sample of Clairol Products; A Chilton Electronic Fondue
Books and Records; A Duck Decoy; A Pair of Andirons
LEGAL QUESTIONS
If you found a
wallet on the street
could you keep it?
How can you compel a dealer to
take back a lemon?
Is a check in pencil
valid? In tomato juice?
What is a father
entitled to
for seduction of his daughter?
John, a practical joker, tells Mary
that her husband is dead.
Mary sues for injury. What do you think
her chances are of winning?
In a separation
who keeps the stereo?
If a neighbor helps you
sell your house
can he stick you for the
broker's commission?
How often can you
change your name?
FACULTY EXCHANGE ENVELOPES
To James Madison Morrison
From Zoology
To J. Madison Morrison, Ph.D.
From Acquisitions
To Dr. Madison English
From University College
To Dr. Madison Morrison
From Admissions and Records
To Mrs. Madison Morrison
From Book Abroad
To Dr. Morrison
Amanda would like to see you
To Prof. J.M. Morrison
From Director, Deferred Gifts
To Professor Madison Morrison
From Human Relations
To Madison Morrison
From the University Foundation
To Prof. J. Morrison
From the University Press
To Professor Madison Mossison
From The Classics Department
To James Madison Morrison
From History
To James M. Morrison
From Social Work
To Morrison Madison
From Government
To J. Madison
From Business College
To Dr. J.M. Morrison
From Career Planning
To Assistant Professor Morrison
From Civil Engineering
To Professor Morrison
From the President Office
From Professor Madison Morrison
To Internal Auditor
From Dr. Madison Morrison
To Solar and Lunar Research
From J.M. Morrison
To Oklahoma Survey
From Madison Morrison
To Circulation Desk
From Morrison
To Madison
From Madison
To Amanda
From J. Madison Morrison
To Center of Student Development
From Madison Morrison
To The School of Medicine
From Morrison, Madison
To Medical Records
J. MADISON OR SARAH MORRISON
Mittie Parish $3.75
Safeway $31.50
Parking Violations (OKC) $2.00
Payment in full for violation
KO 12029 (3/10)
O.G.&E. $13.50
Star pharmacy $4.16
Alice Notley $2.50
Please send "European edition" of CHICAGO
PAY TO THE ORDER OF TED BERRIGAN
/s/ Alice Notley
Pay to ACCT 23 70 53 10 /S/ Ted Berign
Safeway $12.46
James J. Yoch $3.00
C. Michael Wells memorial
Cash $15.00
Oklahoma Natural Gas $27.99
Hagees $30.44
Larry Gene Bierman $30.00
Lloyd's Sinclair Service $4.20
Bell Tel. Co. $6.82
Cash $200.00
For deposit only
Safeway $25.58
Norman Plumbing Contractors $17.00
Payment in full for services 3/18
Sears $13.94
Star Pharmacy $6.52
John D. Gault $83.33
Fifty-sixth of 120 monthly payments
on mortgage at 520 W. Eufaula St.
Moomau's $6.17
Sterrs $10.07
Safeway $35.67
Goodno's $6.50
P&R Comedy $16.48
TG&Y $6.41
Safeway $42.64
Goodyear $51.72
Holtzschues $1.23
City of Norman $15.00
Ernie's $15.90
POETRY $15.00
Please renew subscription
THE BOSTON EAGLE $1.50
/s/ William Corbett
Safeway $10.01
THE INDY 500 PARADE
Purdue Marching Band
The Golden Girl, The Black
Girl, The Silver Twins
"Big Boom" the largest
bass drum in the world
Mickey Mouse
The Governor
of India
The Speedway High School
Marching Band
The Drivers
Bill Vukovich
the Unser brothers
the beautiful Festival
Princesses
The Mayor
of Indianapolis with
his wife Charlee
and their four
boys
the fabulous floats
"The Woodchucks"
the Queen's float —
"She Loves Me, She Loves Me Not"
Evel Knievel
The Highland Band
in their kilts
"The Marching Trojans"
St. Helen's Unicycle
Drill Team
"Candy Cane" —
the Indianapolis
Power and Light float —
lollypops, ribbon candy
all sorts of sweet things
the star nurse
of Marcus Welby, M.D.
the Indiana Bell Tel.
float — "The Great
Push-Cart Race"
The Winchester Man
The Marching
Hornets from
Beech Grove
Indiana
"New
Kid on the Block" —
the Mayflower
Transit
float
Heyoka Indian Dancers
(67 scouts)
back by popular demand
The Redskin
Marching Band
the S.&K.
Tools
float
The Cathedral
Marching Band
the Stokeley-Van Camp float —
"Candyland Express"
Shriners in
imitation Indy Racing Cars
25,000 apiece
"Sunday in the Park" —
the Cit-go float
the host of
Tattletales
The Red Raider Marching Band
Herbie
the Clown
with little Rastus
here again by
popular request
"Bob, is that Gene?"
"No, that's Roger Ward.
He was a judge on a
contest I did
a few weeks ago."
Linda Vaughan
"Miss Golden Shifter"
"The Ole Fishin' Hole"
The Schlitz
40-horse hitch
"West Side
World Series"
Detroit's
Diesel
Allison float
the mini-mule hitch
"When I get Wheels"
by Steak 'n' Shake Inc.
kids embracing
in the archway
Lyle Waggoner
and his wife Sharon
The Charlotte Oriole Band
in their new uniforms
white, orange and charcoal

the Baca Grande
Stage Coach
The Northwest High School
Marching Band in their
British Grenadier uniforms
Jim McKay — the voice
of the Indy 500
"Glow Little Glow Worm" —
the Merchants Association float
"Catchin' Lightnin' Bugs"
The Circleville, Ohio
Marching Band
home of the largest pumpkin pie
Mr. Hard the
chairman

a large green
4-legged creature
"Take Me to Your Leader"
a woman astronaut
A UFO
Boots Randolph
Nashville, Tennessee
the Keystone Cops
a duck, a pig
Bobby Riggs
Perry Meridian
Marching Falcon Band
The City of Wabash — 3
sleek jets
1930s movies
"Can you get a
camera on that cake?
They've started
serving the world's
largest birthday cake."
'74 EXPENSES
Thom Gunn
Dinner 1/27: 1 person @ $4 a person
$4.00
Dinner 1/30: 6 people
24.00
After-dinner guests: 3 @ a dollar a person
3.00
John Gardner
Dinner 2/7: 6 people
24.00
After-dinner guests: 4
4.00
Michael Brownstein
Dinner 2/19: 4 people
16.00
James Merrill
Dinner 2/25: 5 people
20.00
After-dinner guests: 2
2.00
John Ashbery
Breakfast 3/11: 2 people ($3.45 plus tip)
3.95
Dinner 3/12: 4 people
16.00
Allen Ginsberg
Lunch 4/23: 15 people @ $2 a person
30.00
Kenneth Koch
Dinner 6/8: 7 people
28.00
Dinner 6/11: 6 people
24.00
Lunch 6/15: 2 people
4.00
TOTAL $202.95
TARGET
"The Sale" kisses
high prices goodbye
Chapter 1: "The Sale" Comes to Your House
Hammock with 4-point stand
mildew resistant Fortrel polyester
in honey gold
Director's Hardwood Chair
heavy cotton canvas seat and back
lime, pumpkin or chocolate
Nymph Chair of natural colored wicker
Folding Aluminum Web Chair with
high impact arms
4-leg Gym Set
Cast iron Hibachi with tilt-away hood
P-51 Mustang and Sopwith Camel
Trike in bright red metal
Wading Pool in polyethylene with
Polynesian designs
Oscillating Sprinkler
Pistol Hose Nozzle
Latex Wall Paint
Bernz Fire Extinguisher
5BC rating
Swingline Staple Gun
21-piece Socket Set
Stanley Stud Finder
Target Saber Saw
Chapter 2: Indoor Cents Appeal
domestics
helpers
Silver Holloware
10 serving pieces
Stainless Steel Sauce Bowl
Curtains in "Milan" design
Jaguar Print Sheets — no-iron muslin
Olympian 9x12 Rug — wears like iron
50-piece Stainless Flatware Service in
Caress, Temptation and "Target"
Hot Point Air Conditioner
Rubber Queen Dish Pan — white, avocado or gold
the Big O Variety Pak
10-Quart Plastic Pail
Easy-Off Window Cleaner
Nylon Mitt
Target Detergent — brighteners added
Plastic Juice Decanter — screw-on cover, pour spout
Norel 10-cup Coffee Maker
Waring 10-speed Mixette
West Bend 12-inch Griddle
Viva Paper towels
Plastic Coated Cold cups
Malted Milk Balls
Fisher Land o' Dixie Dry Roasted Peanuts
Freezer Sticks
Variety Show: Chapter 3
watches, luggage
pet supplies
Citronella Candles — repel insects
Greeting Cards — 2 boxes for a dollar
All-Occasion Gift Wrap — 24 sheets
Mighty Mouse Alarm Clock — wet look case
Skin-diver Sport Timer
Men's and Ladies' Watches
Luggage of sturdy vinyl — 25-inch Pullman
Polaroid, Cool Ray
Foster Grant glasses
Oster Pet Groomer Kit
Assorted Rawhide Toys
Eveready Batteries
Keystone Everflash
Kodak 3-in-1 Pack
Photofinishing
20 Rockin' Originals!
Special: Frank Sings
Chuck Berry Flashback
Ramblin' Rose
Little Rock & Roller
Back in the USA
Johnny Cash: I Walk the Line
Jerry Lee
The Beach Boys
Chapter 4:
Every Body
Needs "The Sale"
Gillette Max for Men
Comb with brush attachments
Schick Quick Curling Iron
Norelco Tripleheader
Remington Cord-Cordless
$5.00 refund
Cutex Nail Polish
Suffrage Hair Spray
Mennen Skin Bracer
Lavoris Mouth wash
Target Sanitary Napkins — box of 40 regular
Johnson Cotton Swabs
Chapter 5:
Sun dressing
Teen, Junior, Misses
Nylon Halter Bikinis
Beach Coverups
Polyester Jamaicas
Girls' Crew Socks
with terry-lines
Girls' Bikini Panties
Nylon Knit Short Sets — halters, tank tops
Denim boycut shorts for teens
western style with front zip
Chapter 6: Women
Polyester Double-knit
Pants in gingham checks
Muu Muus, Bikini
panties — lovely pastels
Maternity Tops and Pants
Chapter 7: Men,
Target wants you
satisfied
Men's Cut-Off Jeans — white tan or blue
Double-knit Coats in brown and burgundy
Men's Pocket T-Shirts
Chapter 8: Boys
Tug o' war, rough 'n' tumble
Boy's Cut-Off Jeans
Boys' Pajamas
Boys' Crew or Tube Socks
in Easy-stretch Nylon
Chapter 9: Girls
Halter tops for little girls
Terry Creepers
Chapter 10: Babies
pink and blue
Infant Bubble Creepers
Chapter 11: Accessories
cotton scarfettes
leather thongs
◙
POETRY'S COBBESTONES CUT DIANMOND- FACETED BY CHARLES CAMPBELL
Poetry
as always
survives today's absorption
in the dictates of living.
The present recedes into vagueness
viewed against the past's
sharp outline or
the greater iridescence of
the future. Meanwhile,
its abrasive polishes
the boulders of today, whose
facets reflect ourselves.
It springs from words, transmuting
ground-level meaning
into the ethereal. Then words
shed their lackluster eye
and shine with the dawning
of new creation, transcending
the poet, whose virtue
we unwrap
as a child awakened,
no longer speaking
of himself alone.
Like reverie,
invented themes are in
danger. Nor is it the
poet's task to explore
political repercussions.
Instead, he wakens
the reader to a journey,
who, in a desert, discovers
a bloom, half hidden under
cactus spines, rising to
express his empathy
and inspiration.
Yet, though they
project the inner being,
the poet's words must
associate in reason, for we
seek a more unanimous alignment.
No matter how fluorescent the
light of imagination
poetry must lead us forward
along a discernible path.
Nostalgia is only to be
avoided by rejoicing
in miracle.
◙
AUGUST 17, '74
The Pebbles and
Bamm-Bamm Show:
Cheerios. "By the way,
Judy, how was the school
dance?" A hundred
greatest hits of the
'60s and '70s.
Snik snak: take a break. Black Bob Nolan: "The horses are coming."
"O.K. boys, get those lines fast." Black Bob: "Hey, hold it!
Those crates don't unload there." Roy: "Unload 'em, boys."
(Later.) "Roy! Shore glad to see ya!" "You two know each other?"
"Not officially." "Roy, meet Carlos. Carlos, meet Roy."
"Here's your money, Roy." "There's your receipt, Carlos."
"A street-cleaner
writin' traffic tickets!?!"
"My daughter Pebbles just
happens to be mayor."
"Use your influence, Fred,
and you'll push yourself
right in jail."
He's ready for a Man's Breakfast. Say hello to peanuts!
Troops GLPS (Martians). Moss grows on the north side of trees.
Peanuts! Get yer peanuts! Combo Munch. A whole fistful.
Running streams lead to civilization. I'm Buster Brown.
Every good scout has his compass. He's all dried out!
Let's get him to MacDonald's. Remember: Born Free.
Go ahead and
fiddle with the
Oreo middle
'cuz there's no
better middle
to fiddle
with.
Roy: "She's the one that Carlos wants to marry." Lady in veil:
"Well, of all the crummy insults!" Fat Albert: "Now you're what
I call a real soul brother." The Scene — with Ronnie Kay. Guest star,
Harry Chapin. Diana Ross and "Don't Knock My Love." Short napkin
sleeves; shoulder rivets; moon blue coat; knit trousers; skinny belt.
Complete your "look" with well-tailored high-rise baggies.
Scrapiron showed his mettle
at the billiard parlor.
"Knock knock."
"Who's there?"
"Olive."
"Olive who?"
"Olive you."
Ronnie: "If you don't believe in God, tell me, how does your brother
fly?" Harry: "Tom flies the same way, no . . ." R.K.: "Do all the
members of your family sing?" Harry: "No, some of them are actually
tone deaf." R.K.: "The song 'Sniper' . . . did someone bring that
song to your attention?" H.C.: "No. I realized those political guys —
Sirhan Sirhan, Oswald, Bremer — they all needed to be recognized."
"You say these kids
ran off with our bike?"
Hey hey hey,
the law is on his way.
"I'm splitin'."
Burger King — where
kids are king.
Don't just stand there, go get the other dog. Take the entire family:
Quail Theater. Rock Power: The Dubie Brothers. L. Bachman Turner.
The Spinners. Barry White; Al Green; Dave and Essex. Gladys Knight
and the Pips. Aretha Franklin; Alice Cooper; Dr. John. Only $4.99.
My son is going blind — he has R.P. This is Ronnie Kay. I'd like
to thank my featured guest for coming. . . . Arrividerci, Mother.
"Good morning,
I'm afraid this road
is closed. Where
were you heading for?"
All around town.
"Don't Knock My Love"
American Bandstand.
Just remember the dips . . . . . . . . . . . . . . . . . . Skinny-dip fruit dip.
Crystal Love's got it . . . . . . . . . . . . . . . . . . Get Crysty Love!
Certs keep on working . . . . . . . . . . . . . . . . . . Retsin still at work.
Premiering Wednesday . . . . . . . . . . . . . . . . . . September 11.
Keeps on working . . . . . . . . . . . . . . . . . . even after the Candy's gone.
It's Addie and Mose . . . . . . . . . . . . . . . . . . It's Paper Moon.
These fellows
have had an
amazing success.
In the spotlight dance:
Three Dog Night.
Show as I'm sittin' here,
It's not too clear.
"There are lots of dangerous areas on the island we haven't dealt
with yet." The Sahara Hotel. Please greet . . . Little Anthony and
The Imperials. I'm on the inside lookin' out on a world that's full
of doubt. It's a very interesting album. The loneliest house on the
block. "What's up Doc?" "I'm rich, I'm wealthy! Ya-hoo!" "Open
saddlesoap!" "For you, but don't open it now." "Gosh, a fishin' rod!"
That's Clarence
Collins. Right behind us
is Bobby Wade. A dancing
background. This
is Waterloo — with Abba.
The greatest
movies on TV.
"Listen, tell me. How do you get two of the best producers in the
business to do sides of a single album?" "Well, first you take a
submachine gun into South Philadelphia . . . no, seriously." "Say,
how many nights a week do you guys work?" "Oh, gosh, we
work about six nights a week." "Let's have a big hand. Nice to have
you with us." "And how could I ever refuse, Waterloo, Waterloo."
The Valachi Papers
High Plains Drifter
Alfred's Frenzy
James Bond: Thunderball
The greatest box
office hits. Now the greatest
movies on television.
May I introduce myself? I'm Kolshak from the Daily Trib. Welcome
back. They call me The Night Stalker. What's your name? "Tania."
And what's yours? "Helen." Helen, haven't I seen you before? May I
walk you to the door. Please let me be your number 1. Do I stand
a chance with you? Andy and David Williams here. In the meantime,
The Temptations: Feels so good to me, satisfaction guaranteed.
We're going to
finish off this
half hour
with a Bachman Turner
Overdrive.
M 'n' m's:
plain and chocolate.
There was a cop on the East Side of Chicago back when the town of
Chicago died. When a man named Al Capone made that town his
own. I heard my Momma cry. The sound of battle rang through the
streets of East Chicago. I heard my Momma cry. Yes indeed, there
was no sound at all. My Daddy stepped indoors, and brushed her tears
aside. His kitchen would end up looking like a scene from a cartoon.
I've always felt
that chefs and
musical directors
are very much
alike. Most of
all it demands
love.
How much longer do we have to wait? There should be some sign
by now. Let's rate it then. Master Fleet. We have an 85 and a
90. Makes it an 87 1/2. Shelley made me smile, Shelly made me
smile, but the memory of Shelley lingers on. She sets my heart
on fire. A 65 and a 50, and my pen doesn't work. A 57 1/2. Notice the
crazy math. "Why's the first one better?" "Moves better."
Let's see that
point over again.
Four consecutive breaks
in the second set.
Love-15. Great
forehand down the
alley. That's long.
The Fresh Face of Martha: she washes with Noxzema every day.
Freddy cared more about his wheels than my legs. Phil was a sports-
man. But now, with David, I use Need. It leaves my legs smoother.
That just-brushed freshness with Dentyne. David and Andy! We've
done a few things in L.A., ladies and gentlemen. Say it again, say you
love me again. I've heard it before, I'll hear it some more.
Protein 21,
you make a great
shampoo. You're
welcome. New
this fall: Kodiak.
No matter how you slice it,
it comes up peanuts.
Billy Preston! Nothin' from Nothin' Leaves Nothin'. I'm not some-
thin', believe you me. We're going to top it off with Wet Willie.
You're 'bout to go insane, 'cuz your woman's playin' game. We'll
see you next time, Action '74, from Malibu on the beach. But for
now, so long, from Dick Clark. Be sure to see Yellow Slippers,
on the CBS Children's Film Festival, Saturday, September 7.
In everyone's life
there's a summer of
'42. Broadcasting . . .
one of the many
exciting fields
you can turn on to
at Elkins Institute.
Soul Train! The hippest trip in America. 60 non-stop minutes across
the tracks of your mind. With Al Green, The Impressions — and now
here's your host, Don Cornelius. "Welcome aboard, you're just
in time for another ride on the Soul Train, with the unbelievable
Al Green comin' at ya after this message": Let your mood reflect you.
Natural with a new blusher or simply "now" with liquid make up.
Actually, we've
run out of
superlatives
to describe this
man — the closet the
music world has come to
having its own Messiah.
You know I'd like to say just a word about the new open space school,
because we're going to that more and more in Oklahoma. Its great
expanse . . . you know, there are no walls . . . it tends to make the
child a little nervous. But we need to encourage the child to adjust
to this new open school. And we need to talk to parents and explain it.
Then maybe they can go and talk to the administrators and teachers.
Mick: I think it was my
dad. He had the foresight
to recognize that
right-handers would hit
only against left-handers
and left-handers would hit
only against right-handers.
More highlights from the Cooperstown Hall of Fame ceremonies after
this message: Chicago. Jack Albertson is the Man, in Chicago and The
Man. Now we'll follow here after station i.d. with Baseball's Game
of the Week. So it's deuce. And you can see her strategy right off the
bat. Advantage: Miss Evert. Judy: There goes that last backhand again,
just screaming on the line. Bud, Chrissie is very mobile right now.
Danny Murtaugh,
Walter Alston,
thanks for coming
up. Leading off,
at second base,
Dave Lopes. In
second place . . .
We'd like for you to meet two members of our Soul Train Gang.
What's your name? "Rickie." And you? "Debbie." All right. You two
see what you can do with that and we're gonna see what we can do
with this. It's Cool and the Gang, runnin' down a pretty slick sound
that we think is one of the baddest things around, called "Boogie
Down." Jungle Boogie, get it up, get down, get down, get down.
Jim Wynn the
batter. The
Toy Cannon
with one strike
on him. The Dodgers
have a threat going here
in the first inning.
Listen baby, don't you think I could forget, because I trust you
so much baby. Help me keep my faith in you, Ronnie Stennet, line-
drive style hitter, improved a lot defensively. Stennet is just 23
years old. A one-ball two-strike count to Stennet, Change-up, high
and inside. Cey to first, one down, When someone comes to me for
car insurance, they come to me for two reasons. State Farm is there.
is entitled to
his or her opinion
and they've run the
gamut of all that's
intelligible.
Then came the Supreme
Court decision.
We'll be keeping you abreast of other games this afternoon in the
major leagues. Ron Cey, hitting .266 with 14 home runs on the
season. And they're starting him off with breaking pitches, Tony.
"Become a better pitcher, not just a thrower." Pittsburgh, you know,
got off to a terrible start. 3 and 1. From the new LP "Living For You."
This is no reason for living, Don't make me cry, babe, Walk out and cry.
81
stolen bases
for Lou Brock.
Another off-speed
breaking pitch,
Dodgers ahead
one-nothing.
Breaking pitch, two-hopper to short. "Steve Garvey looks like a
middle linebacker, Curt." Hebner has it, three up, three down. Why
shake her hand when you can kiss her? Monday night, the Phillies and
the Reds. Monte Irvin is going to be our guest. I see where Perry
finally got that 16th win. "Curt, I was wondering, what might Monte
have done if he'd gotten in the majors in the prime of his career."
Love,
Peace. and
Soul! We
pause
briefly
for station
identification.
My guest is Juanita Parks, head of the Black Madonnas. Next on
Channel 5: Eyewitness Sports. "Monday is Cecil L. Williams Day."
Jerry Clark, Mr. Sports in Oklahoma. Its taste reminds me of Wild
Hickory nuts. Interviewed by Pam Olson and Lola Hall. "Tell me,
if a person wanted to become a member of the Black Madonnas, what
would they do?" Bud, I want to make one comment about Chrissie.
To titillate you,
let's take a
look at our NBC
Baseball Quiz.
Last of the fourth.
Richie Hebner will
lead it off.
1-1 ball game, we're in the last of the fourth. Messersmith gets the
outside corner with what looked like a slider for a strike. One and
one. I'll never forget my first cold slap in the face, skin tightener
and chin chiller. Thanks, I needed that. Message from National Base-
ball. She said that to be a champion you have to learn to play on
different surfaces. Saturday is double feature night on Channel 5.
Gandara
Buick
introduces a new
automobile
excusive for you —
the Opel 4, a
truly special car.
Those roughneck Klondike days, Still old ranky-dank piano. Alaska
news. Prospectors and sourdoughers managed to occupy thick pieces
of territory along the coast. Here they established outposts in '98.
Hustling baseball. Ron Cey. And they score a run and the Dodgers
have the lead, 2-1, in the top of the sixth inning. Now it's Joe
Ferguson. And we're going to get some action in the Pirate bullpen.
Dodgers
remember
have lost
four in a row,
and the Pirates
have won
9 of 11.
My daughter has even foiled knitted booties. That sounds hard, but
it isn't really. All you do is read the instructions in the little book,
and it will tell you step by step. Here they are with the foil. I think
they're prettier than just the bronze ones. Now, I'm going to show
you how to do it. And if you use copper, they really look bronzed,
when you antique them. And all you have to do is cut your strips so.
Make them
a little bit
longer than
the area
you're
going to
work with.
whose descendents still hunt and fish the same area today. . .
to stir the imagination of modern sightseers . . .
to a brand new discovery . . .
you may be tempted to pause for a closer look . . .
and quite possibly an uncrowded beach . . .
who was it that decided to pause in precisely this . . .
Bud,
there's no
place
to hide
on a
tennis
court.
And the Dodgers scored a run. The less you use your car the more
care it needs. The end of the itch. An awful choice. And you know,
our inventory looks like it too. We've seen a lot of styles come
and go. Come see us, O'Davis Furniture. Pretty alert play by
Messersmith. Put a Cardinal Aquatech pool in your back yard. An
Aquatech can make you the envy of the neighborhood.
Green Acres
is the Place
to be.
New York
is where
I'd rather
stay.
Filmed live at Shakeys. It's more than just free pizza, it's more
than just free beer. Oh, this old vacuum took a lot of pumping.
Have kept their life-style. We leave the city into the countryside.
It takes a little while to shake off civilization . . . one of the
most fascinating rivers in the world . . . the Nile crocodiles love
to sleep with their mouths open . . . Fly ball, short right field.
no runs
no hits
no errors
the middle of
the seventh
Dodgers 3, the
Pirates 1.
That's why this lady drives a Scamp. For people who have to cram
a day and a half's work into a day and whose reward is often acid
indigestion. Gary Player, the host pro, who won the Canadian
Open NBC Sports. Number 1 in live sports coverage year round. He
goes behind Kirkpatrick 1 and 0. Pops this one foul. 2 and 2. Dave
Guisti now doing some grounds keeping. One-hopper to Davie Lopes.
Hugh Hefner's
game preserve.
Who cares
if your stock's
just dropped
twelve points —
who cares?
Kenya was founded in the 19th century by European farmers who
cleared the forest and raised tea, coffee and cattle, You ride along in
minibuses and everyone gets a window seat. Gandara Buick. There's a
strike, as we get into these late innings. And a sharp breaking curve
down and in on him. (Replay.) Royce pulls the string on the breaking
ball. And the Dodgers are down 1-2-3 in the eighth. Score tied 3-3.
When someone
needs help at sea,
they can't wait.
You answer the call.
Ya only go around once,
and for you it's a
gusto life.
When you beat the sea and laugh about it later. Taste the gusto life.
Hope you'll be with us Monday Night, Riverfront Stadium in Cincinnati.
Now here comes Walter Alston, And Alston is indicating he wants Mike
Marshall. It'll be thirteen-point sudden death, which I prefer incident-
ally. A chance for Villas. It's wide. 30-all and now a break point. The
legendary land of Solomon, our greeting as friendly as the people.
Try
Sure
on your
left side.
It'll convince.
your right side.
I'm sure.
Addis Ababa. We visit Africa Hall, listening post for the whole
continent. Here the JFK Library represents the new spirit. Merchants
have developed bargaining tactics that are as complicated as a
game of chess. "You're a lawyer, you ought to know about the fine
print. And the way things look now, that print is mighty fine!
"I'll start drilling tomorrow." "Hear any gurgling, Mr. Doulas?"
The Yankees
lead the
White Sox at
the end of one.
The Dodgers
one run
down.
Pre-season football-ball tonight on NBC. You'll watch Cincinnati
and Atlanta. Tried to blow the fast ball by him, couldn't do it.
Now you see that they're using, where they've hollowed out the end
and taken an ounce out of it. That's what I was telling you. Tying
run's on for the Dodgers. Manny Mota batting .295. There's a bunt,
He had ideas of going to second. Sanguillan was yelling "second base."
Here it is again.
He wants to go to second.
And now it's Ken McMullen.
Ken McMullen is hitting
for Dave Lopes,
who may have injured
himself.
I got more gas in my stomach than I got in the car. Grant and Kapp
made the Vikings into winners. The left edge. Din Bies. Nice touch
by Bies, though he'll still have a sizeable putt for a birdie. The
Sammy Davis Greater Hartford Open. Sing Hallelujah, get happy.
Delivered a bomb to Gene Washington, who made a difficult task
look. Playing back at double-play depth. Two strikes to pinch-batter.
Foul again.
Guisti wants a strikeout.
Hit to shortstop, they
have one, they have two.
The ball game's over.
Stennet made the pivot at second.
Let's look at it again.
Mired in their longest losing streak of the year, five in a row. The
Pirates win it, 4-3. Offering eight great small car buys for '74.
That's at 8 o'clock Eastern Time. On NBC. "That's all I want to
know." Instead of 7 points the Vikings settled for 3. If you think I'm
tough, you ought to feel my beard. Now that's a tough five-day beard.
With no pull and no irritation. "Where's the rest of your car, toots?"
A beautiful
smile like
yours. With a
classically executed
drive near the
end of the
first period.
"Get it Don, get it baby." "Stick him. Ram it down his throat. Stick
him." Testimony to the Vikings' fire and fury that repudiates
everything but victory. Negative somersault in tuck position. Slo-mo:
catamaran. Good Evening, this is Today's Yoga with Brenda. I have
Donna Daniels, who is the mother of three children. And Sylvia
Nelms, who is recently married, and who has a cat names Zork.
The human
drama of
athletic
competition.
This is ABC's
Wide World of
Sport.
No matter how stiff you are a lot people with arthritis have found
that doing their exercises have relieved them of a lot of pain. And
we have a senior citizens' class here that does wonderful things. So
let's stand up and reach for the sun, and I'm hoping that everyone
who's watching is going to do it with us, so that they will receive
the benefits from these marvelous positions. Your host, Jim McKay.
UCLA
goes against
Santa Barbara
for the NC
double A
volley ball
championship.
No love lost. You'd have to say that Santa Barbara would be favored.
Tomorrow the CBS Tennis Classic with Cliff Richey meeting Ilie
Nastasie. These greens are probably as good a greens as we've had this
year. Quite simply the rules of volleyball are this. The Bobby
Goldsboro Show. "And you won't read that book again, because the
ending's just too hard to take." Anytime a player goes down like that
there's a lot of
perspiration on the floor.
Another great diving save!
Is it true Midas
usually takes only
thirty minutes
to install a muffler?
I'll tell you what I recommend. Absorbine, Jr. UCLA appearing very
disorganized at this point. Now there may be some viewers who are
saying, "Oh, my gosh, my leg's up here." Breathing in, push the
shoulders up and hold. Now, exhale. Again. Again. Breathing in, push
out. Push up. Exhale. And hold. Now we'll do the same thing and
stretch our arms up. "Of course it's me, who'd you expect for 25?"
Coming up:
Olga
Korbutt.
And right now
UCLA
is really on the
attack.
There are still some places in the world where people seldom see a
car. Over a thousand miles from Marrakesh to Airpud. The Gauchos go
against the ULCA Bruins. Santa Barbara wins the first game. Thirty-five,
Holding Pattern, a brown gelding. Number 7, the lone lady in the race.
Chris Evert, number 10. Park Guard, owned by Gustine Stables. "She
makes those aerials look so easy." "And they're so difficult."
A blind
landing.
Here comes
everybody's
little friend.
Olga
Korbutt.
We'll see how she looks and if she's learned how to twist. Son, I've
been shaving for twenty-five years and here's a little advice. This is
just another of those wonderful words with the sound of ai. Hi,
everybody, I'm Buck Owens, and welcome to our show. "I just
hurt my hand, is this the first aid station?" "Oh, you poor thing, you're
in pain." That's aid, with that wonderful sound of ai. Wet paint.
Ai, ai
you make me
happy!
Galina Shugarovavitch —
with a hula hoop!
They love it
in Spokane!
Remember, while Dustin Hoffman, Dave Debuscherre, Tom Gorman
and Arthur Ashe are giving a preview of the RFK tournament here on
Park Avenue, the tournament itself will be seen on ABC tomorrow.
Dustin: "Doing anything after the slow, Howard?" Howard: "I'm
available." Serving for Santa Barbara: they trail 5-0. Teflon coated,
from Schick. There isn't a man on board who can't make it to the top.
Miss,
what do you
think
when you
think of
Listerine
Antiseptic?
UCLA has come back and tied it all up. We're gonna start five cars
with one battery. After three hours in freezing cold the Sears Diehard
proved it had power to start when other cars don't. Monday Night
Football will return: The Giffer, Faultless Frank, and Yours Truly.
There he is, all hyped up: he almost put it out in the Pacific. That ties
it up, nine apiece. Jim Allen serving, A former Vietnam veteran.
Hi,
I'd like
for you to
meet the
dogs in the
Drusky
family.
Couldn't find anything wrong with my physical. It started through
social drinking. And UCLA has moved into the lead for the first time.
Nobody wants to be an alcoholic. I'm going to give this car a dazzling
shine that'll last a year. In the fifth and final game. Side out. 13-9,
UCLA. They realize there's no tomorrow. They've got to get some
points, and right now. Woke up suddenly this morning, turned and
saw
UCLA.
14-9.
We'll be
back
right after
this.
The score is 14 UCLA, 10 Santa Barbara. All right, 14-11. Service
ace. 14-12. Side out. And now UCLA has a chance to wind it up. And
there it is. Holding up his finger to indicate that UCLA is # 1 is Bob
Norman. Then you've compounded the problem. There is definitely
now a genetic factor in the alcoholic. Barbara Myslak, and fifteen-
year-old Lydia Gordyk. Let's see how she does in the floor exercises.
Here,
Keith,
you look at
the fish,
while we're
guessing
this one.
That's one of the young ones, sixteen-year-old Debbie Fike. "Are the
Americans doing things as difficult as the Russians?" "Very much so,
Jim." No matter how many times we see Olga Korbutt perform on the
parallel bars we will never forget seeing her that first time in Munich.
"I wish that I could find a place where I could walk the sidewalks and
no one knew my face." The human drama of athletic competition.
The Sonny
Comedy
Review
premiers
Sunday
night on
ABC.
I'll have more details on the news at six. "Hi, I'm Jimmy the Greek.
I make odds on anything. But I don't take chances with my health."
"Here's your blood pressure, Jimmy. It's normal." Porter Wagoner.
Good Evening, the vice-presidential guessing-game grew deeper today.
Here's more background on the story from Jed Duvall at the White
House. "The President today said he was sticking to his time-table."
I'm the mother of
three very lively and
energetic children.
I take a Geritol tablet
every day. I do a lot
for my family. Geritol is
one thing I do for myself.
"I'm only kidding, son." No one doubted they were there to stay.
Yelling anti-American slogans: "Kissinger killer, Kissinger killer."
The war that won't go away. We steeped a string of pearls in a pot of
tea. You know, poundin' that pavement yesterday sure got me, George.
From a man who said he planted the bomb. Winning the All-American
Soap-Box Derby today in Akron, Ohio. An active ingredient that . . .
not enough
rain
not enough
wheat
some people in Oklahoma want the
federal government to do
somethin' about it
Bruce Hall, CBS News, Altus, Oklahoma. The White Major Leagues
and Maury Wills. An economic decision, if the boy, the man, has the
ability. Would you dare dress like this to clean a dirty carpet? No. A
report from Heywood Hale Broun, High Woods, New York. Like the
pocket watch of Guliver's giant, that mysterious thing that Aristotle
called . . . CBS News. I'm Morton Dean. Dan Rather has the day off.
Uncle Ned
remembers
I sometimes
have trouble
falling asleep.
Take Sominex
tonight.
It's time to play Milton Dollar Answer. Tomorrow's guest on Face
the National will be James Schlesinger. If I'm elected governor this
year we can leave Oklahoma much better than we found it. D. Clem
McSpadden, This is Newsroom 9. From Hollywood, the Lawrence
Welk Network presents the big band sound of Lawrence Welk. Tonight,
with a musical tribute to our good neighbors. "Sweet Adeline."
For the aged,
blind and
disabled in
Oklahoma.
The Weatherford
Daily News
has endorsed
Gubernatorial candidate David Boren in a front-page editorial. Pawn
to king three. Knight to queen's bishop three. But Berstein's fourth
move was bishop to bishop four (good too). The complete living
room is just 599. The work of an extremist group. A popularity in
harmony with the times. On the campus of Oklahoma Christian College.
Here is the typewriter. To learn all about barber shop music, write to . . .
That's
the way
it was
in 1910.
They start out
here in
Beaver County
with a tornado watch. Most of the activity is staying up in Kansas.
Otherwise, the best way to describe it is "hot." At least through
Tuesday. I'll be back with the national weather picture after this. You
know, we are not allowed to talk during tournaments, but even chess
masters get excited in positions like this. And they remain in effect
until 9:30. Golfball-size hail is reported occurring near Council, Kansas.
And a tornado
has been sighted
on the ground
a mile from
Ellington. But it
sounds like wedding
bells to me.
Gusting up to 30 miles per hour. They had a record high of 108 in 1909.
A little cooler in the extreme North, continued hot elsewhere, and it
sure doesn't sound like football weather, but that's what Robbie's
going to report on. Yes, Jim, it'll all hinge on the outcome of our ballgame
in El Paso tonight. In another important football game tonight we'll see
the Texas High School Stars against the Oklahoma High School Stars
in the Oil Bowl
at Wichita Falls,
Texas.
I'm hopin' we
can be a
little better
organized.
When you have minor arthritic pains you have a problem. To halt
windfall profits to big oil companies. Your private jet is waiting.
For direct non-stop service to anywhere at any time call Traveler.
Right here on Channel 4 at 8 o'clock you can see the NFL exhibition
game between the Cincinnati Bengals and the Atlanta Falcons. Doc
Mettich was the winner. Pittsburgh has now won 12 of the last 14.
Detroit
leads
Oakland
4-3 with
Oakland batting
At the end of
the ninth inning.
Dave Stockton drove a round of 2-under-par 69 to maintain his lead,
And the Detroit Lions and the Washington Redskins traded quarter
backs today. Parts of Oklahoma are under a severe weather watch.
This is WKY Television, Oklahoma City. The bounce touch controls
static. "How's your love life?" "How's yours?" Ultrabrite's just dying to
know. Folks, we'll be right back to salute our other neighbor, Mexico.
In these
unique
green and
white stripes
there's
double
protection.
Dear Janice, I sure hope you're plannin' to be with us. You should get
your application in now. Classes begin August 28. We're on our way
to somewhere, the gang of us. Here, with the tide moving in and out
four times a day, life must cope with changes every six hours. Stranding
and dehydration, which somehow they have been able to overcome. Will
it escape, if the pool dries up, and will it be able to breathe? Who knows?
We'll talk about
swept-back wings in a
minute, when I talk about
some other techniques of
drawing, ones that make use
of direction 1
and direction 7.
"I want to make a life with you. I want us to be together." "I don't
know what's right or wrong anymore. I know I'm out and want to stay
out." I've got a song that fits this Mexican set nicely: "South of the
Border." Into a living broth. Such as barnacles, are continually added
to the nutritious group. Let's shade on her from dark to light. "They're
coming in tonight." "I don't think I'd be interested in that kind of job."
Terrible things
can happen
to a woman in
a big city. Then
is that all
you have
to say?
Alfalfa, Garfield, Grant, Harper, Woods and Beaver Counties. There
is also a severe thunderstorm watch in effect until 9:30 for persons in
Craig, Delaware, Kay, Mayes, Noble, Nowata, Osage, Ottawa, Pawnee,
Rogers and Washington. Further details on Eyewitness News at 10 pm.
Brings a supply of fresh food. And it should meet this dot (direction 7).
"Bullet that was meant for you." 100% Whole Wheat Wafer.
I always
liked him.
He's got
the same
sickness
as me . . .
a heart.
◙
ESCAPADE '74-'75
1ST DAY: DEPARTING FROM STRASBOURG
Your trip along the
ancient river Rhine
begins in the early morning,
which is no drawback,
since you were cordially
welcomed aboard the
previous evening.
The ship and her crew
from that moment on, have
been at your disposal.
Now we leave Strasbourg,
seat of the Council of Europe,
with its world-famous Cathedral,
its picturesque old
city center known as
"la petite France." We
sail for several hours down
the Alsatian border.
Already the Black Forest
begins to emerge.
We continue on to Manheim,
where the Neckar joins the
Rhine, in sight of
the Electoral Palace. Here
we disembark for an
excursion to Heidelberg
or Worms. There will be
ample time for us
to shop, after which
the ship awaits us.
It has been a pleasant
time, and now we have
departed Worms, the
town of Mainz appearing
on our left. Many a
song is sung to a glass
of local wine. Soon we
reach the town of
Assmannshausen, our
port for the night.
2ND DAY: DEPARTING FROM ASSMANNSHAUSEN
We have left behind
the precious little town,
with its fiery wine,
and boarded our vessel.
Having breakfasted
by the river, we are
under way again. Seated
on deck we listen,
as our guide prepares us
for what is soon to appear.
Here we are in the
magnificent Rhine gorge,
with the celebrated
Lorelei its highlight.
The views become fantastic,
each bend affording a
new and surprising sight.
Cliffs and mountains
follow in close succession,
numberless castles atop them.
3RD DAY: DEPARTING FROM DÜSSELDORF
The night has found us
in this industrial city.
Today, in the lowlands, we
will complete our tour of
Northern Europe. After
customs clearance we cruise
through the Dutch countryside
and arrive at Amsterdam,
where buses await us for
the transfer to our hotel.
4TH DAY: ARRIVING IN MADRID
High above the clouds we
contemplate the "Lady of
Spain" — enchanting, mysterious,
and yet accessible. Our
plane has touched down in
the very heart of Iberia;
we disembark, eager to
explore the narrow
streets and miniature plazas
of the old quarter.
It is afternoon. We
have passed up Toledo to
enjoy ourselves instead.
Having roamed the "rastro"
and the chic boutiques of
the Avenida José Antonio,
we tarry at an old "mesón"
over golden sherry. It
is time now for siesta.
The fiesta is hours away.
5TH DAY: GRANADA GREETS US
We are determined not
to miss the stronghold of
Moorish Spain, which lives
on as the symbol of romance.
Nor the mystery and beauty
of the Alhambra's Palace, crown
jewel of the city. We visit
other gems too, the Gothic
chapel and Renaissance cathedral,
swamped in blossoms.
6TH DAY: DEPARTING FROM MARBELLA
It is with sadness that
we leave behind this seaside
village at the foot of the
Sierra Blanca. We say
farewell to Andalusia,
relaxing in a bright café,
chatting as we sip our
frosted sangrias. We have
come close to Algeciras
only to pass her by.
7TH DAY: ON TO THE ORIENT
It is a long journey we
have undertaken, and once more
we find ourselves embarking.
This time it will be
the adventure of a lifetime,
for we are to travel far
to discover the East,
its beautiful peoples
steeped in centuries
of exotic traditions.
◙
FALL '75
| | | |
| --- | --- | --- |
| | chair | |
| | table | |
| coffee | | paper |
| | typewriter | |
| pencil | | lamp |
| | bookcase | |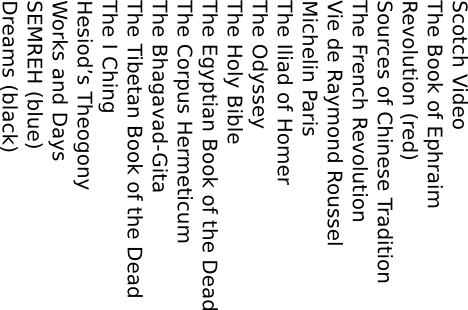 ◙
OKLAHOMA SYMPHONY '75-'76
A NEW SOUND AND A NEW SPIRIT
Officers
| | | |
| --- | --- | --- |
| Chairman | | Dr. Perry Lambird |
| President | | John A. Taylor |
| Vice-President | | Mrs. Guy Anthony |
| Secretary | | Lee Bishop |
Members
Mrs. Jack Abernathy
Mrs. H.V. Apgar, Jr.
G.T. Blankenship
Mrs. David Boren
Charles E. Buchwald
C.B. Cameron
Thomas Carey
William Cleary
John Surrey
Mrs. John W. DeVore
Stanley Draper
Dr. Leonard P. Eliel
Mrs. Robert Ellis
Harvey P. Everest
Richard Ford
Mrs. Erich Frank
Mrs. Clifford Frates
Mrs. Henry Freede
Mrs. Edward Gaylord
E.G. Gunderson
Guilford Hagmann
Richard Hefler
Mrs. Hugh Johnson
Mrs. Fred Jones
Mrs. Donald Kennedy
John Kilpatrick, Jr.
Max L. Knotts
Frank H. Kopp
Patience Latting
Dean A. McGee
James H. Milligan
Erret Newby
Michael J. Potter
Ronald Powers
Maj. Gen. James G. Randolph
Mrs. Ray Riddle
Leo Rogers
Mrs. Joseph Rumsey
J.B. Saunders
James Sherburne, Jr.
Earl Sneed
Paul Strasbaugh
Morrison Tucker
Jack Tway
Russell Vaught
Miss Elviretta Walker
Dr. Dolphus Whitten
Robert Wooten
Dr. Stewart Wolf
Raymond A. Young
F. Anthony Zahn
CALENDAR OF CONCERTS
| | |
| --- | --- |
| Jan 17 | Mason Williams Pop Music Club Concert |
| Jan 19 | Counterpoint Concert: Handel Revisited |
| Jan 20 | Youth Concert: Clinton, Oklahoma |
| Jan 25 | Subscription Concert, Ainslee Cox Conducting |
| Jan 28 | Durant, Oklahoma: Afternoon Concert |
| Jan 29 | Ada, Oklahoma: Youth Concert |
| | |
| Feb 3 | Henryetta Tour Concert |
| Feb 4 | Conway, Arkansas Concert |
| Feb 8 | Featuring Vincent Price |
| Feb 10 | Ardmore Family Concert |
| Feb 12 | Weatherford Evening Concert |
| Feb 16 | Central State Concert |
| Feb 22 | James DePriest Conducting |
| Feb 28 | Young Artist Auditions |
PROGRAM*
8:00 pm, Tuesday, January 13, 1976, Civic Center Music Hall
Ainslee Cox, Conductor
Marga Richter, Pianist
Francis Thorne, Pianist
Lee Hoiby, Pianist
A Prelude: Ainslee Cox illustrates the American tradition of
experimentation with a performance of a string quartet by
Benjamin Franklin.
The National Anthem
Copland
Fanfare for the Common Man
Gottschalk
Souvenir de Porto Rico
Ives
The Unanswered Question
Intermission
Richter
Concertos for Piano and Violas, Cellos and Basses
Thorne
Rhapsodic Variations for Piano and Orchestra
Hoiby
Concerto for Piano and Orchestra, Opus 17
* In this the American Revolutionary Bicentennial Year the Orchestra
recognizes our musical heritage by calling attention to works by our
native composers.
NOTES
Ainslee Cox
In his second season as Director and Conductor, Mr. Cox epitomizes several adjectives — charismatic, versatile, professional, human. During his brief leadership the orchestra has been welcomed throughout Oklahoma with renewed enthusiasm. Cox, a native of Texas, studied in Austin. Later, as a protégé of Leopold Stokowski he conducted at Carnegie Hall, Town Hall, and throughout New York City. He has assisted Leonard Bernstein, Pierre Boulez and Andre Kostelanetz and has filled the podium of other major orchestras, including the Dallas, Baltimore and Pittsburgh Symphonies. Last spring he returned to Nuremburg to conduct the Symphoniker at the Meistersingerhalle. During 1975 he made numerous recordings: he led the Royal Philharmonic in pieces by Elgar in London; for release in Germany he conducted Russian music; in New York City he recorded works with The Golamen Band.
Aaron Copland
Born Brooklyn, November 14, 1900, Aaron Copland is probably America's best-known living composer, in part due to his efforts as a teacher and conductor of musical events, but most especially because his music seems to touch the roots of the American experience. His works resonate with emotions that have shaped the nation, capturing the proud and forward-looking mood that has distinguished the development of our country.
Louis Moreau Gottschalk
Born New Orleans, May 8, 1829; died Rio de Janeiro, December 18, 1869.
Charles Ives
Born Danbury, Connecticut, October 20, 1874; died New York City, May 19, 1954.
Marga Richter
A graduate of Juilliard, Ms. Richter studied with William Bergsma and Vincent Persichetti. While still a student she had several works performed, "We shall hear more from Miss Richter!" the critic of The New York Times predicted. His prophecy has since been borne out: six of her works have been recorded, including Concerto for Piano and Violas, Cellos and Basses. One of her most widely performed works is the ballet score, Abyss. Commissioned by the Harkness Ballet, it was premiered in Cannes, France in 1964 and subsequently was performed in major cities of North and South America, Europe and Asia. In September 1975 New York's Museum of Modern Art gave two concerts devoted entirely to the music of Marga Richter, the first time in its history that it had given a woman such recognition. Ms. Richter is director of the League of Women Composers. Her Concerto was written for America's greatest exponent of contemporary piano music, William Masselos.
Lee Hoiby
Lee Hoiby graduated from the University of Wisconsin in 1947 and continued his study at the Curtis Institute in Philadelphia with Gian Carlo Menotti, winning a Master's degree in 1952. Mr. Hoiby has spent time in Rome and Salzburg as a Fulbright scholar and been a recipient of the National Institute of Arts and Letters Award and a Guggenheim Fellowship. The composer's lyrical bent is well displayed in his operas, which include a setting of Tennessee Williams' famous play. Summer and Smoke. Mr. Hoiby has created incidental music for many plays. His score for After Eden proved an impressive part of the Alvin Ailey Dance Company's recent Oklahoma City visit. His Concerto, commissioned by G. Schirmer, was completed in Rome in 1958. It has been performed in New York at Philharmonic Hall, but the Oklahoma City performances are the first in which the composer himself appears as soloist.
Francis Thorne
Francis Thorne studied with Paul Hindemith at Yale University, from which he graduated in 1943. After active wartime service Mr. Thorne took up a business career. By 1954 the urge to return to music became overwhelming, and more study followed, interlarded with jazz piano playing. In addition to his jazz work, Mr. Thorne has composed in most of the "serious" forms. Rhapsodic Variations was written in Florence, Italy in 1964. Although it has been recorded, these are its first "live" performances. Mr. Thorne is Executive Director of the American Composers Alliance. The Thorne Music Fund, which he established in 1965, has provided fellowships and commissions for such composers as Stephan Wolpe, Elliot Carter, Duke Ellington, Howard Swanson, Harry Partch, Edgar Varese and Henry Cowell.
THE ORCHESTRA
Violin
Lacy McLarry, Concertmaster
Bob Seese, Assistant
Warren Driver
Lois Payne
Catherine M. Bardwell
James Brakebill
Carol Bass
Aaron Nieman
Lois Fees
Louise Waldorf
David Robillard
Bernard Rosenthal, Principal
Second Violin
Colata Frey
Mary Ellen Williams
Jan Septon
Marc Culac
Rebecca Eckfeld
Barbara Edwards
Michael Reaves
Viola
James Nimmo, Principal
Jill Jaffe
Marguerite Dalby
James Dilis
Johnna Vogel
Joseph Guevara
Violoncello
Dan Watters, Principal
William Jenks
Frederick Warner
Ann Thomason
Alex Lydzinski
Jean Confer
Double Bass
Horace Apgar, Principal
Lois Hood
John Williams
Robert Mills
Catherine Clay
Harp
Denise Brooks
Flute
Michele Duran, Principal
Eleanor Duncan
Feodora Steward, Piccolo
Oboe
Robert Weiner, Principal
Gerald Warlick
Helen Weiner, English Horn
Clarinet
Robert Crowley, Principal
Eric Ginsberg, E-Flat Clarinet
Bassoon
Betty Johnson, Principal
James Brewer
Mitchell Byler, Contrabassoon
French Horn
Brue Heim, Principal
James Sours
Michael Fox
Willis McCoy
Trumpet
Don Hood, Principal
Dan Francis
Legh Burns
Bob Bogenschutz
Trombone
Allan Kaplan, Principal
Warren Harden
Fred Fulmer, Bass Trombone
Tuba
Marl Mordue
Tympani
Elizabeth Freas
Percussion
Tom Maguire, Principal
Kenny Harris
Dan Armstrong
Eddie Lockhart
Piano-Celeste
Peggy Hinkle Payne
◙
MEXICO CITY '76
Mexico is the greatest natural museum in the world.
Here you can see pyramids, ruins of ancient temples, marvels in sculpture and painting, the caves of Cacahuamilpa — seventh wonder of the world — and the priceless jewels of Monte Albán.
Paseo de la Reforma is a beautiful drive along which you see remarkable monuments, one to Columbus, another to the memory of Cuauhtémoc, the last Aztec emperor, who struggled courageously against the Spanish conquerors.
Here you will find Colonial Architecture of the most refined style, such as the Cathedral.
The Cathedral is a gem of architecture; it is the largest Cathedral in all America and one of the finest.
Nowadays Mexico City is considered as up-to-date a city as any European metropolis.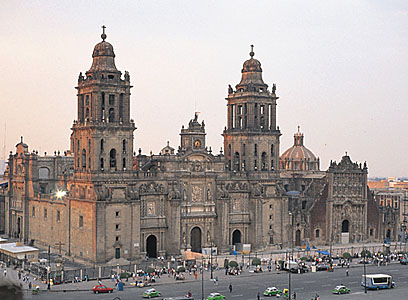 LA CIUDAD DE MÉXICO '76
México es el Museo Natural más grande del mundo.
Aquí se pueden ver pirámides, ruinas, templos antiguos y maravillas en esculturas, pinturas, las Grutas de Cacahuamilpa — una de las siete maravillas del mundo — y las famosísimas joyas de monte Albán.
El Paseo de la Reforma es un magnífico boulevard en el cual se pueden apreciar varios monumentos, uno a Cristóbal Colón, otro a la memoria de Cuauhtémoc, el último emperador de los Aztecas, que peleó valientemente contra los conquistadores Españoles.
Aquí se encuentra arquitectura colonial de un estilo altamente refinado como el de la Catedral.
La Catedral es una joya arquitectónica; es la más grande de toda América.
La Ciudad de México hoy en día es considerada tan adelantada como
cualquier metrópoli europea.
◙